Subscription
Shipping Address
Order Date

This subscription's skin care system will get replaced.

${ address.name }




${ address.products }

${ displaySubscriptionName(address) }




${ displayProducts(address) }

${ displayAddress(address) }
${ formatDate(address.scheduleDate) }

${ address.name ? address.name : displaySubscriptionName(address)}
${ address.products }
${ displayProducts(address) }
Shipping Address
${ displayAddress(address) }
Delivery Date
${ formatDate(address.scheduleDate) }
This subscription's skin care system will get replaced.
4 Best Men's Shampoos for Thinning Hair in 2019
Starting to notice balding? Discover the best men's shampoos for thinning hair and restore your luscious locks once again.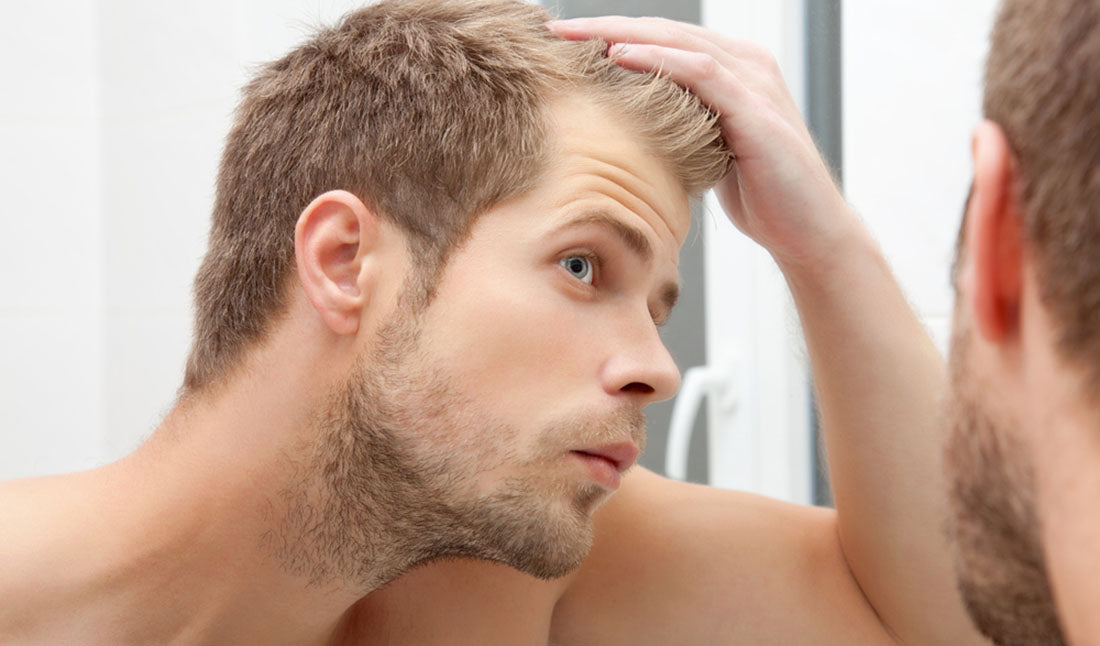 A head full of thick, well-groomed hair is often viewed as a sign of virility and good health. As a result, it can be difficult for a lot of guys to accept their thinning hair.
Despite more guys rocking clean-shaven heads than ever before, some of us just aren't ready to give up our luscious locks and fully embrace the bald. Luckily, there are plenty of men's shampoos for thinning hair that can potentially help those with male pattern baldness.
Here are three things you should know about shampoos for thinning hair:
DHT-blocking shampoos may help those with male-pattern baldness.
Anti-dandruff shampoos can restore scalp health and boost hair growth.
Caffeine-infused shampoos can boost circulation to stimulate hair follicles.
What are the best men's shampoos for thinning hair? And, more importantly, do hair growth shampoos actually work? Let's take a closer look.
CONTROL EYE BAGS
If you've done a quick search for the best men's shampoos for thinning hair, you've probably stumbled upon the word "DHT," or dihydrotestosterone. DHT is an androgen that is believed to play a role in male-pattern baldness, which is why many hair growth shampoos contain DHT-blocking ingredients.
PURA D'OR shampoo is a plant-based formula which contains many vitamin-rich ingredients and ketoconazole, one of the more effective DHT-blocking ingredients. In an older study published in the journal Dermatology, comparative data suggested that ketoconazole had an anti-inflammatory effect on the scalp that may improve alopecia (see claim: "Comparative data suggest that there may be a significant action of KCZ upon the course of androgenic alopecia and that Malassezia spp. may play a role in the inflammatory reaction.")
Struggling with dandruff on top of thinning hair? Treating your scalp with an anti-dandruff shampoo for men may be key to getting rid of white flakes and restoring your full head of hair.
Dandruff is a common scalp condition that is believed to cause temporary hair loss in some individuals. If you suspect your hair loss is caused by dandruff, consider trying Nizoral A-D Anti-Dandruff Shampoo.
Nizoral A-D contains ketoconazole, which on top of being a DHT-blocker is also effective at fighting the fungus that triggers dandruff. Give it a shot, and if it doesn't restore your scalp to good health, there are plenty of other dandruff shampoos for men that are worth trying.
Caffeine has long been used as a potent ingredient in high-quality skin care products. In fact, it's particularly common in men's eye creams because it can help boost circulation under the eyes and combat puffiness.
Caffeine can also boost circulation on your scalp, which can stimulate hair follicles and encourage growth. According to a 2007 study published in the International Journal of Dermatology, caffeine was shown to counteract the effects of growth suppression in patients suffering from male-pattern baldness and significantly stimulate hair growth (see claim: "Significant growth suppression…was counteracted by caffeine in concentrations of 0.001% and 0.005%.")
Ultrax Labs Hair Surge contains a potent combination of ingredients to combat thinning hair, including caffeine compounds, ketoconazole and saw palmetto. While their premium ingredients come at a steep cost, they offer a 30-day money back guarantee if you're not satisfied with the results.
Take the skin care quiz
If you need a shampoo that tames frizz while stimulating hair growth, pick up a keratin-infused shampoo such as Pure Biology. Keratin is the structural protein found in hair that helps protect it from breakage and frizz.
Pure Biology Hair Growth Stimulating Shampoo is packed with amino complexes and natural extracts to give thin hair a boost. A quick glance at its ingredients include biotin, keratin, rosemary oil and vitamins B and E.
It also contains saw palmetto, an extract that may block DHT. In a Turkish study published in the Journal Turk Dermatoloji Dersgisi, researchers concluded that saw palmetto and a 10 percent trichogen veg complex were both safe and effective in the treatment of male patients with male-pattern baldness (see claim: " At the end of the study, topical saw palmetto and TVC were evaluated efficient and safe for the treatment of AGA.")
Restore Your Confidence with Hair Loss Solutions
Many hair growth shampoos for men can temporarily thicken thin hair and may reduce breakage. However, even the best men's shampoos for thinning hair probably won't fully restore hair loss caused by male-pattern baldness.
If you're truly bothered by your thinning hair, there are other ways to prevent hair loss that you may want to consider. It's also not a bad idea to talk with your doctor to rule out underlying medical conditions that could be affecting your hairline.
References
Piérard-Franchimont, C., et al. "Ketoconazole Shampoo: Effect of Long-Term Use in Androgenic Alopecia." Dermatology (Basel, Switzerland), vol. 196, no. 4, 1998, pp. 474–77. PubMed, doi:10.1159/000017954.
Fischer, T. W., et al. "Effect of Caffeine and Testosterone on the Proliferation of Human Hair Follicles in Vitro." International Journal of Dermatology, vol. 46, no. 1, Jan. 2007, pp. 27–35. PubMed, doi:10.1111/j.1365-4632.2007.03119.x.
Arca, Ercan, et al. "The Evaluation of Efficacy and Safety of Topical Saw Palmetto and Trichogen Veg Complex for the Treatment of Androgenetic Alopecia in Men." Turk Dermatoloji Dergisi, vol. 8, no. 4, Dec. 2014, pp. 210–15. doaj.org, doi:10.4274/tdd.2302.
---
// © Copyright 2023 Tiege Hanley