Subscription
Shipping Address
Order Date

This subscription's skin care system will get replaced.

${ address.name }




${ address.products }

${ displaySubscriptionName(address) }




${ displayProducts(address) }

${ displayAddress(address) }
${ formatDate(address.scheduleDate) }

${ address.name ? address.name : displaySubscriptionName(address)}
${ address.products }
${ displayProducts(address) }
Shipping Address
${ displayAddress(address) }
Delivery Date
${ formatDate(address.scheduleDate) }
This subscription's skin care system will get replaced.
The Best Skin Care Ingredients To Combat Excess Oils
The best skin care ingredients to fight excess skin oil include retinol, hyaluronic acid, certain vitamin compounds, and more.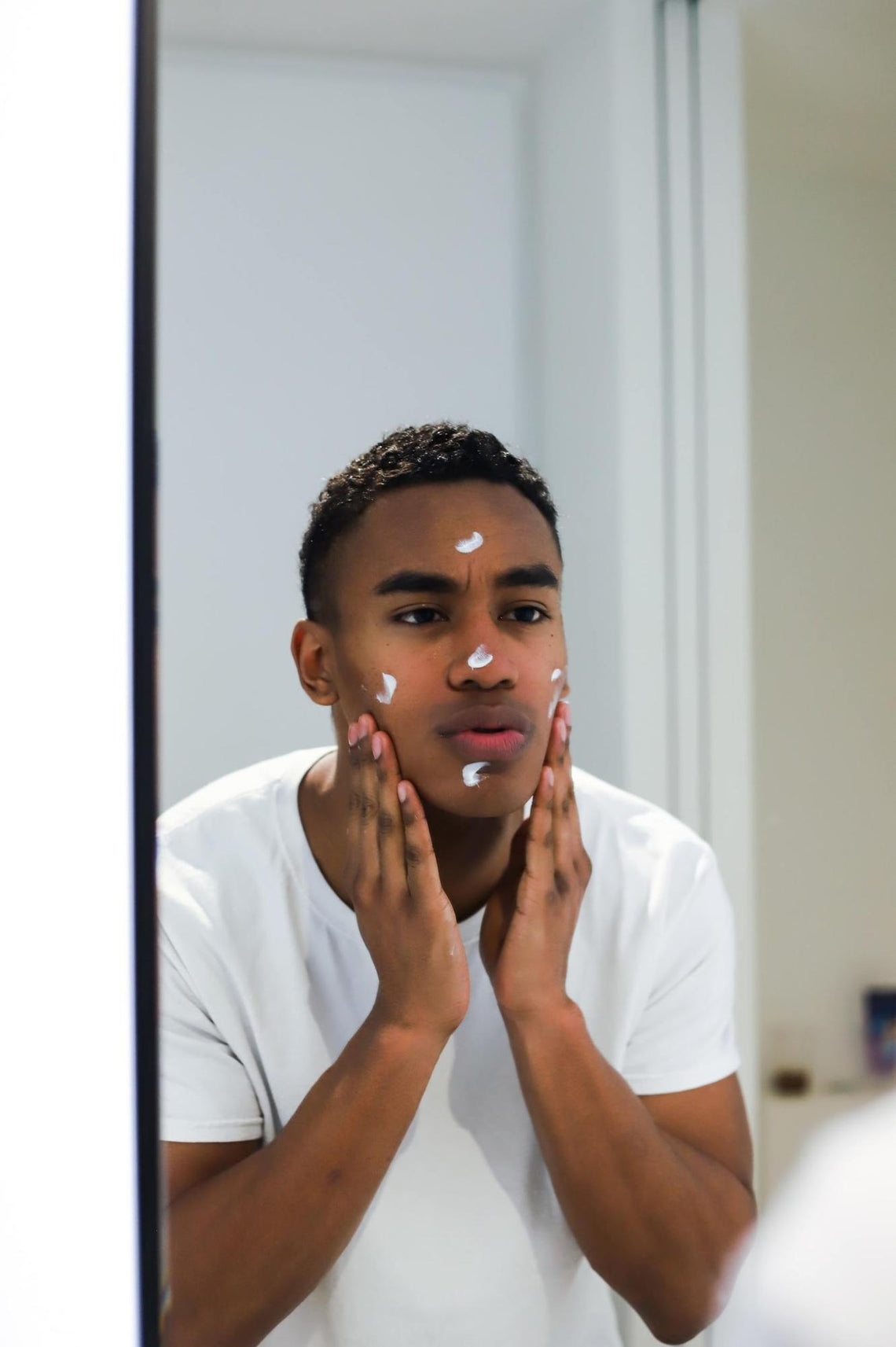 Few things are more frustrating than having oily skin as an adult. Gone are the days of raging hormones and vocal changes, but the greasy skin and breakouts remain. Luckily, there are several skin care ingredients for oily skin.
The Oil-Fighting Ingredients in Skin Care Products
If you deal with oily skin, look for products that include these skin care active ingredients.
1. Retinol
Retinol is a form of vitamin A that is most commonly used to treat vitamin A deficiency. It's also popular in the skin care industry.
Retinol works by binding to DNA receptors in the skin, offering several benefits, including:
Reduces inflammation

Fights off skin infections

Promotes skin cell and hair regeneration

Reduces dark spots and hyperpigmentation

Minimizes pore size

Reduces sebum production
Studies have shown that treatment with retinol can reduce the size of facial pores. This helps control oil production, as larger pores will produce more oil.
2. Salicylic Acid
Salicylic acid is a very common and extremely effective topical treatment for acne. You can purchase it in many forms, but some products are prescription-only. Salicylic acid is an organic compound found in plants and commercially used in food preservatives, disinfectants, and antiseptics.
Salicylic acid has multiple benefits for oily skin, including:
Reduces inflammation

Helps shed dead skin cells

Reduces

oil production
Try our Product Recommender
3. Hyaluronic Acid
Naturally, you can find hyaluronic acid within the fluid of the joints and eyes. It's an ingredient in many products, such as supplements, pills, shampoos, creams, gels, eye drops, topical agents, and personal lubricants. Some forms of hyaluronic acid — like injections, fillers, and inhalers — are only available via prescription.
Hyaluronic acid, and its derivative, sodium hyaluronate, are common ingredients in skin care products. They're excellent for:
Moisturizing the skin

Revitalizing the skin

Calming irritation and flakiness

Reducing the appearance of age lines and wrinkles

Healing damage and

reducing scars
Hyaluronic acid and sodium hyaluronate are great ways to hydrate skin without adding extra oils. Their scar-reducing properties can help prevent and calm acne scarring as well.
4. Benzoyl Peroxide
Walking down the skin care aisle at your local drug store, you'll find shelves filled with benzoyl peroxide personal care products. It's a popular antiseptic for treating mild to moderate acne. You can find it over-the-counter as a cream, gel, soap, lotion, and many other forms, or get it as a topical prescription.
As an antiseptic, benzoyl peroxide reduces bacteria on your skin. It also dries your skin and sloughs off dead skin cells. As a result, benzoyl peroxide helps fight multiple causes of acne-prone and oily skin.
5. Vitamin Compounds
We've already mentioned that retinol, an A vitamin, is an excellent ingredient for excess oils. Other vitamins that have skin-boosting properties include vitamin C and vitamin E.
Vitamin C 
Along with supporting a healthy immune system, Vitamin C is vital for: 
Forming and preserving the

epidermal barrier

, the top layer of skin

Collagen production

Protecting against skin oxidation (as an antioxidant)

Slowing skin aging

Stimulating cell growth 

Counteracting effects of UVA radiation

Slowing melanin production that could lead to hyperpigmentation or melanomas
Vitamin E
Dermatologists have long been using vitamin E because it: 
Protects the skin

Slows signs of aging 

Slows the development of skin cancer 

Improves hyperpigmentation 

Improves skin elasticity and structure.
How to Combat Dry Skin as an Adverse Effect
Unfortunately, these oil-reducing ingredients can work a little too well, leaving your skin without enough oils to keep it healthy. This can lead to skin irritation that doesn't have enough protection, especially for those with sensitive skin.
To combat dry skin, keep these tips in mind:
Start a Skin Care Routine
Keep Your Oil Glands Clean and Healthy
While acne-prone and oily skin can have several causes, keeping your skin clean and healthy encourages proper oil production. Several things can help with this:
Don't touch your face, especially if you feel a breakout coming on. Touching your face transfers oils, germs, and bacteria from your fingers to your oil glands.

Use a clean pillowcase. Pillowcases should be washed or switched out at least once a week. 

Protect your skin from the sun. Extended sun exposure can cause your glands to produce excess oils.

Use products labeled as "noncomedogenic." This means they won't clog your pores.

Use personal care products with glycolic acid to help exfoliate your skin.

Clean off any cosmetic products before going to sleep, such as concealer.

Use acne-fighting skin treatments or products to prevent oil buildup.
For men dealing with acne-prone and oily skin, Tiege Hanley offers the bestselling Acne System. This set offers a face wash, facial scrub, moisturizer with SPF 20, and moisturizing acne cream featuring salicylic acid. Try a subscription or a one-time purchase, both backed by a 100% money-back guarantee. 
Unsure if the Acne System is the right one for you? Try Tiege Hanley's quick quiz to figure out which system is best for your skincare needs.
---
// © Copyright 2023 Tiege Hanley