How to Build a Skin Care Routine for Men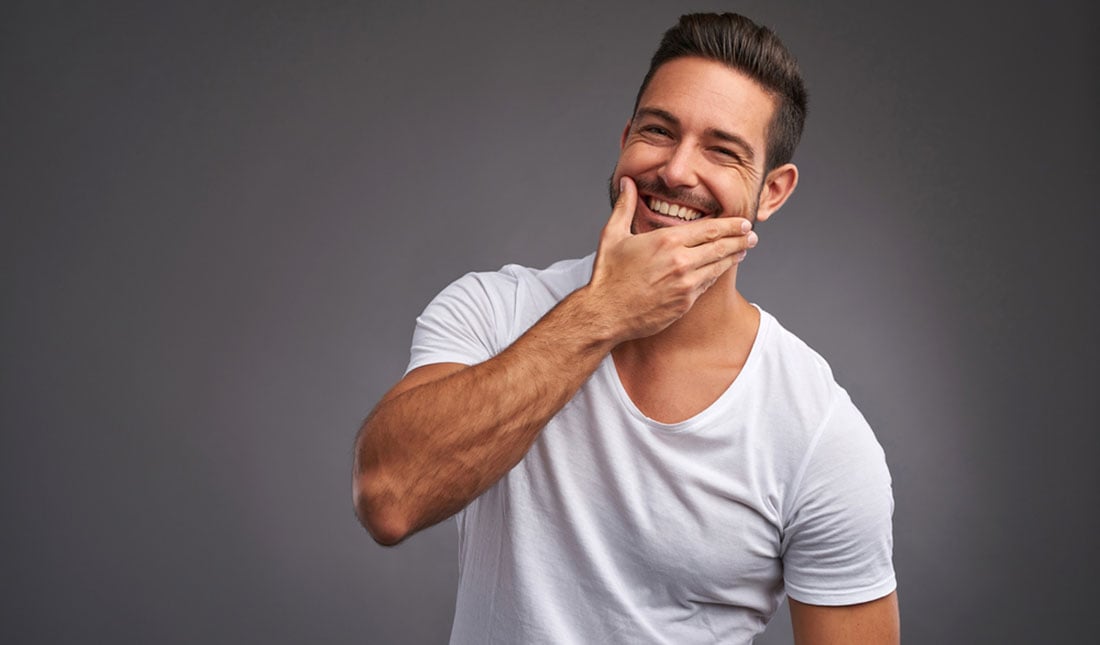 Sometimes you just don't know what you don't know.
As it turns out, the middle of the department store cosmetics section isn't the place for skin care 101.
When Kelley Thornton found himself there years ago, he was struck by three simple truths:
Guys really don't know much about skin care
Men's skin care products are complicated and confusing
This stuff is expensive
So, Kelley decided to develop a skin care routine for men that solved all three problems, and that's how Tiege Hanley's story begins.
All men have different skin types, textures, anxieties and goals.
It doesn't make sense for a guy to sample a bunch of different products with the goal of building a routine when he's not even sure how effective they will be. It would take forever and it would cost a fortune.
Besides, we already did that for you. We sampled everything we could find, then developed a variety of skin care routines for men that would suit their range of needs.
Let us help you find the right skin care routine that's perfectly tailored to your skin care needs and lifestyle.
Before we dive in, here are three things you should know about skin care routines for men:
Skin care for men requires a crawl-walk-run approach to be most effective
Use skin care products that are designed to work together to minimize unwanted skin reactions
Being consistent with a daily skin care routine is key to achieving results
What Is Skin Care?
We know many of you are new to this whole skin care thing, so let's start with the basics, like "what is skin care?" (and yeah, skin care is two words)
Skin care describes a range of practices that are used to support the health and appearance of your skin.
These include (but are not limited to):
avoiding excessive sun exposure
eating a nutritious diet
staying hydrated
following a skin care regimen
seeing a dermatologist
You see, most people aren't simply born with great skin.
Getting clear skin mostly comes down to your daily habits—what you eat, what you drink, how you handle stress, your sleep quality, etc.
But above all, it comes down to your daily skin care routine.
What Is a Skin Care Routine?
A skin care routine refers to the skin care products you use on a daily basis to maintain your skin's health and appearance.
Your personal skin care routine can be as simple or as complicated as you like.
The most important thing is that you're consistent with your daily routine.
Consistency is key to supercharging the effectiveness of your skin care products and maintaining healthy, glowing skin.
But like most daily habits, developing consistency with your skin care routine can be difficult.
The best way to develop good habits is by starting small and working your way up. We believe in the crawl-walk-run approach.
Starter Routine: Face Wash and Morning Moisturizer (It Takes 2 min)
New to the world of men's skin care?
Everyone has to start somewhere.
We get that building a skin care routine from scratch can be a daunting task.
Fortunately, Tiege Hanley has developed a no-fuss, starter-level skin care routine for men who want to keep things simple.
The Starter Routine contains just two products that make a huge impact for all men: a facial cleanser and a moisturizer with some SPF in it.
If your current skin care routine consists of doing nothing, you'll be pleasantly surprised just how good you look and feel after a week or two of the Starter Routine.
In the Morning…
No need to wake up any earlier. You can wash your face and apply some moisturizer in under two minutes.
Step #1: Facial Cleanser
Put down the bar of Irish Spring, guys. It's not doing your skin any favors.
There's a better way to wash your face, and it goes by the name of WASH, our daily facial cleanser for men.
Unlike harsh bar soaps, WASH is specifically formulated to remove excess oil, dirt and grime WITHOUT stripping away your skin's natural oils.
Our gentle face wash contains high-quality ingredients such as Cucumber Extract (hydrates and smooths skin) and Willow Bark Extract (reduces inflammation while promoting cell turnover).
The result is an effective yet gentle face wash that cleanses your skin without impairing skin barrier function.
Step #2: AM Moisturizer
Every guy needs a daily moisturizer with SPF in his skin care arsenal—full stop.
A daily moisturizer with SPF not only hydrates and repairs your skin, it's also critical for protecting your skin from the sun's harmful UV rays.
What's the big deal about UV rays?
In addition to preventing signs of premature aging, protecting your face with SPF can also reduce your risk of skin cancer.
The American Cancer Society estimates that 100,350 people will be diagnosed with melanoma —the deadliest form of skin cancer—in 2020.
Of those new cases, over 60,000 will be men and more than 40,000 will be women.
There are several theories floating around as to why guys are more likely to be diagnosed with melanoma compared to women, but, ultimately, the solution remains the same.
Practice sun safety and apply SPF like your life depends on it—because it very well could.
In the Evening…
We get it.
It's been a long day and you want nothing more than to eat dinner and then crawl into bed.
But simply washing your face before bed is all it takes to wake up to better-looking skin.
Sounds doable, right?
Here's your one-step nighttime skin care routine:
Step #1: Facial Cleanser
A quick splash of water on your face isn't enough to wash off the dirt, bacteria and grime that your skin has accumulated throughout the day.
Head over to the sink, pick up your facial cleanser and give your face a quick wash.
Your skin will thank you for it in the morning.
Level 1 (Next-Level Skin Care Routine): WASH, SCRUB, AM, PM
Our Level 1 Skin Care System consists of our two essential products, WASH and AM, plus two other very important products: a face scrub and a PM moisturizer.
Basically, it's the next evolution of the Starter System because it's made for beginners who are starting to earn their skin care wings and are committed to achieving clear, healthy-looking skin.
In the Morning…
Ready to start your day with a foolproof skin care routine? Follow these simple steps and you'll be well on your way to better skin:
Step #1: Facial Cleanser
Step #2: Face Scrub (Twice a Week)
After washing your face, you'll reach for SCRUB, our fragrance-free exfoliating scrub for men.
SCRUB uses crushed apricot seeds to gently exfoliate dead skin cells from your face without making it feel as though you're being sandpapered.
Featuring soothing ingredients such as Cucumber Extract and Menthyl Lactate, the Tiege Hanley face scrub will leave your skin feeling smooth and refreshed.
It also contains Niacinamide (Vitamin B3) which, according a 2005 study published in Dermatologic Surgery, can improve visible skin aging (see claim: "Analyses of the data revealed a variety of significant skin appearance improvement effects for topical niacinamide: reductions in fine lines and wrinkles, hyperpigmented spots, red blotchiness, and skin sallowness (yellowing).")
The benefits of using a face scrub for men are numerous: it keeps acne breakouts at bay, reduces dark spots, improves skin tone and smooths out wrinkles and fine lines.
Use it twice a week (max) after you wash your face.
Step #3: AM Moisturizer
In the Evening…
Time to add the restorative powers of evening moisturization into the mix. You're already a pro at washing your face before bed. Now, let's give your skin a reason to celebrate while you snooze.
Step #1: Facial Cleanser
Step #2: PM Moisturizer
After you wash your face, follow up with a bedtime moisturizer.
And to answer your unspoken question: Yes, you do need a separate moisturizer for morning and nighttime.
Tiege Hanley's bedtime moisturizer for men is specifically formulated to enhance your skin's nighttime renewal process.
It contains powerful ingredients such as Collagen (to improve skin structure) and Hydrolyzed Elastin (to hydrate the skin), both of which can help you wake up to healthier, more vibrant skin.
Level 2 (Intermediate): WASH, SCRUB, AM, PM + EYES
Ready to take your skin care routine up a notch?
If you've already mastered the basics, it's time to take the next logical step in your skin care evolution by embracing an eye cream for men.
We know what you're thinking: Do I really need an eye cream for men?
You aren't immune to the effects of time—or a wild night out, for that matter.
The evidence of both has a nasty way of showing up on the super-thin skin around our eyes.
Tiege Hanley's Level 2 Skin Care System contains our four core products PLUS a powerful eye cream to help you combat dark spots and reduce signs of aging.
The result is a fresher, brighter and more youthful-looking appearance in the short- and long-term.
In the Morning…
You'll wash your face with a facial cleanser and use your exfoliating scrub (twice weekly) as usual.
Before you apply your moisturizer, you'll gently massage your eye cream into the skin around your eyes.
Here's what your Level 2 morning skin care routine will look like:
Step #1: Facial Cleanser
Step #2: Face Scrub (twice weekly)
Step #3: Eye Cream
Step #4: AM Moisturizer
Looks simple enough, right?
That's because it is simple.
In case you've never used eye cream before, here's how to apply it:
Dispense a single pump of EYES on your index finger
Evenly distribute the product by touching your two index fingers together
Gently pat your eye cream around your eyes
Be sure to get the outer corners to fend off crow's feet and fine lines
In the Evening…
For your nighttime skin care routine, you'll follow the same steps listed in our Level 1 Skin Care System.
Only this time, you'll use eye cream before you apply your bedtime moisturizer.
Here's what your Level 2 nighttime skin care routine will look like:
Step #1: Facial Cleanser
Step #2: Eye Cream
Step #3: PM Moisturizer
See? Easy.
Level 3 (Advanced): WASH, SCRUB, AM, PM, EYES + SUPER SERUM
So, you're a bit of a skin care whiz.
You enjoy taking good care of your skin because you know that hard work pays off in the end.
While your buddies are all bemoaning their crow's feet and age spots, you want to be looking half your age.
In that case, you definitely want our Level 3 Skin Care System.
Designed for guys who want to look younger for longer, our advanced skin care routine for men contains our four basic products plus EYES and SERUM, our facial firming serum for men.
Our powerful, anti-aging super serum contains a highly-concentrated combination of antioxidants, peptides and other anti-aging products.
Though it may not make you age backwards like Benjamin Button, it gets pretty darn close!
Don't worry—your morning routine is still relatively simple.
However, do note that you'll be applying your serum before EYES and AM.
The reason for this is that you want the highest concentration of ingredients to absorb into your skin.
Ready to achieve amazing skin?
Here's what your Level 3 morning skin care routine will look like:
Step #1: Facial Cleanser
Step #2: Face Scrub (twice weekly)
Step #3: Serum
Step #4: Eye Cream
Step #5: AM Moisturizer
If you've never used facial firming serum before, don't sweat it.
Here's how to apply it like a pro:
Dispense one pump on your finger (a little goes a long way)
Distribute evenly on your other finger
Massage the serum all over your face and neck
In the Evening…
For your nighttime skin care routine, follow the same steps as you did early in the day except replace the AM moisturizer with the PM moisturizer.
Here's what your Level 3 nighttime care routine will look like:
Step #1: Facial Cleanser
Step #2: Eye Cream
Step #3: Serum
Step #4: PM Moisturizer
Acne System: WASH, SCRUB, AM, ACNE
Struggling to get a handle on your acne breakouts?
Consistency is key—that, along with a powerful acne treatment system.
Tiege Hanley's Acne System is scientifically-proven to clear up mild to moderate breakouts.
This system contains ACNE, our Salicylic Acid-based acne cream that is simultaneously tough on breakouts and gentle on your skin.
More importantly, we put Salicylic Acid in a cream rather than a cleanser.
By putting Salicylic Acid in a cream, the active ingredient remains on the skin all day so it can effectively do its job—which is to say, eliminating oil and treating your breakouts!
In the Morning…
If your acne blemishes are relatively mild, we recommend using our acne cream once in the evening.
For more severe breakouts, you may want to consider upgrading to our Acne System Level 2.
This system contains a second ACNE cream which is meant to be applied once in the morning and once in the evening.
Here is what your morning acne routine will look like:
Step #1: Facial Cleanser
Step #2: Face Scrub (Twice Weekly)
Step #3: Acne Cream
Step #4: AM Moisturizer
Tempted to forgo your daily moisturizer with SPF altogether?
That's not a good idea.
You still need daily sun protection.
That's why we recommend applying your AM moisturizer over your acne cream to keep harmful UV rays at bay.
In the Evening…
Your evening acne routine is super simple.
All you need to do is wash your face and replace your bedtime moisturizer with our acne cream.
Here's what your evening acne routine will look like:
Step #1: Facial Cleanser
Step #2: Acne Cream
Keep in mind that even the most effective acne treatments can't banish pimples overnight.
Give your acne treatment system at least two weeks to start working its magic.
Skin Care for Men Made Simple
The ideal skin care routine for men should be many things: uncomplicated, easy to use, affordable and accessible to everyone.
What it shouldn't be is a one-size-fits-all situation.
The most effective way to achieve clear, radiant-looking skin is by choosing a skin care system that works with your skin and your budget.
Not sure which Tiege Hanley Skin Care System is right for you?
Send us a message at info@tiege.com and we'll be happy to assist.
References
Bissett, Donald L., et al. "Niacinamide: A B Vitamin That Improves Aging Facial Skin Appearance." Dermatologic Surgery: Official Publication for American Society for Dermatologic Surgery [et al.], vol. 31, no. 7 Pt 2, July 2005, pp. 860–65; discussion 865.
Melanoma Skin Cancer Statistics. www.cancer.org, Accessed 12 May 2020.