Subscription
Shipping Address
Order Date

This subscription's skin care system will get replaced.

${ address.name }




${ address.products }

${ displaySubscriptionName(address) }




${ displayProducts(address) }

${ displayAddress(address) }
${ formatDate(address.scheduleDate) }

${ address.name ? address.name : displaySubscriptionName(address)}
${ address.products }
${ displayProducts(address) }
Shipping Address
${ displayAddress(address) }
Delivery Date
${ formatDate(address.scheduleDate) }
This subscription's skin care system will get replaced.
5 Causes of Dry Skin Patches on the Face and What to Do About It
Dry skin bringing you down? In this post, we run down what's causing those annoying dry skin patches on your face.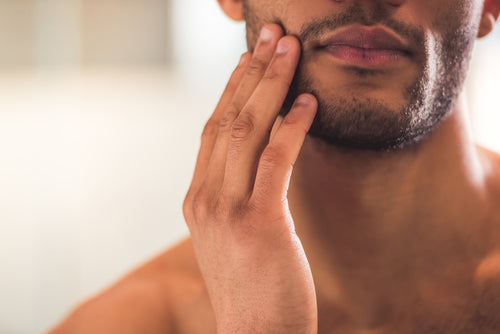 From cold weather to chronic skin conditions, dry skin can occur for all sorts of reasons. But if your dry skin patches are limited to just your face, this may offer a clue as to the underlying cause.
Even if the dry skin patches on your face are only a minor annoyance, it's best that you get to the bottom of it. Although dry skin is usually nothing to worry about, it may be a sign of something more serious.
Here are several things you need to know about dry skin patches on your face:
Dry skin patches on the face can be caused by numerous lifestyle and genetic factors such as extreme temperatures, chronic skin conditions or UV damage.
Skin care products that are formulated specifically for your skin can reduce the appearance of dry skin patches.
If your dry skin patches don't seem to fade over time, seeing a dermatologist is the next logical step.
1. Extreme Weather
If your dry skin patches seem to be seasonal, extreme temperatures could be to blame. During the winter, the temperature drops and sucks the moisture from the air, as well as from our skin.
Cranking up the thermostat in the winter can also dry out your skin. This can lead to flaky, dull skin that may also be red and itchy.
How to Fix—To combat winter's effects, remember to use a men's daily moisturizer that restores moisture to your skin without clogging your pores. Another way to improve your dry skin patches is by placing a humidifier in your bedroom to put moisture back in the air.
2. Dehydrating Skin Care Products
Did your dry skin patches start appearing after using a specific skin care product? Many of us have sensitive skin that can be irritated by specific skin care ingredients.
In fact, sensitive skin is becoming more common. A 2011 study published in the International Journal of Dermatology surveyed nearly 1,000 subjects and found that almost 47 percent of them said that they had "sensitive" or "very sensitive skin" (see claim: "This study…reveals a high prevalence of sensitive skin in the USA.")
Skin care products containing artificial fragrances, dyes and sulfates can irritate the skin and cause dry patches. Although it might sound tedious, checking the ingredients in your skin care products before you buy them can do your skin a lot of good.
How to Fix—If you've recently tried using chemical peels or toners, try putting them on pause for a while to see how your skin reacts. You can also stop using your other skin care products for a short time to see what happens.*
* Don't quit all your products at once. Stop using them one by one to identify the true culprit.
Try Men's Skin Care
3. Scrubbing Too Hard
You may already know that exfoliation is an essential step in any guy's skin care regimen. But if you've been scrubbing too hard or too often, dry skin patches can occur.
The skin on the top of our cheeks is especially prone to damage and dryness from exfoliating scrubs due to the bone underneath.
How to Fix—You don't need to stop using your exfoliating scrub altogether. Just be gentle and cut back on how much you use it each week. If you've been using an exfoliating scrub twice a week, try using it only once a week.
Take the skin care quiz
4. Atopic Dermatitis (Eczema)
It's not uncommon to develop inflammatory skin conditions as an adult. Although many people believe eczema is a childhood disease, it can appear in adults at any age.
The dry skin patches on your face are a common sign of adult-onset eczema. While children mostly get eczema on their elbows and knees, adults can also have it on their face and the back of their neck.
How to Fix—In addition to using non-irritating skin care products, moisturization is key to reducing symptoms of eczema. There are also many OTC topical creams that can be used for eczema relief. For more severe cases of eczema, see a dermatologist for a prescription medication.
5. Sun Damage
UV radiation is the skin's worst enemy. Not only can sun damage cause premature wrinkles and lines, it can also dry out the skin and cause flaky patches.
Even worse, excessive sun exposure can lead to actinic keratosis, an early stage of skin cancer. This skin condition appears as a dry, scaly patch that may itch, burn or bleed.
To reduce your risk of skin cancer, it's vital that you take steps to protect yourself from sun damage. This includes staying out of the sun during peak hours (10 a.m. to 4 p.m.) and wearing sunscreen each day.
How to Fix—If there is any possibility that your dry patches are actinic keratosis, you need to see a dermatologist immediately. According to a 2011 study published in Cutis, actinic keratosis is a marker for a higher chance of developing nonmelanoma skin cancer such as squamous cell carcinoma (see claim: "…AK is a marker for an increased rate of nonmelanoma skin cancer…")
Final Thoughts
In many cases, dry skin patches on the face can be easily taken care of at home or they will go away on their own. However, it never hurts to have a medical professional check out your skin to ensure that it's not something serious.
When was the last time you had your skin checked by your doctor? If it's been a while, it's time to schedule an appointment. By finally getting to the bottom of your dry skin, you can restore your face to its full, handsome potential.
---
// © Copyright 2023 Tiege Hanley