Subscription
Shipping Address
Order Date

This subscription's skin care system will get replaced.

${ address.name }




${ address.products }

${ displaySubscriptionName(address) }




${ displayProducts(address) }

${ displayAddress(address) }
${ formatDate(address.scheduleDate) }

${ address.name ? address.name : displaySubscriptionName(address)}
${ address.products }
${ displayProducts(address) }
Shipping Address
${ displayAddress(address) }
Delivery Date
${ formatDate(address.scheduleDate) }
This subscription's skin care system will get replaced.
5 Causes of Rough Skin on the Face
Rough skin on the face can be harmless or a sign of something more serious. We break down five common causes of rough skin on the face and how to relieve symptoms.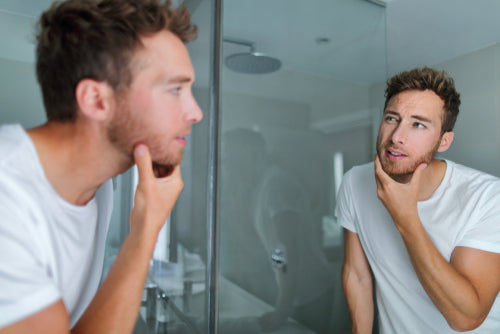 If you have rough skin on the face that doesn't seem to go away, it's time to get to the bottom of it. While many people struggle with rough, dry skin on the face, it may be a sign of something more serious.
Here are several things you ought to know about rough skin on the face:
Rough, cracked skin can be relatively harmless, or a sign of something more serious.
Dry skin is usually the underlying cause of rough patches on the skin.
Treatments for rough skin on face will depend on the underlying cause.
 1. Psoriasis
Psoriasis is a skin disorder which causes scaly, itchy patches of skin to form on the body. Although it commonly affects the scalp, elbows and knees, psoriasis can appear on the face as well.
According to a 2007 review published in The Journal of Dermatological Treatment, facial psoriasis affects 17-46 percent of people with psoriasis (see claim: "Facial psoriasis occurs in 17-46% of psoriatics…") When psoriasis affects the face, it's usually near the scalp or around the eyes.
Synthetic vitamin D has shown promise in the treatment of facial psoriasis because it may be gentler on sensitive skin. Special steroid creams can also be used sparingly on the face to treat psoriasis.
Try Men's Skin Care
2. Actinic Keratosis
Actinic keratosis (AK) is a common skin growth that occurs from too much sun exposure. These appear as crusty, dry growths on the skin that may become hard over time.
While actinic keratosis is benign, it needs to be examined by a dermatologist immediately. AKs can eventually develop into skin cancer, such as squamous cell carcinoma.
Because men have a higher risk of developing skin cancer, AKs should not be left ignored. According to a 2006 study published in Archives Dermatology, AKs were more prevalent in men than women and this risk increased with age (see claim: The prevalence was higher among men than women and increased steadily with age.")
3. Atopic Dermatitis
If your rough skin is red and itchy, it may be atopic dermatitis. Also known as eczema, this chronic skin condition is often genetic and can occur on the body or the face.
Facial atopic dermatitis usually appears on the cheeks and forehead and tends to flare periodically. It can be triggered by harsh skin products, so be sure to find a skin care system that's gentle on your skin.
Although atopic dermatitis can't be cured, there are treatments for facial eczema that you can try. Prescription steroids, phototherapy (UV light therapy) and calcineurin inhibitors have all shown promise in the treatment of facial eczema.
Additionally, one of the best things you can do for facial eczema is to keep it moisturized. A gentle moisturizer for men will help soothe rough skin and reduce the itch.
4. Dry Skin
Although dry skin is an underlying symptom of many skin diseases, it can sometimes just be dry skin that's causing rough patches on your face. If you aren't properly moisturizing your face after each wash, this could be causing your skin to take on a rough appearance.
Ideally, men should wash their face once in the morning and once before bed. After your morning wash, apply a men's daily moisturizer with SPF to hydrate and protect your face from UV rays.
At night, your face has different needs. Apply a night cream before bed to boost your skin's nighttime repairing abilities. The best night cream for men will help keep your face smooth and handsome by stimulating collagen production.
Take the skin care quiz
5. Shaving
Do your rough patches occur in areas where you shave? If so, your shaving technique might be to blame.
Shaving with cheap razors and soaps can dry out the skin, leaving your face feeling dry and itchy. To achieve a smooth, clean shave, remember to keep your razor blades sharp and to use plenty of lubrication pre-shave and post-shave.
Avoid using aftershave, however. Aftershave usually contains alcohol, which can dry out your skin and leave you susceptible to the dreaded beard acne.
Keep Skin Supple and Smooth
More often than not, a rough face is usually the result of dry skin. Unfortunately, there are a number of things which can cause dry skin.
While a daily moisturizer will go a long way in healing dry facial skin, it helps to know exactly why you're struggling with rough skin in the first place. If you've tried everything and nothing seems to make a difference to the rough skin on your face, it may be time to see a doctor.
---
// © Copyright 2023 Tiege Hanley