Subscription
Shipping Address
Order Date

This subscription's skin care system will get replaced.

${ address.name }




${ address.products }

${ displaySubscriptionName(address) }




${ displayProducts(address) }

${ displayAddress(address) }
${ formatDate(address.scheduleDate) }

${ address.name ? address.name : displaySubscriptionName(address)}
${ address.products }
${ displayProducts(address) }
Shipping Address
${ displayAddress(address) }
Delivery Date
${ formatDate(address.scheduleDate) }
This subscription's skin care system will get replaced.
5 Reasons for Men to Get a Manicure
Are manicures for men worth it? Find out five reasons why every guy deserves to give his hands the VIP treatment with a manicure for men.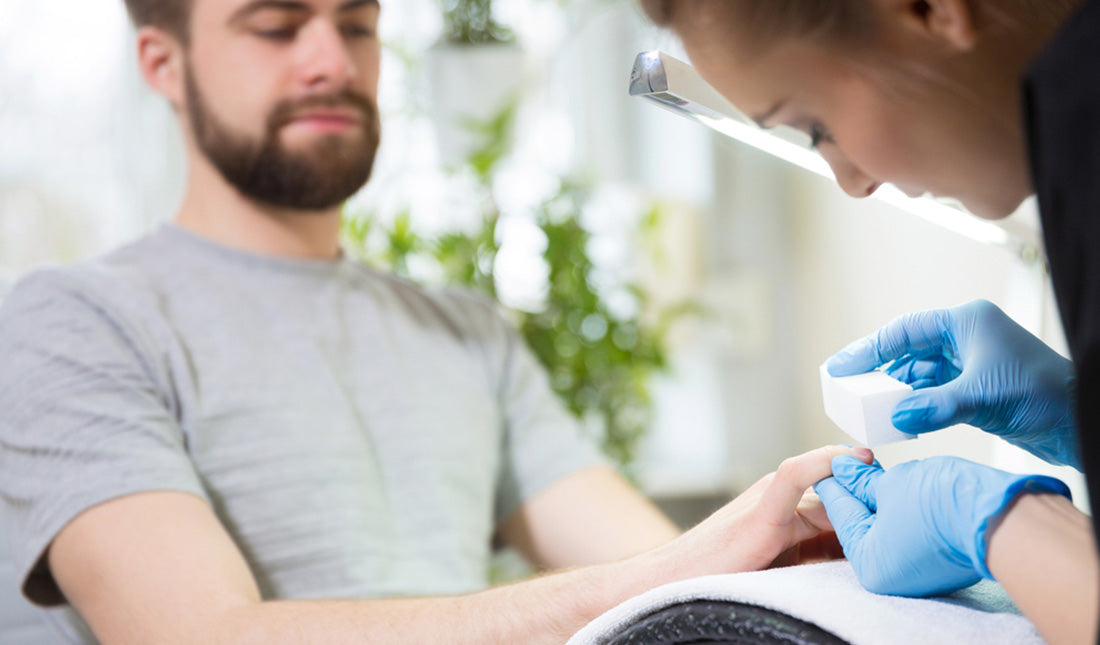 Manicures for men are more popular than ever before, and for good reason. It's a prime opportunity to clean up your dirty nails and let yourself be pampered for a change.
If you're still on the fence about getting a manicure for men, we understand completely. However, you're missing out on several mental and physical health benefits by shrugging off this important act of self-care.
Here are three things you should know about getting a manicure for men:
Manicures can support healthy nails and hands
Manicures for men can decrease stress and alleviate anxiety
Manicures can reduce signs of aging in your hands
What are the benefits of manicures for men? Below, we've listed our top five reasons why you should book an appointment with a nail salon.
1. Improves Nail Health
From painful hangnails to stubborn nail infections, there are a surprising number of conditions that can affect the nails and the skin around them. Getting a regular manicure can help strengthen your nails and improve their health by keeping them trim and clean.
The one caveat to this is if you choose to wear nail polish. Wearing nail polish can dry out the nail and cause discoloration.
Even worse, some nail polish products have been found to contain toxic ingredients. In a 2018 study published in Environmental Science & Technology, researchers found that many nail polish products contain phthalates such as di(2-ethylhexyl) phthalate (DEHP), a plasticizer that has been flagged as a potential endocrine disruptor (see claim: "The nail polishes without measurable TPHP had higher DEHP levels than those with measurable TPHP.")
CONTROL EYE BAGS
2. Helps You De-Stress
If you've ever gotten a pedicure for men before, then you probably know that a relaxing foot massage is an important part of the treatment. Manicures for men are similar in that you'll receive a gentle and relaxing hand massage.
While a hand massage may not seem like much, studies have shown that they can help relieve anxiety and stress. In a 2001 study published in the Journal of Cataract and Refractive Surgery, hand massages were found to decrease anxiety levels and lower blood pressure in patients undergoing cataract surgery (see claim: "The findings indicate that hand massage decreases the psychological and physiological anxiety levels in patients having cataract surgery under local anesthesia.")
Consider looking for a manicurist that uses reflexology techniques to massage your hands. This technique involves hitting certain pressure points on your hands to send calming signals to the brain.
3. Boost Blood Circulation
The massage you receive as part of your manicure can also help stimulate blood flow. This can have a wide range of benefits, especially if you frequently work with your hands or suffer from cold hands.
If you're typing at the computer all day and experience soreness in the hands, a gentle massage can potentially boost blood flow to the hands and alleviate soreness.  A hand massage can also alleviate painful symptoms in the hands during the winter when reduced blood flow in the extremities is common.
4. Keeps Your Nails Clean
Dirty nails are never a good look on a guy. Nails that have discoloration or dirt underneath them will likely gross out your date and possibly tarnish your professional image to boot.
A manicure will promote better nail and overall hand health by trimming your nails, cleaning up the cuticles and restoring hydration to your nails. Once it's all said and done, you'll have better-looking hands that won't scare off your date.
Take the skin care quiz
5. Makes Your Hands Look Younger
If you're trying to slow down signs of aging, you probably have a facial firming serum for men and a powerful eye cream in your skin care arsenal. While these products can help turn back time on your face, your hands are a different story.
The negative effects of UV rays can take their toll on your hands, leading to unsightly age spots and wrinkles. Although a manicure can't eliminate age spots and sun damage, they can reduce signs of aging on your hands in other ways.
For example, your manicurist may use exfoliation to slough off dead skin cells to promote an even skin tone. They'll also work in lotion to restore hydration and improve skin barrier function in your hands.
Treating Yourself to a Manicure for Men
When getting a manicure for the first time, you might feel a little awkward in the beginning. Rest assured that you aren't the only guy to walk into their nail salon and you certainly won't be the last.
Once you see the difference a little pampering can make, you'll be sold on the idea of regular manicures for men. Your hands and nails will thank you for it.

References
Kim, M. S., et al. "Effects of Hand Massage on Anxiety in Cataract Surgery Using Local Anesthesia." Journal of Cataract and Refractive Surgery, vol. 27, no. 6, June 2001, pp. 884–90. PubMed, doi:10.1016/s0886-3350(00)00730-6.
Young, Anna S., et al. "Phthalate and Organophosphate Plasticizers in Nail Polish: Evaluation of Labels and Ingredients." Environmental Science & Technology, vol. 52, no. 21, Nov. 2018, pp. 12841–50. PubMed Central, doi:10.1021/acs.est.8b04495.
---
// © Copyright 2023 Tiege Hanley