Subscription
Shipping Address
Order Date

This subscription's skin care system will get replaced.

${ address.name }




${ address.products }

${ displaySubscriptionName(address) }




${ displayProducts(address) }

${ displayAddress(address) }
${ formatDate(address.scheduleDate) }

${ address.name ? address.name : displaySubscriptionName(address)}
${ address.products }
${ displayProducts(address) }
Shipping Address
${ displayAddress(address) }
Delivery Date
${ formatDate(address.scheduleDate) }
This subscription's skin care system will get replaced.
5 Surefire Ways to Get Rid of Bad Breath
Can't seem to figure out how to get rid of bad breath? Discover five surefire ways to eliminate oral odor and get fresh breath once more.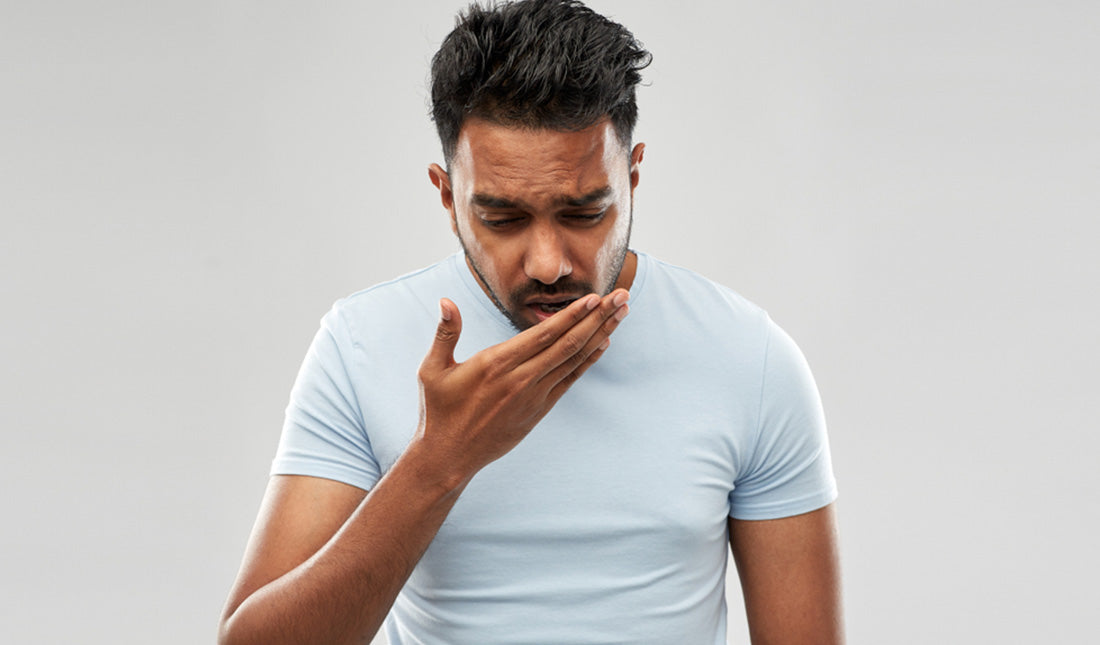 Do your coworkers lean away from you when you talk? Does your morning breath make your partner turn away in disgust? You may have halitosis, or bad breath.
Bad breath isn't uncommon. It's believed that up to 50 percent of the U.S. population will suffer from it at some point in their lives. Still, it's an embarrassing problem that you probably want to fix ASAP.
Fortunately, there are a few surefire methods of eliminating bad breath. You may need to try multiple methods before you find a solution that works.
Here are a few things you need to know about how to get rid of bad breath:
Bad breath may be caused by certain foods, poor dental hygiene and medical conditions
Using a tongue scraper to remove excess food particles on the tongue is an effective solution for bad breath
Bad breath may be a sign of an underlying dental problem that can only be fixed by your dentist
Want to get rid of your bad breath once and for all? Below, we'll discuss five surefire ways to do just that.
1. Use a Tongue Scraper
You brush your teeth twice per day and use mouthwash regularly, but for some reason, your bad breath still remains. What's the deal?
In this case, your bad breath may be caused by a buildup of food particles on the tongue. This buildup can attract bacteria, which break down the food particles into volatile sulfur compounds that become the main source of bad breath.
Luckily, this problem is often solved by adding a tongue scraper to your daily oral care routine. In a 2008 study published in the Journal of Periodontal Research, scientists demonstrated that using a tongue scraper decreased more than half of volatile sulfur compounds in patients with bad breath (see claim: "Volatile sulfur compounds were decreased by more than 50% after tongue scraping.")
2. Stop Smoking
If you smoke regularly, it's certainly not helping your bad breath (or your skin, for that matter). Smoking smells terrible and can also dry out your mouth, which can lead to bad breath.
According to a 2010 study published in the Journal of Dental Research, Dental Clinics and Dental Prospects, a long-term smoking habit can significantly decrease salivary flow rate in the mouth, which can result in oral and dental health problems such as gingivitis and halitosis (see claim: "Our findings indicated that long-term smoking would significantly reduce SFR and increase oral and dental disorders associated with dry mouth, especially cervical caries, gingivitis, tooth mobility, calculus, and halitosis.")
Although quitting a smoking habit isn't an easy thing to do, it's entirely possible. Check out the American Lung Association for helpful resources on how to stop smoking to finally kick the habit for good.
3. Swap Coffee for Water
It's no coincidence that your breath is more pungent after your morning cup of Joe. Coffee is arguably one of the worst beverages you can drink if you have halitosis because it slows down salivary flow and dries out your mouth.
When your mouth doesn't produce enough saliva, food particles remain on your tongue and in between your teeth. This leads to an increased number of bacteria in your mouth, which feast on the food particles and cause bad breath.
The best thing you can do for your breath is to swap your daily cup of Joe with water. If you can't quit your coffee habit, try to drink a full glass of water after your coffee.
4. Chew Sugarless Gum
If you eat a snack and can't rinse out your mouth immediately, consider popping some sugarless gum into your mouth. Chewing gum can help dislodge some of the food particles from your teeth and tongue, which decreases the chance of bad breath.
Just make sure that you're chewing sugar-free gum and not regular gum. Bacteria have a strong appetite for a simple sugar called glucose, which is found in any gum products.
5. Schedule Regular Dental Cleanings
Still don't know how to get rid of bad breath? See your dentist ASAP. It could be that you're dealing with a dental disease that needs attention immediately.
Bad breath is a well-known symptom of gum disease (also known as periodontal disease). Periodontal disease can be made worse by eating citrus fruits and using teeth whitening products, so consider laying off both until you see your dentist.
The Takeaway
Bad breath isn't just a mere annoyance. In fact, it may be a sign that something more serious is going on in your mouth. Just like your daily skin care routine, oral care is something that should never be overlooked. Be sure to schedule regular dental cleanings with your dentist and follow their advice to improve your oral health.
References
Lee, Sean S., et al. "Halitosis Update: A Review of Causes, Diagnoses, and Treatments." Journal of the California Dental Association, vol. 35, no. 4, Apr. 2007, pp. 258–60, 262, 264–68.
Tsai, C. C., et al. "The Levels of Volatile Sulfur Compounds in Mouth Air from Patients with Chronic Periodontitis." Journal of Periodontal Research, vol. 43, no. 2, Apr. 2008, pp. 186–93. PubMed.
Rad, Maryam, et al. "Effect of Long-Term Smoking on Whole-Mouth Salivary Flow Rate and Oral Health." Journal of Dental Research, Dental Clinics, Dental Prospects, vol. 4, no. 4, 2010, pp. 110–14. PubMed Central.
---