Subscription
Shipping Address
Order Date

This subscription's skin care system will get replaced.

${ address.name }




${ address.products }

${ displaySubscriptionName(address) }




${ displayProducts(address) }

${ displayAddress(address) }
${ formatDate(address.scheduleDate) }
${ address.name ? address.name : displaySubscriptionName(address)}
${ address.products }
${ displayProducts(address) }
Shipping Address
${ displayAddress(address) }
Delivery Date
${ formatDate(address.scheduleDate) }
This subscription's skin care system will get replaced.
5 Things to Do When Working from Home
Stuck working from home due to COVID-19?  Check out five things you need to do when working from home to maximize your productivity (and preserve your sanity).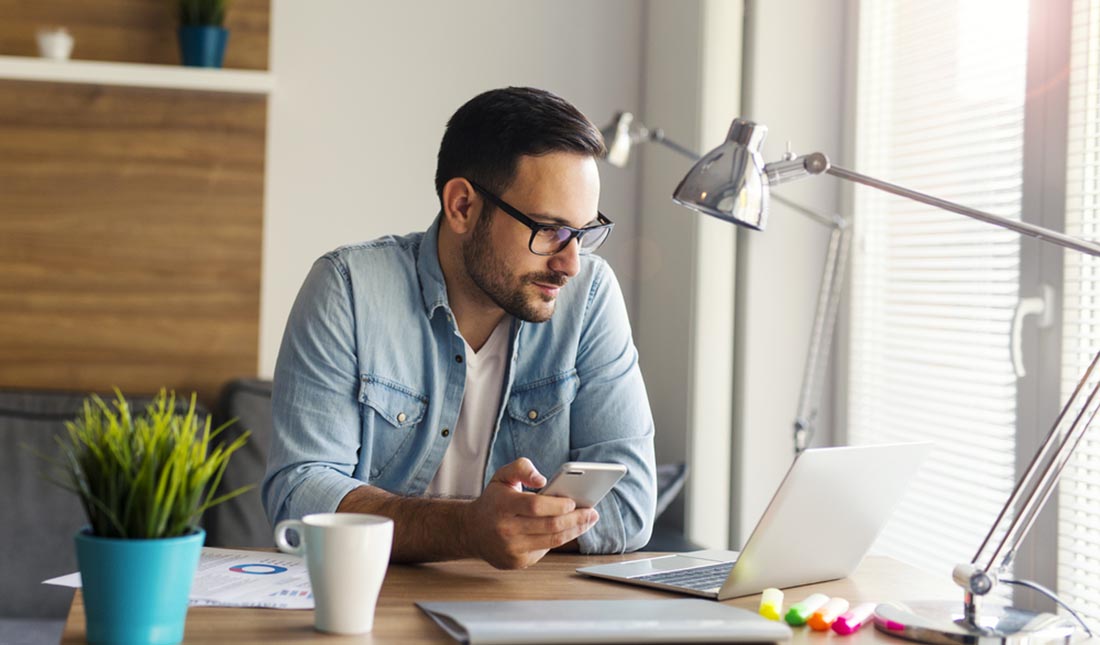 Working from home (WFH) expectations: sweatpants, flexible hours and undisturbed quiet.
Working from home reality: endless distractions, mindless snacking and loneliness.
Needless to say, remote work isn't for everyone.
Many people have been forced to work from home due to the recent coronavirus outbreak, and not everyone is adapting well to the change.
If you're struggling to adjust to WFH life, you've come to the right place.
Below, we've rounded up a list of things to do when working from home to help maximize your productivity—and preserve your precious sanity—as you adjust to the new normal.
But first, here are three things you need to know about working from home:
If possible, avoid working in your bedroom
To boost productivity, give your day structure with a daily routine
If you start to feel lonely, reach out to other teleworkers and build your WFH network
CONTROL EYE BAGS
Working from home isn't always a picnic.
Here are a few essential tips to make WFH work for you:
1. Create a Dedicated Workspace
Working from the comfort of your warm bed may seem like an amazing idea, but it's one of the worst things you can do for your productivity and well-being.
Wrapped up in the coziness of your sheets, you may be tempted to take a nap.
Working from bed can also make your bedroom a far less relaxing space.
Instead, try to create a workspace that is separate from your bedroom.
Having a designated workspace will also make it easier to "go to work" in the morning.
2. Stick to a Routine
Having flexible hours is arguably one of the biggest perks of remote work.
But when you aren't consistent with your daily routine, work has an unfortunate way of bleeding into your home life.
To help get yourself into "work mode" each day, give yourself regular work hours and stick to them.
Set your alarm for a certain time, make coffee, do your regular skin care routine and begin working at 8:00 a.m. sharp—or whatever time you usually start your workday.
By giving your daily routine some much-needed structure, you can help yourself stay focused and on-task.
3. Establish Boundaries
If working from home is brand-new territory for you, be sure to establish clear boundaries with your team right away.
Answering an email during non-work hours may not seem like a big deal at first, but it can put a huge strain on you and your family.
In fact, research has shown that even the mere expectation of monitoring work email while off the clock can negatively affect both the employee and their significant other's health and well-being.
Let your coworkers and bosses know your work availability (i.e., 9 a.m.-5 p.m.) and which methods of communication are OK to contact you.
Otherwise, you'll be contacted at odd hours and your personal time will never truly be your own.
4. Take Breaks
By now, most people know that prolonged sitting is bad for one's health.
According to a 2017 study published in the Journal of Lifestyle Medicine, sitting for too long can lead to exhaustion, hypertension, lower job satisfaction and muscle pain (see claim: "…long sitting times were associated with exhaustion during the working day, decreased job satisfaction, hypertension, and musculoskeletal disorder symptoms…")
And when you work from home, it's far too easy to stay glued to your computer and not move an inch.
TAKE THE SKIN CARE QUIZ
To stay active throughout the day, consider setting an alarm on your phone that reminds you to move every hour.
These breaks don't need to be particularly long–a good five- to10-minute stretching session will suffice.
If you have more time during the day—say, on your lunch break—try to sneak in a CrossFit workout or a few HIIT exercises you can do at home.
Getting the blood flowing will help you come back to your work desk feeling more energized and productive.
5. Find Your WFH Community
Feeling isolated and depressed?
Working remotely can do that to a person.
There are no morning coffee runs with colleagues.
No brief chats with your coworker at his or her cubicle.
It's just you, all alone—and maybe a dog.
If social deprivation is beginning to make you feel miserable, start building an online network.
Join WFH Facebook groups and other online communities.
You can also reach out to friends and family.
If they weren't already working from home, many of them now are.
They're probably feeling the pinch of loneliness, too.
Take comfort in the fact that you aren't alone in this.
We all need that human connection.
The Takeaway
Before the coronavirus outbreak, many employees would have given anything for the opportunity to work from home.
But as you may have realized, working from home has its unique challenges.
Follow these tips and remember to be nice to yourself through this period of adjustment.
Eventually, you'll find your groove and things will get easier.

References
Becker, William J., et al. "Killing Me Softly: Electronic Communications Monitoring and Employee and Spouse Well-Being." Academy of Management Proceedings, vol. 2018, no. 1, Academy of Management, July 2018, p. 12574.
Daneshmandi, Hadi et al. "Adverse Effects of Prolonged Sitting Behavior on the General Health of Office Workers." Journal of lifestyle medicine vol. 7,2 (2017): 69-75.
---