Subscription
Shipping Address
Order Date

This subscription's skin care system will get replaced.

${ address.name }




${ address.products }

${ displaySubscriptionName(address) }




${ displayProducts(address) }

${ displayAddress(address) }
${ formatDate(address.scheduleDate) }

${ address.name ? address.name : displaySubscriptionName(address)}
${ address.products }
${ displayProducts(address) }
Shipping Address
${ displayAddress(address) }
Delivery Date
${ formatDate(address.scheduleDate) }
This subscription's skin care system will get replaced.
6 Interesting Questions to Ask on a First Date
Planning a first date? Terrified of awkward silences? Ask your date these six first date questions and prepare for some interesting (and revealing) answers!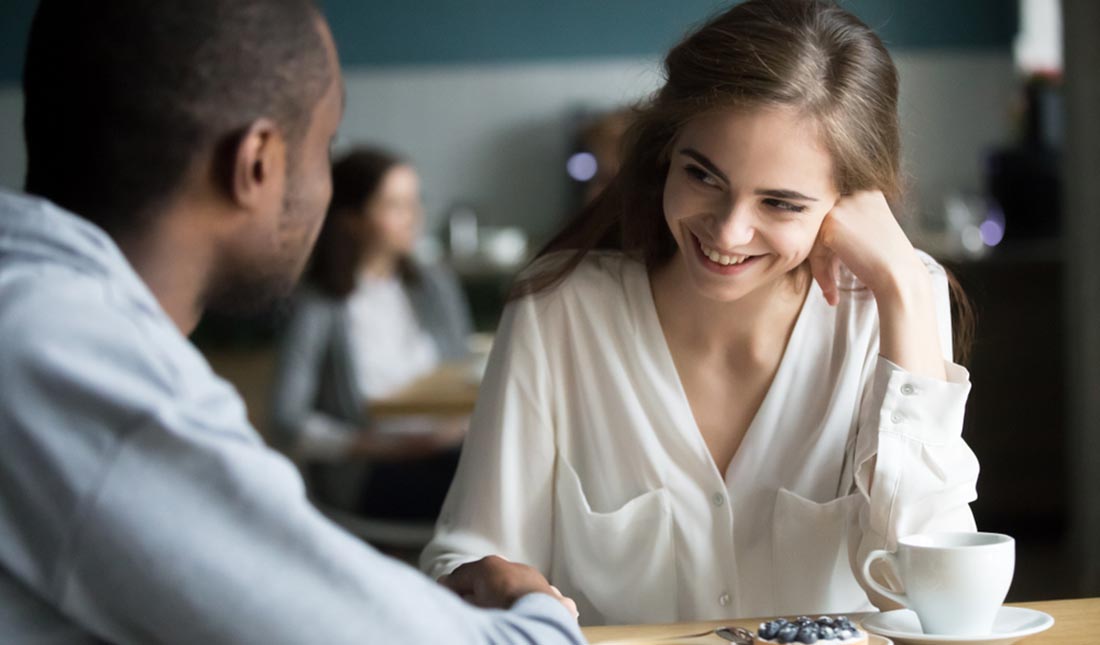 Let's be honest, going on a first date can feel a lot like a job interview. The questions can be boring and the answers equally as bland and generic.
If you've recently landed a first date with someone, it's time to switch things up and make things more interesting. Don't worry, we're not suggesting that you ask your date anything dramatic or too personal.
Rather, we're talking about asking first date questions that are thought-provoking. Questions that actually reveal important insight to the person sitting across from you.
What first date questions are those? We've got a few that we think will make for some interesting conversation.
First, here are a few things you need to know about first date questions:
Asking hypothetical questions is key to learning more about how the other person thinks and feels about a topic
The best first date questions to ask are ones that are open-ended
If your date gives you a personal answer, try to give them a personal answer in return
Want to find out if you and your date are a match made in heaven? Here are the first date questions you should be asking.
TRY MEN'S SKIN CARE
1. What does a typical day look like for you?
Asking what someone does for work is boring. Instead, ask them what a typical day looks like for them. They might reveal small details about their day that you would never have known otherwise, such as what time they wake up in the morning, what their daily skin care routine looks like or what they typically eat for breakfast.
While these details may not seem important, they can give you helpful clues about your potential compatibility. For instance, sleep compatibility is huge in relationships. In a 2015 study published in the journal SLEEP, spouses had higher levels of satisfaction in the marriage when they were more in-sync with their sleep patterns (see claim: "Higher marital satisfaction in both partners was associated with higher sleep-wake concordance.")
2. If you could go on a trip with all expenses paid, where would you go and why?
Avoid asking your date if they've been on any interesting trips lately, as that question will lead to nowhere if they haven't. Instead, ask them where in the world they would go if money wasn't an issue.
When you ask this question, make sure to ask them about what they would do on the trip to get a sense of their vacation style. Are they the type to lounge all day by the hotel pool? Or are they the more adventurous type? Countless relationships have been strained due to mismatching vacation styles, which is why it's important for you to try to flesh out these minor details.
3. Have you watched or read anything interesting lately?
This is a classic first date question, and for a good reason. Not only does it give you an idea of what things they're into, it can also easily segue into a wide range of fun topics.
If your date turns the question back on you, try to respond with something witty or funny. Generally speaking, humor is one of the things that women look for in a man, so don't be afraid to crack a joke.
4. What is the best gift you have ever received?
On a first date, you need to be careful about asking questions that are a little too personal. On the other hand, research has shown that asking personal questions can lead to increased feelings of intimacy. This was famously demonstrated in a 1997 study from Stony Brook University, in which psychologist Arthur Aron had participants ask each other 36 questions to generate intimacy in a lab setting.
TAKE THE SKIN CARE QUIZ
Of course, asking your date these same questions would probably be a little weird. Instead, ask them about the best gift they ever received. This question has the potential to be extremely personal without making the other person feel uncomfortable.
5. What is the best advice anyone has ever given you?
This first date question is always a good one to ask because it can lead to some really interesting topics. It gives your date the chance to talk about valuable advice given to them regarding work, health, personal relationships, etc.
It can also get them talking about their passions. There's nothing sexier than seeing someone's eyes light up when they start talking about hobbies and passions that motivate them in life.
6. What is one thing you refuse to try and why?
If you consider yourself to be an adventurous type, this question is a good one to ask because it may reveal how adventurous your date is. For instance, they might reveal that they refuse to try certain foods, which could be a deal-breaker if you're a die-hard foodie.
Your date could also reveal something surprising and personal, such as a sexual act they refuse to do. In that case, you now have a better idea of whether or not you'll be compatible in the bedroom.
Final Thoughts
If you get super anxious on first dates (join the club), these questions will–at the very least–help you avoid any awkward silences. More importantly, they'll help you coax interesting answers out of your date that will help you decide whether or not they're long-term relationship material.
By figuring out your compatibility sooner rather than later, you can save you and your date a lot of time, money and heartbreak. Good luck!
References
Gunn, Heather E et al. "Sleep Concordance in Couples is Associated with Relationship Characteristics." Sleep vol. 38,6 933-9. 1 Jun. 2015.
Aron, Arthur, et al. "The Experimental Generation of Interpersonal Closeness: A Procedure and Some Preliminary Findings." Personality and Social Psychology Bulletin, vol. 23, no. 4, Apr. 1997, pp. 363–377.
---
// © Copyright 2023 Tiege Hanley