Subscription
Shipping Address
Order Date

This subscription's skin care system will get replaced.

${ address.name }




${ address.products }

${ displaySubscriptionName(address) }




${ displayProducts(address) }

${ displayAddress(address) }
${ formatDate(address.scheduleDate) }

${ address.name ? address.name : displaySubscriptionName(address)}
${ address.products }
${ displayProducts(address) }
Shipping Address
${ displayAddress(address) }
Delivery Date
${ formatDate(address.scheduleDate) }
This subscription's skin care system will get replaced.
8 Fashion Tips for Men
Tired of dressing poorly? Get uncomplicated fashion tips for men. Learn how to dress better with this helpful fashion advice.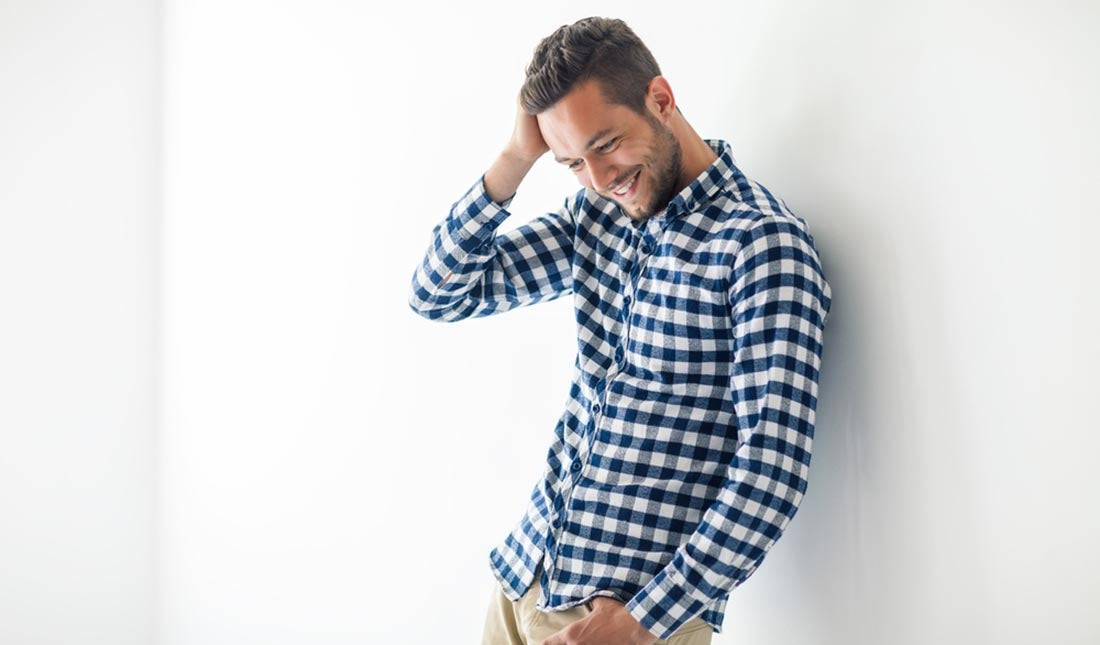 Most guys want to be fashionable.
They just don't want to put in the time, money or effort to dress better.
But dressing well doesn't need to zap your precious time or money.
With some solid advice and a few men's fashion tips, you can take your style to the next level without much hassle.
Here are three things you should know about men's fashion:
Avoid buying baggy fits or too-tight clothing.
To save money, invest in the classics and a pair of high-quality shoes.
Don't shy away from color or fun patterns.
Looking for ways to elevate your style?
Here are eight fashion tips for men that you should live by:
1. Buy Clothes That Fit
While this one might seem obvious to you, there is currently no shortage of guys walking around with poorly fitting clothes.
Guys have a tendency to purchase clothes that are far too big for them.
Whether it's a baggy shirt or pants that bunch at the ankles, your ill-fitting clothes aren't doing you any favors.
If you want to look better almost instantly, read up on how your clothes should fit and ditch the baggy outfits for good.
2. Lean on the Classics
Men's fashion trends come and go.
If you're a slave to trends, your wallet will inevitably start to feel the pinch.
If you're the type of guy who likes to keep things simple, we recommend stocking your wardrobe with the classics.
Dark blue jeans, white button down shirts and a nice polo shirt have all stood the test of time and look great on every guy.
And, since they've remained virtually unchanged, you'll never need to worry about their design going out of fashion.
TRY MEN'S SKIN CARE
3. Embrace Color
Do you wear mostly black, white, gray and blue?
While there's nothing wrong with neutral colors, they can get boring fast.
Why not add some color to your wardrobe?
Not only will it liven things up, it can potentially make you more attractive to women.
Take the color red, for example.
According to a 2010 study published in the Journal of Experimental Psychology: General, the color red appears to enhance a woman's attraction to men (see claim: "…red is typically thought of as a "sexy" color for women only, but our findings indicate that a red–sex link is also applicable to men.")
Bottom line: Embrace a colorful wardrobe.
It could potentially score you a date.
4. Don't Overlook the Details
Any guy can dress fashionably.
The true hallmark of a fashionable man is his ability to zero-in on the details.
From ironing your clothes and polishing your shoes to taking good care of your skin and beard, it's the little things that can make or break your appearance.
Once you start training your brain to pay attention to the details, you'll notice a huge improvement in your style.
It takes serious effort, but we promise that your style will be much better off for it.
5. Go Easy on the Accessories
In your quest to pay more attention to detail, be careful not to go overboard with accessories.
Less is more, especially when it comes to men's jewelry.
Wearing a wristwatch by itself is stylish.
Wearing a wristwatch with loads of bracelets is not.
TAKE THE SKIN CARE QUIZ
6. Understand Contrast
The monochrome trend was big in 2019.
But let's be real, you're not dressing in all black or blue on purpose.
You're doing it because you're lazy.
It's either that or you have color blindness, in which case, we highly recommend buying blue jeans and black slacks because both pair well with virtually any collared shirt.
If you don't have the excuse of color blindness, educate yourself on color theory and become a pro at creating contrast.
7. Get Your Suit Tailored
Suits will never go out of style.
Whether you wear suits daily for work or only for a special occasion, we highly recommend getting at least one of your suits tailored.
Why bother taking your suit to a tailor?
Because a well-fitting suit will make you feel incredible.
If you're preparing for a job interview or a big meeting with clients, the confidence you gain from a well-fitting suit is worth its weight in gold.
Choose your most versatile suit (i.e., a navy blue or charcoal suit) and get it tailored to fit your body.
You won't regret it.
8. Know When to Splurge (and When to Save)
Revamping your entire wardrobe can get expensive fast.
But pinching pennies with your clothing isn't always the way to go.
Certain clothing and accessories should be considered an investment.
Case in point: high-quality shoes.
After all, you wear shoes every day. They should be comfortable and well-made.
Same goes for a classic blazer. A quality blazer will instantly spruce up your outfit and is highly visible.
Looking to save money?
Scrimp on items such as cufflinks and wristwatches that won't get as much visibility or use.
Final Words
Dressing better doesn't need to be a Sisyphean task.
With these fashion tips for men, you can finally give your wardrobe the upgrade it deserves.

References
Elliot, Andrew J., et al. "Red, Rank, and Romance in Women Viewing Men." Journal of Experimental Psychology: General, vol. 139, no. 3, 2010, pp. 399–417.
 "Color Vision Deficiency." Genetics Home Reference.
---