Subscription
Shipping Address
Order Date

This subscription's skin care system will get replaced.

${ address.name }




${ address.products }

${ displaySubscriptionName(address) }




${ displayProducts(address) }

${ displayAddress(address) }
${ formatDate(address.scheduleDate) }

${ address.name ? address.name : displaySubscriptionName(address)}
${ address.products }
${ displayProducts(address) }
Shipping Address
${ displayAddress(address) }
Delivery Date
${ formatDate(address.scheduleDate) }
This subscription's skin care system will get replaced.
ABCDEs of Melanoma
When detected early, melanoma has an excellent survival rate. Learn about the ABCDEs of melanoma to help you recognize the warning signs of this deadly disease.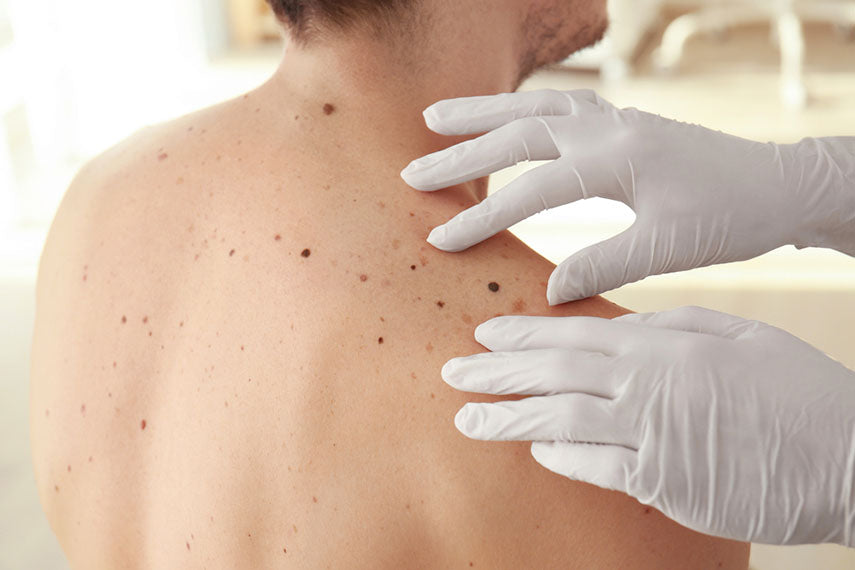 Getting diagnosed with melanoma can be scary. Even more terrifying is allowing melanoma to go unrecognized and untreated, where it can mutate and spread to other parts of the body.
Once melanoma spreads, this deadly form of skin cancer can be difficult to treat and is often fatal. This is why skin cancer screenings, along with regular skin self-exams, are incredibly important for skin cancer prevention.
Moles can change quickly in between visits to your doctor. Checking your own skin using the ABCDE signs of melanoma is critical to catching melanoma early and getting a better prognosis. What are the ABCDEs of melanoma and why should you care?
Here are three things you need to know about the classic characteristics of melanoma:
When detected early, melanoma has a survival rate of 98 percent.
Knowing what to look for in an atypical mole is essential to recognizing melanoma early.
Skin care education, along with safe sun practices, can help reduce your risk of malignant melanoma.
TRY MEN'S SKIN CARE
What Are the ABCDEs of Melanoma?
The ABCDEs of melanoma is a classification system created by dermatologists to help people check their own skin for melanoma and other types of skin cancers. By recognizing the key characteristics and warning signs of melanoma, you can detect new or changing moles early and remove the cancerous lesions before they become deadly.
Who Should Know the Warning Signs of Melanoma?
It's not only fair-skinned people who should be performing self-examinations of their skin. Even if you apply SPF to your face every day or have a dark skin tone, you can still develop melanoma.
In a 2016 study published in the Asian Pacific Journal of Cancer Prevention, researchers noted that while people of color are less likely to develop melanoma, they are far more likely to die from it because it goes undetected for too long (see claim: "Though people of color (POC) are less likely to become afflicted with skin cancer, they are much more likely to die from it due to delay in detection or presentation.")
The bottom line is that everyone should be checking their skin at least once every two or three months for suspicious moles. No matter how high or low your risk of melanoma is, it always pays to be on the safe side.
Why All Guys Need to Get Better at Self-Exams
While self-exams are crucial to early detection of melanoma, research has also found that we aren't great at detecting changes in our moles. According to a 2010 study published in BMC Family Practice, 75 percent of subjects diagnosed with melanoma didn't catch it themselves, but rather, their doctors were the ones to notice the suspicious lesions in time (see claim: "Three of four people subsequently diagnosed with melanoma did not seek help; instead, their GP opportunistically noticed the lesion.")
To help guys get better at checking their own skin, we've outlined the ABCDEs of melanoma in the following section. By knowing what's normal in a mole and what isn't, you can potentially catch changes early and not become another skin cancer statistic.
Take the skin care quiz
Know What to Look For: The ABCDEs of Melanoma
The first signs of melanoma can appear in atypical moles. While most moles are harmless, you should see a doctor immediately if you notice any of the following changes:
(A) Asymmetry—If you were to draw a line down the middle of your mole, would the two halves match each other? If the two sides are asymmetrical, meaning, each side is different, then this is a warning sign of melanoma.
(B) Border—Benign moles have smooth borders and even borders, unlike melanomas which can be rough and uneven. While not every mole with a poorly-defined border is melanoma, moles with scalloped or jagged borders are a cause for concern.
(C) Color—Moles can come in a variety of colors, including tan, brown, black, red, blue and pink. What you specifically need to watch for are moles that contain two different colors. If your mole is half tan and half black, it warrants a visit to your doctor.
(D) Diameter—Moles that are wider than 6 mm (or ¼ inch) may be a warning sign of melanoma. If your mole started out small and grew past 6 mm, this is especially worrisome because melanomas are often small when first detected.
(E) Evolution—Have any of your moles changed over time? Although it can be tricky to track the growth of your moles, it's crucial to detecting melanoma early. Also, keep an eye out for other changes in your moles such as bleeding, oozing or a crusty surface.
Awareness Is Key to Melanoma Prevention
Despite the sobering statistics surrounding melanoma, a lot of people don't bother to put in the time and effort to take better care of their skin. This is especially true for guys, which is unfortunate given that they tend to have worse melanoma survival rates than women.
Learning your ABCDEs of melanoma is the first step to becoming more aware of the dangers of this deadly disease and staying cancer-free. And with May being the official month of Melanoma Awareness, there is no better time to establish a skin care routine that involves a regular self-exam.
---
// © Copyright 2023 Tiege Hanley