Subscription
Shipping Address
Order Date

This subscription's skin care system will get replaced.

${ address.name }




${ address.products }

${ displaySubscriptionName(address) }




${ displayProducts(address) }

${ displayAddress(address) }
${ formatDate(address.scheduleDate) }

${ address.name ? address.name : displaySubscriptionName(address)}
${ address.products }
${ displayProducts(address) }
Shipping Address
${ displayAddress(address) }
Delivery Date
${ formatDate(address.scheduleDate) }
This subscription's skin care system will get replaced.
Best Anti-Aging Foods for Younger-Looking Skin
Men care about their wrinkles just as much as women do. Find out from Tiege Hanley how to eat your way to younger-looking skin with these anti-aging foods.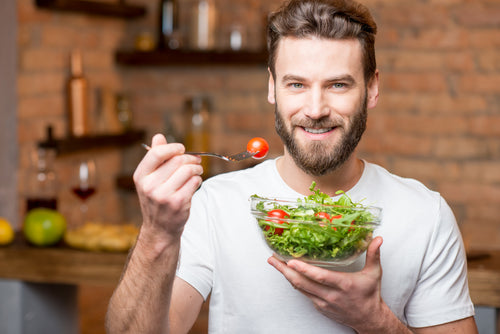 While some men might think it vain to fight their wrinkles, we think that it's just common sense. The reality is that younger-looking men have a significant leg up in their careers.
If you're already using the best anti-aging products for men, the next logical step is to eat the right foods. Many scientists believe that eating anti-aging foods rich in certain vitamins, flavonoids, carotenoids and more can reduce the appearance of wrinkles.
Which foods are best for anti-aging? Here are several things you ought to know:
Vitamins A, C, D and E, as well as essential omega-3 fatty acids, have been thoroughly studied for their anti-aging skin benefits.
Blueberries, spinach, tomatoes and other foods rich in antioxidants can reduce oxidative stress, which is associated with aging skin.
Although some vitamins are best applied topically, others can be consumed to achieve the same anti-aging benefits.
1. Nuts
Almonds, hazelnuts, cashews and other types of nuts are rich in vitamin E and several phytochemicals including carotenoids, flavonoids and phenolic acids. Eating a handful each day can help support collagen production and improve the skin's elasticity.
Vitamin E, a potent antioxidant is widely used in the skin care industry for its photoprotective, anti-inflammatory and wound-healing properties. One 2000 study published in the Journal of Nutritional Cancer found that mice which were given a topical and oral vitamin E before being exposed to UV radiation experienced significantly less sun damage and inflammation (see claim: "Mice treated with each form of vitamin E…had significantly less acute and chronic skin damage induced by UV irradiation…")
TRY MEN'S SKIN CARE
2. Tomatoes
Tomatoes are jam-packed with antioxidants and are linked to numerous health benefits. It's a rich source of vitamin C, a water-soluble antioxidant which can be used both orally and topically for anti-aging benefits for the skin.
In addition to fighting off free radicals that age skin, vitamin C can help stimulate collagen production that keeps skin young and firm. For maximum anti-aging benefits, eat tomatoes with foods rich in vitamin E. A study published in the Canadian Journal of Physiology and Pharmacology found that vitamins C and E repair the skin most effectively when paired together (see claim: "…vitamin C may function in vivo to repair the membrane-bound oxidized vitamin E.")
3. Salmon
There is a good reason why people on the Mediterranean diet have glowing skin. Eating a skin-healthy diet high in omega-3s can do your entire body a whole lot of good.
Salmon is one of the best sources of omega-3 polyunsaturated fatty acids, eicosapentaenoic acid (EPA) and docosahexaenoic acid (DHA). EPA and DHA not only help prevent against age-related diseases, they can also reduce UV inflammation and inhibit wrinkle formation caused by UV radiation.
Whenever possible, choose wild salmon over farmed. According to a 2014 study published in Lipids, researchers found a large variance in farmed salmon species (see claim: "Large variances were found within many of the farmed species analyzed, which likely stems from dietary differences in the farm-fed diet.")
4. Blueberries
Rich in flavonoids, blueberries are packed with potent antioxidants which can help diminish the effects of time on your skin. This delicious fruit contains vitamin A derivatives such as beta-carotene and lycopene which have anti-inflammatory and photoprotective properties.
Blueberries are also rich in vitamins C and E, making them powerful wrinkle-fighters. In addition to their anti-aging properties, blueberries are also low in calories and may boost brain function.
5. Spinach
Spinach is a nutrient-rich food that boasts several anti-aging benefits. This anti-aging food is rich in vitamins C and K, as well as lutein and zeaxanthin.
Both lutein and zeaxanthin are carotenoids which may protect against sun damage and improve skin health. Vitamins C and K can also give you glowing skin by boosting collagen production and reducing inflammation, respectively.
Want to reap the full anti-aging benefits? Top your spinach salad with other anti-aging foods such as avocado, olives and pine nuts—all of which are loaded with skin-healthy ingredients.
Take the skin care quiz
6. Sweet Potato
Sweet potatoes get their orange color from beta-carotene, an antioxidant that is a precursor to vitamin A. Beta-carotene has been shown to stop premature aging by reducing oxidative stress in the skin.
In a 2008 study published by Photochemistry and Photobiology, researchers found that beta-carotene supplements could help protect the skin against sunburn (see claim: "…beta-carotene supplementation protects against sunburn…") Additionally, vitamin A also boasts anti-inflammatory properties which can keep skin looking young.
Achieve Maximum Anti-Aging Benefits
Eating a healthy, balanced diet containing these foods can go a long way toward reducing wrinkles and fine lines. But if you really want to crank up the anti-aging benefits, you can add a facial firming serum into your daily skin care routine.
Our facial firming serum for men is packed with antioxidants, vitamins and anti-aging ingredients to help you achieve firmer, younger-looking skin.
---
// © Copyright 2023 Tiege Hanley