Subscription
Shipping Address
Order Date

This subscription's skin care system will get replaced.

${ address.name }




${ address.products }

${ displaySubscriptionName(address) }




${ displayProducts(address) }

${ displayAddress(address) }
${ formatDate(address.scheduleDate) }

${ address.name ? address.name : displaySubscriptionName(address)}
${ address.products }
${ displayProducts(address) }
Shipping Address
${ displayAddress(address) }
Delivery Date
${ formatDate(address.scheduleDate) }
This subscription's skin care system will get replaced.
Best Moisturizer for Acne-prone Skin (and 3 Ingredients to Avoid)
The best moisturizer for acne-prone skin should provide hydration without clogging your pores. Find out what you should look for in a men's moisturizer and what you should avoid.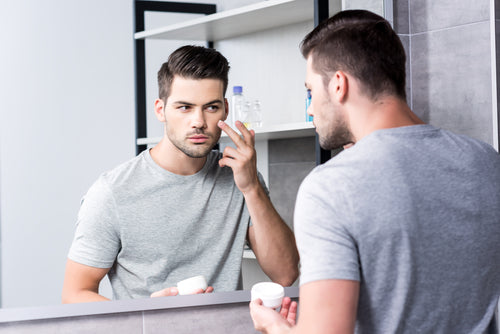 When you have acne-prone skin, finding the perfect moisturizer can be a challenge. You know that keeping your skin moisturized is important, but every skin care product you buy seems to trigger a breakout.
Although women can have acne-prone skin as well, men generally have more active oil glands. This means that many guys struggle with oily skin that is constantly breaking out.
How do you wade through all the bad moisturizers out there and find something that works specifically for your skin? We know how confusing shopping for men's skin care products can be, so we've gone ahead and simplified the process for you.
Here are three things that men need to know about moisturizers for acne-prone skin:
The best moisturizer for acne-prone skin is one that hydrates without clogging your pores.
Oils in moisturizers aren't all created equal.
Avoid artificial fragrances and dyes, which can irritate sensitive skin and trigger acne.
Non-Comedogenic Oils
When you have acne-prone skin, the last thing you want is a moisturizer that could potentially make your acne breakouts worse—that's why you need a moisturizer which uses noncomedogenic ingredients.
Noncomedogenic simply refers to ingredients that don't clog pores and cause acne breakouts. Most moisturizers will have some type of oil listed in their ingredients, so be sure to pay attention to the type of oil that's in your moisturizer.
Noncomedogenic oils such as tea tree oil, jojoba oil and lavender oil can provide moisturizing benefits to the skin without making it feel greasy. In fact, a 2016 study published in BMC Complementary and Alternative Medicine found that lavender oil promoted collagen synthesis and wound healing in skin tissue (see claim: "…lavender oil promoted collagen synthesis and…potential to promote wound healing…")
Similarly, joboba oil (a plant oil) has been shown to have anti-inflammatory effects. In a 2011 study published in the Journal of Ethnopharmacology, researchers found that jojoba oil accelerated wounded skin repair in vitro (see claim: "…notably accelerates wound closure of both keratinocytes and fibroblasts.")
GOT ACNE?
Glycerin
It doesn't matter whether you have dry skin, oily skin or something in between. Every skin type can benefit from staying hydrated.
Glycerin (aka glycerol) is a common ingredient in skin care products because it can improve skin hydration without clogging pores. Glycerin is a humectant, meaning that it draws water to the skin's outer layer to reduce moisture loss.
SPF
You know that protecting your skin from sun damage is critical to preventing skin cancer and wrinkled skin. But how do you avoid the pore-clogging effects of sunscreen?
The answer is simple: find a men's moisturizer with SPF for daily wear. The best men's moisturizers will have a SPF rating of at least 15 to provide adequate protection from the sun's UV rays.
More importantly, a moisturizer with built-in sunscreen usually won't clog your pores. We say
"usually" because it does depend on the skin care company in question. At Tiege Hanley, we use high-quality, noncomedogenic ingredients in our daily moisturizer with SPF so that it won't cause breakouts.
3 Moisturizer Ingredients to Avoid
Now that you know what to look for in a men's daily moisturizer, which ingredients should you avoid at all costs? Here is a quick breakdown of ingredients to pass on:
1. Comedogenic Oils
Comedogenic oils will clog your pores and negate any hydrating benefits they might have. If you come across an oil that you aren't familiar with, check its comedogenic rating (0 being the best, 5 being the worst) before you buy.
One such oil to avoid is coconut oil. Despite its touted benefits, this oil has a comedogenic rating of 4 and should not be applied to your face. Other oils that can clog your pores include cocoa butter, flax seed oil, palm oil and linseed oil.
2. Artificial Fragrances and Dyes
Artificial fragrances and dyes are common skin irritants and may cause inflammation. This inflammation can stimulate oil production and trigger acne breakouts.
To avoid making your acne worse, stick to moisturizers that are made for sensitive skin types. Even a tiny amount of cologne or perfume in your moisturizer can have negative consequences for your skin.
3. Bad Alcohols
When it comes to skin care products, there are good and bad alcohols. The good alcohols are fatty alcohols such as cetearyl alcohol and stearyl.
The bad alcohols are drying to the skin and may seem like a good thing for oily skin types, but they are far from it. Bad alcohols such as isopropanol can have the opposite effect and cause acne breakouts.
Take the skin care quiz
Final Thoughts
It may seem counterintuitive to moisturize oily skin, but everyone's skin type can benefit from hydration. Keeping your skin supple and hydrated is essential to keeping your skin's natural protective barrier healthy.
To sum it all up, the best men's moisturizer for acne-prone skin should be lightweight, non-comedogenic and fragrance-free. It should also be affordable and hassle-free.
For handsome, blemish-free skin, check out Tiege Hanley's skin care systems for men. Formulated for all skin types, our acne systems can reduce acne breakouts without drying out your skin.
---
// © Copyright 2023 Tiege Hanley