Subscription
Shipping Address
Order Date

This subscription's skin care system will get replaced.

${ address.name }




${ address.products }

${ displaySubscriptionName(address) }




${ displayProducts(address) }

${ displayAddress(address) }
${ formatDate(address.scheduleDate) }

${ address.name ? address.name : displaySubscriptionName(address)}
${ address.products }
${ displayProducts(address) }
Shipping Address
${ displayAddress(address) }
Delivery Date
${ formatDate(address.scheduleDate) }
This subscription's skin care system will get replaced.
Best Pomade for Men—Our 5 Top Picks for 2019
Looking for the best pomade for men? Discover our top five picks that provide unbeatable hold and shine.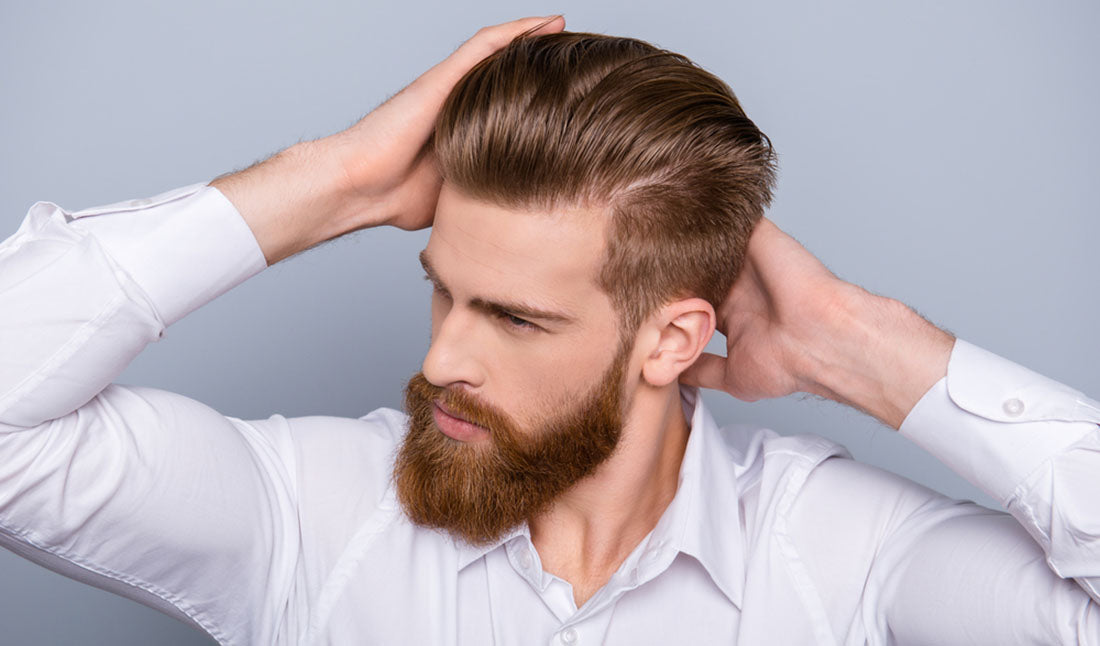 In the quest for good hair, pomade is a must-have tool in every guy's grooming arsenal. Pomade can give you a perfectly-tousled look or a slicked-back 'do that instantly elevates your grooming game.
Different brands of pomades can provide a variety of looks and holds, which can make choosing one rather difficult. How do you pick the best pomade for your hair type and style?
To help you whittle down your choices, we're going to provide our top picks for the best pomades for men.
Before we dive in, here are three things you need to know about pomade:
The best pomade for men largely depends on hair and skin type.
Guys with acne-prone skin should stick to water-based pomades.
Water-based pomades are easier to wash off compared to oil-based pomades.
Ready to achieve sexy hair? Below, we'll discuss some of the best pomades for men.
GOT WRINKLES?
1. Best Pomade for Men with Frizzy or Curly Hair
Trying to tame your curly locks or uncontrollable frizz? Look for a pomade that hydrates and smooths without adding too much grease.
Our Pick: Smooth Viking Pomade–Providing medium hold and maximum shine, Viking Pomade is a water-based pomade that smooths, hydrates and sculpts without weighing hair down or giving it a greasy look. Although it's formulated for all hair types, it's especially effective at taming flyaway hair and smoothing frizz.
2. Best Pomade for Men with Acne
If you struggle with acne, you'll want to be extra careful with the pomade you choose. Oil-based pomades can cause acne breakouts and—in rare cases—an allergic reaction.
Many oil-based pomades contain lanolin, a pore-clogging oil excreted from the sebaceous glands of sheep. According to a 2018 study published in Contact Dermatitis, a strong association was found between lanolin and patients with eczema (see claim: "…significant associations were found between atopic dermatitis and lanolin and lanolin alcohols allergy, respectively…")
Our Pick: Charlie Dapper Premium Water Pomade–A lightweight formula made with premium ingredients, Charlie Dapper's water-based pomade provides all-day hold without clogging pores. Apply a finger-sized amount in your hair each day, keep using your men's acne treatment system and you may have just found the secret to achieving great skin and great hair at the same time.
3. Best Pomade for Men with Dandruff
On a similar note, you'll also probably want to use a water-based pomade if you struggle with dandruff. Oil-based pomades can make the scalp greasy, creating the perfect environment for dandruff-causing fungi species called Malassezia to thrive.
We recommend a pomade containing tea tree oil, which is particularly well-known for its antifungal properties. In a 2000 study published in Antimicrobial Agents and Chemotherapy, the various species of Malassezia that were studied were all highly susceptible to topical tea tree oil (see claim: "Tea tree oil was active against all Malassezia species, for which the MICs were similar.")
Our Pick: Paul Mitchell Tea Tree Grooming Pomade–This tea tree oil pomade offers the perfect mix of control and shine, especially for guys with wavy or curly hair. With notes of citrus and mint, your scalp with feel instantly refreshed. It also washes out easily, leaving no dandruff-causing residue behind.
Take the skin care quiz
4. Best Pomade for Graying Hair
Going gray sooner than you'd like? Before you start dyeing your beard or pulling out your gray hairs, try a pomade with a dark tint to it.
Our Pick: Blacktop Pomade by Imperia Barber–If you have brown or black hair, check out this pomade by Imperia Barber. On top of providing unbeatable hold and shine, it has a dark tint that helps hide gray hairs without looking unnatural or causing dark stains.
5. Best Overall Pomade
Don't have any pressing issues with your hair? If you want to maintain your healthy locks or enhance your hairstyle, you need a reliable product that provides medium hold and the right amount of shine.
Our Pick: Pete & Pedro Pomade–Whether you want a slicked-back look or a medium hold with a natural amount of shine, Pete & Pedro Pomade is your go-to hair-styling product. Not only will it give your hair all-day hold, this premium pomade will make your hair smell amazing with notes of peppermint, ginseng and aloe.
Final Words
Pomade is by far one of the better grooming inventions of the 20th century. Just add one of these premium-quality pomades to your arsenal of grooming products and you can finally achieve the perfect hair texture, shape and shine. Now, go forth with great hair!
References
Fransen, Marloes, et al. "Contact Allergy to Lanolin: Temporal Changes in Prevalence and Association with Atopic Dermatitis." Contact Dermatitis, vol. 78, no. 1, 2018, pp. 70–75. Wiley Online Library, doi:10.1111/cod.12872.
Hammer, K. A., et al. "In Vitro Activities of Ketoconazole, Econazole, Miconazole, and Melaleuca Alternifolia (Tea Tree) Oil against Malassezia Species." Antimicrobial Agents and Chemotherapy, vol. 44, no. 2, Feb. 2000, pp. 467–69. aac.asm.org, doi:10.1128/AAC.44.2.467-469.2000.
---