Subscription
Shipping Address
Order Date

This subscription's skin care system will get replaced.

${ address.name }




${ address.products }

${ displaySubscriptionName(address) }




${ displayProducts(address) }

${ displayAddress(address) }
${ formatDate(address.scheduleDate) }

${ address.name ? address.name : displaySubscriptionName(address)}
${ address.products }
${ displayProducts(address) }
Shipping Address
${ displayAddress(address) }
Delivery Date
${ formatDate(address.scheduleDate) }
This subscription's skin care system will get replaced.
Best Shampoo for Men and Five Ingredients to Steer Clear Of
Wondering what the best shampoo for men is? Find out what to look for in a shampoo and which ingredients you should avoid.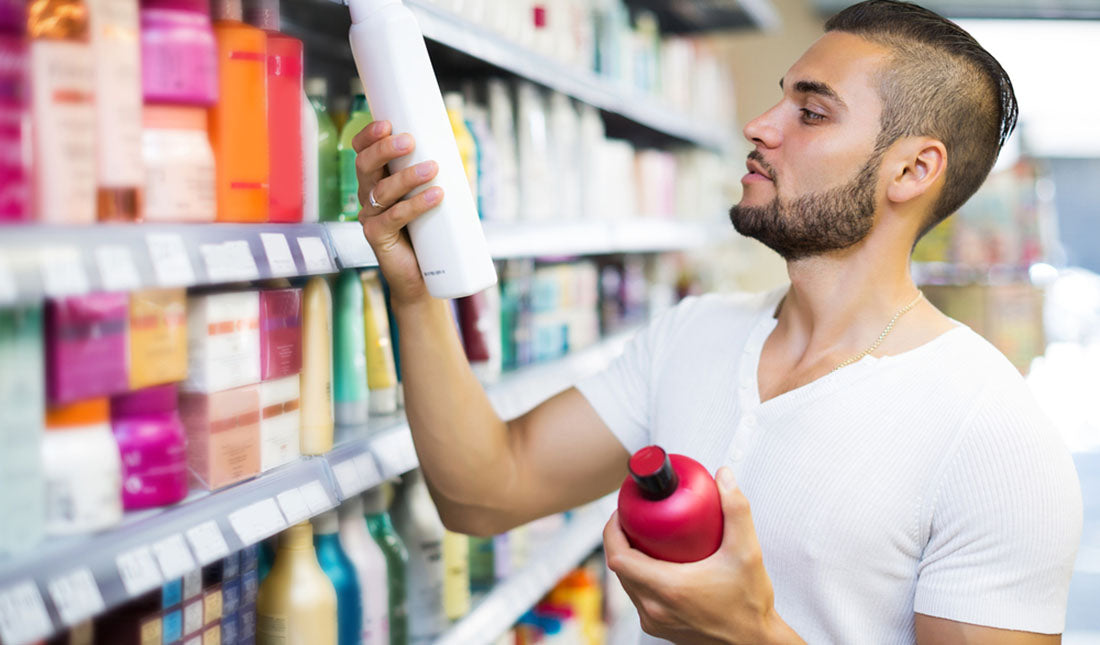 Without looking in your shower, what brand of shampoo do you use? If the best answer you can provide is "the one with the blue bottle," then it might be time to rethink your hair care regimen—or, lack thereof.
If you're like most guys, you probably buy the cheapest shampoo you can find on the shelf. Although there is nothing wrong with wanting to save money, the cheap stuff you're buying likely isn't doing your hair any favors.
If you want sexy, irresistible hair that women want to run their fingers through, it's time to step up your hair care regimen. Whether your hair is on the drier side or you need shampoo to control dandruff, there is a shampoo to suit your specific needs far better than the one you have now.
Here are three things you ought to know about men's shampoos:
The best shampoo for guys is one that is formulated to treat your specific hair type.
Shampoos with noncomedogenic oils are recommended for guys with acne-prone skin.
For sensitive skin types, shampoos containing sulfates, parabens and artificial fragrances and dyes should be avoided.
TRY MEN'S SKIN CARE
The Best Shampoo for Guys
Just like the skin and hair on your face, the skin and hair on your head also deserve their own special care and treatment. Without regular shampooing, your hair and scalp can become increasingly oily and lackluster.
Are you ready to give your daily grooming routine a boost? Here are the best shampoos for guys, formulated to combat a range of scalp and hair conditions:
Redken Brews Extra Clean Shampoo—If you use a lot of hairstyling products, it can contribute to buildup on the scalp. Not only can this buildup lead to breakouts on the forehead (aka, pomade acne), it can also result in a dirty-looking scalp. Redken Brews Extra Clean Shampoo is a sulfate-free formula that not only provides an intensified clean, it's also beer-inspired for all the brew aficionados out there.
Aveda Men—Boasting natural ingredients and fragrances such as organic spearmint and lavender, Aveda Men cleanses and moisturizes the scalp and hair follicles for refreshed, vibrant hair. As an added bonus, it's also cruelty-free.
Head & Shoulders—So, you suffer from a case of bad flakes on the scalps. Don't worry, it's actually more common than you might think. In fact, it's believed to affect up to half the world's population. Head & Shoulders shampoo is one of the oldest anti-dandruff shampoos around and is formulated specifically to treat Malassezia, the fungi that's most commonly responsible for dandruff.
V76 by Vaughn—Brittle hair doesn't stand a chance with this hydrating shampoo for guys. V76 by Vaughn contains calming and moisturizing ingredients such as sage leaf extract and chamomile to nourish and strengthen the scalp. It also boasts a natural woody scent and is cruelty-free to boot.
Every Man Jack Daily Shampoo—Containing coconut-derived surfactants and moisturizing glycerin, this shampoo for guys is formulated for all hair types. It's almost 100 percent naturally derived and contains no parabens or dyes.  
Take the skin care quiz
Three Men's Shampoo Ingredients to Avoid
No matter which type of shampoo you buy, there are a few ingredients that are universally blacklisted for their potential to irritate sensitive skin and delicate hair. Even if you don't have sensitive skin, you may want to think twice about shampoos containing the following ingredients.
Sulfates—Sulfates are a type of surfactant that make your shampoo feel sudsy. The problem with sulfates is that they've come under fire in recent years for causing irritation, dry scalp and redness. In a 2005 study published in Colloids and Surfaces, hair that was treated regularly with sodium dodecyl sulfate suffered significant protein loss, which scientists suggested could lead to hair damage and split ends after years of continued use (see claim: "…it can be estimated that daily care shampooing at room temperature will cause opacity and combing difficulties in 1 year and split ends after 3 years by removal of all cuticle layers.")
Parabens—Though parabens are more of a concern in skin care products, they still show up in hair care products from time to time. The main issue with parabens is their potential to disrupt hormones in the body. In one notable 2004 study published in the Journal of Applied Toxicology, researchers found a link between breast cancer and parabens (see claim: "Comparison of individual parabens showed that methylparaben was present at the highest level…")
Artificial Fragrances/Dyes—If you use a skin care system that is free of artificial fragrances and dyes, why wouldn't you treat your scalp in a similar fashion? Shampoos with artificial fragrances and dyes can irritate the scalp, especially if you have sensitive skin.
Shampoo for Men: Final Words of Advice
One of the biggest mistakes a guy can make with his hair is over-shampooing. Unless you have dandruff or extremely oily hair, you don't need to cleanse your hair every day.
For most guys, using shampoo two to three times a week is typically the sweet spot. By using the right shampoo at the right frequency, you can achieve sexy, flake-free hair that women will find irresistible.
External sources: Hair protein removal by sodium dodecyl sulfate; Concentrations of parabens in human breast tumours
---
// © Copyright 2023 Tiege Hanley