Subscription
Shipping Address
Order Date

This subscription's skin care system will get replaced.

${ address.name }




${ address.products }

${ displaySubscriptionName(address) }




${ displayProducts(address) }

${ displayAddress(address) }
${ formatDate(address.scheduleDate) }

${ address.name ? address.name : displaySubscriptionName(address)}
${ address.products }
${ displayProducts(address) }
Shipping Address
${ displayAddress(address) }
Delivery Date
${ formatDate(address.scheduleDate) }
This subscription's skin care system will get replaced.
Bicep Curls vs. Hammer Curls – Fastest Way to Cut Arms
Bicep curls vs. hammer curls: Which is better for getting cut arms faster? Find out as we discuss the secret to maximum gains.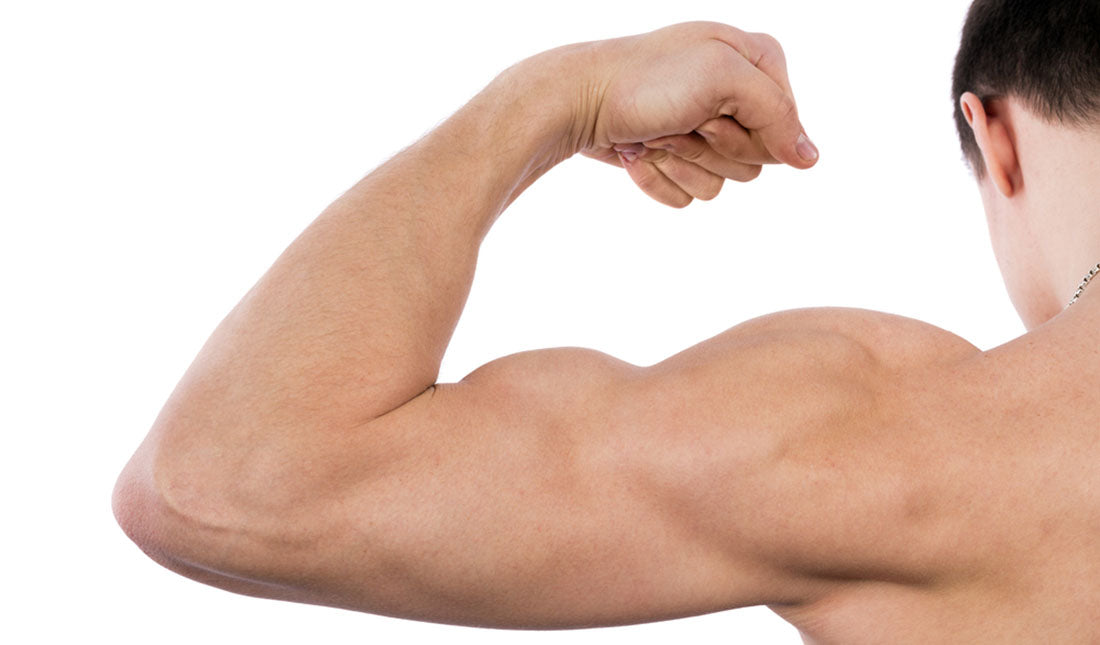 When you think of arm exercises, the humble bicep curl is probably the first thing that comes to mind.
This classic arm curl is a staple in every gym-goer's fitness routine, and for good reason.
It's an easy and effective way to increase bicep strength while simultaneously working your shoulders and back.
But if you want to get bigger arms faster, the hammer curl may be your best bet.
A popular variation of the bicep curl, the hammer curl will definitely leave you feeling sore (and proud) the next day.
Below, we break down the differences between bicep curls vs. hammer curls and explain which one you should focus on for maximum gains.
First, here are three things you should know about bicep curls vs. hammer curls:
A bicep curl is a type of isolated exercise that exclusively targets the biceps brachii.
Hammer curls lead to greater muscle growth because they work multiple muscle groups.
Doing both bicep curls and hammer curls can help you maximize your muscle gains.
Bicep Curls
You're probably familiar with the classic bicep curl.
Even if you don't do them yourself, everyone knows that person at the gym.
You know, the one who does bicep curls religiously while staring at themselves in the mirror?
You may have also noticed that their arms never seem to get any bigger.
While this could be intentional, the more likely reason they're not making any gains is because bicep curls are all they do at the gym.
Bicep curls are a great isolation exercise, which makes them popular among body builders.
But for the average gym-goer who wants bigger arms, bicep curls aren't particularly effective.
Bicep curls exclusively target the biceps brachii, the large muscle located on the front of the upper arm.
This muscle consists of two "heads": a short head (caput breve) and a long head (caput longum).
GOT WRINKLES?
If you use a supinated (underhand) grip, you can target the short head, while a semi-supinated grip will work the long head.
The problem is that there are more to your arm muscles than these two peaks alone. 
To get bigger arms fast, you need to target other important arm muscles such as your brachialis and brachioradialis.
That's where hammer curls come into play.
Hammer Curls
While there are many bicep curl variations out there, perhaps none is so popular as the hammer curl.
This simple variation is excellent at developing thickness and forearm development.
Hammer curls are particularly effective because they target the outer head of the biceps brachii, the brachialis and the brachioradialis while engaging additional back and chest muscles.
When performed correctly, hammer curls can maximize your arm gains and help improve grip strength.
If you've never done a hammer curl before, we'll show you how.
But first, let's quickly discuss how to do a classic bicep curl:
Stand with feet shoulder-width apart.
Hold a dumbbell in each hand.
Keep elbows close by your sides and palms facing upward.
Curl the weights up towards your chest, exhaling as you do so.
Hold the weights to your chest for a brief pause before lowering the weight back down, inhaling as you go.
Got it?
TAKE THE SKIN CARE QUIZ
Here's how to do a hammer curl:
Sit on a bench with your back upright (sitting helps keep your technique on-point).
If you can't sit, stand up straight with feet shoulder-width apart.
Hold two dumbbells in each hand, letting them hang by the sides of your torso.
Keep your elbows in a fixed position close to your body.
Slowly curl the weight forward in one hand while contracting the biceps, exhaling as you go.
Pause for a second at the top before slowly lowering the weight back down, inhaling as you go.
As you can see, the main difference between bicep curls vs. hammer curls is the direction of the dumbbells.
To turn a bicep curl into a hammer curl, you just turn your hands 90 degrees.
Bicep Curls vs. Hammer Curls – Which One Is Better?
In the matchup against bicep curls vs. hammer curls, the latter is the clear winner for getting bigger muscles faster.
Hammer curls work more muscle groups and work the biceps in ways that regular bicep curls do not.
However, if you really want bulging arm muscles fast, you may want to try a different bicep variation altogether: the EZ bar.
According to a 2018 study published in Peer J, researchers found that activation of the biceps brachii and the brachioradialis was higher in participants who used the EZ bar compared to those who used a dumbbell curl (see claim: "We detected higher activation profile of both BB (P < 0.05) and BR (P < 0.01) during the EZ compared to the DC.")
Conclusion
Bicep curls can help maximize bicep size.
But for bigger arms overall, we recommend using primarily bicep curl variations such as hammer curls and EZ bar curls.
Remember: It can take a month or two to start seeing results in your arms.
Want to make the time go by quicker?
Start a simple skin care routine and get amazing skin in a matter of two weeks.
When you come out of quarantine, you'll have impressive arms and clear skin to match!

References
Marcolin, Giuseppe et al. "Differences in electromyographic activity of biceps brachii and brachioradialis while performing three variants of curl." PeerJ vol. 6 e5165. 13 Jul. 2018.
Tiwana, Manpreet S., et al. "Anatomy, Shoulder and Upper Limb, Biceps Muscle." StatPearls, StatPearls Publishing, 2020.
---