Subscription
Shipping Address
Order Date

This subscription's skin care system will get replaced.

${ address.name }




${ address.products }

${ displaySubscriptionName(address) }




${ displayProducts(address) }

${ displayAddress(address) }
${ formatDate(address.scheduleDate) }

${ address.name ? address.name : displaySubscriptionName(address)}
${ address.products }
${ displayProducts(address) }
Shipping Address
${ displayAddress(address) }
Delivery Date
${ formatDate(address.scheduleDate) }
This subscription's skin care system will get replaced.
Bumps on Face: Acne or Keratosis Pilaris? (March 2020)
Do you have keratosis pilaris, acne or both? We explain how to tell the difference between keratosis pilaris and acne, as well as how to treat both skin conditions.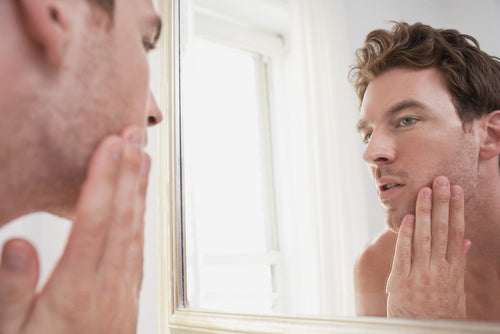 Often referred to as "chicken skin," keratosis pilaris (KP) is a harmless skin condition characterized by small bumps on the skin.
Keratosis pilaris can affect the arms, legs and the face, which is why many often mistake these bumps for acne.
Currently, there is no cure for either keratosis pilaris or acne.
However, both can be treated to reduce outbreaks and improve the appearance of your skin.
Knowing which skin condition you have is key to effective treatment. Are those bumps keratosis pilaris, acne or a combination of both? Here are three of the things men need to know:
Keratosis pilaris occurs when hair follicles become clogged with a buildup of keratin, a fibrous protein found in skin, hair and nails.
Although keratosis pilaris is harmless, it can lower self-esteem and make men feel self-conscious.
While some treatment methods for keratosis pilaris and acne overlap, treatment for each condition may differ.
Keratosis Pilaris vs. Acne: What's the Difference?
Both acne and keratosis pilaris are common, benign skin conditions which can greatly impact an individual's self-esteem. Both are usually genetic and are not contagious.
Although they appear similar, their causes and treatment differ significantly. Here are the main differences between KP and acne:
GOT ACNE?
Keratosis Pilaris
Keratosis pilaris is caused by a buildup of keratin in hair follicles, which results in hard, white bumps on the skin.
Unlike acne, these small bumps are not filled with bacteria and pus; however, they can be itchy and irritating.
If you've struggled with these bumps on your face as a child, it's likely keratosis pilaris.
This skin condition commonly affects children on the cheeks, arms and legs.
Keratosis pilaris is made worse by dry skin, which is why many people who suffer from eczema and skin allergies also suffer from KP.
This skin condition is usually worse in the winter.
Acne Vulgaris
Acne vulgaris is caused by a buildup of dead skin cells and oil, which results in an increase of P. acnes bacteria.
Your immune system produces chemicals to help fight the bacteria, causing inflammation and pimples.
While the underlying causes of acne are unknown, scientists have known for a long time that hormone fluctuations play an important role in acne vulgaris (see claim: "Various endogenous hormones play important role in the pathogenesis of acne vulgaris.") For this reason, teenagers are especially prone to hormonal acne.
Unlike KP, acne can get worse in the summer because excess oil production and heat create the perfect environment for bacteria.
Another big difference between acne and KP is that acne primarily affects teenagers and adults, while KP can follow an individual from early childhood before slowing down in his or her 30s.
Treatment for Keratosis Pilaris
While there is no cure for keratosis pilaris, there are ways to control your symptoms. One of the most effective ways to treat KP is to prevent excessively dry skin.
Take Lukewarm Showers—Hot water can strip the skin of its oils and dry it out, making your KP symptoms worse. Stick to lukewarm showers to help keep your skin's protective barrier intact.
Moisturize and Exfoliate—Moisturizing and exfoliating are two must-dos for men with keratosis pilaris. Just be sure not to over-exfoliate your skin, as this can have the opposite affect by causing excessive dryness.
Use Fragrance-Free Skin Care Products—Many of today's skin care products contain irritating ingredients which can make KP symptoms worse. To make things uncomplicated, just use Tiege Hanley's revolutionary line of skin care products for men, which are fragrance-free, dye-free and designed for all skin types.
Invest in a Humidifier—Humidifiers restore moisture to the air and prevent moisture loss from the skin's surface. These are especially helpful in the winter when the air is dry and KP symptoms are often at their worst.
Use Vitamin C—Vitamin C is a powerful antioxidant which has been shown to not only fight off signs of aging, but also prevent moisture loss from the skin (see claim: Cell culture studies have shown that the addition of vitamin C enhances the production of barrier lipids… thereby influence the ability of the skin to protect itself from water loss.")
Actual Tiege Hanley Member Testimonial
"Being a personal trainer, looking great is part of my job. Had recent string of break outs that really took their toll on my skin and wanted a solution that was simple to follow. Enter Tiege Hanley. After using it since it started, the talks about my skin went from 'what happened to your skin"' to 'what are you doing with your skin, its looks amazing'. Love the AM moisturizer, as it helps keep my face hydrated and doesn't dry it out." Isaiah J. Whiting, IN
Take the skin care quiz
Treatment for Acne
If it's acne that you're struggling to control, the solution is usually a powerful men's acne treatment system formulated with acne-fighting ingredients such as Salicylic Acid. Other ways to help control your acne include the following:
Get on a Regular Skin Care Regimen—Keeping skin clean and hydrated is key to preventing acne flareups. For the best results, use a gentle cleanser morning and night, followed by a men's daily moisturizer.
Understand the Cause—Do you have acne around the mouth or on your forehead? The location of your acne can tell you a lot about what's causing it. This can help you make changes to fight pimples and cysts.
Talk with a Doctor—When nothing else seems to work, it's time to speak with your doctor. They may prescribe you topical prescription medicines or oral antibiotics.
Final Thoughts
Both acne and keratosis pilaris can be bothersome in their own ways. If you still aren't sure which skin condition you have, go to a dermatologist for a professional diagnosis.
Once you know which skin condition you have, you can take steps to correct the issue and finally achieve the blemish-free skin you've always wanted.
---
// © Copyright 2023 Tiege Hanley