Subscription
Shipping Address
Order Date

This subscription's skin care system will get replaced.

${ address.name }




${ address.products }

${ displaySubscriptionName(address) }




${ displayProducts(address) }

${ displayAddress(address) }
${ formatDate(address.scheduleDate) }

${ address.name ? address.name : displaySubscriptionName(address)}
${ address.products }
${ displayProducts(address) }
Shipping Address
${ displayAddress(address) }
Delivery Date
${ formatDate(address.scheduleDate) }
This subscription's skin care system will get replaced.
Could Sugar Be the Cause of Your Acne?
We know that too much sugar is bad for us, but is it truly to blame for your acne breakouts? Tiege Hanley uncovers the truth about the link between sugar and acne.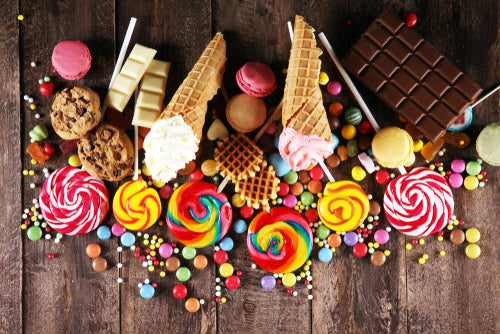 A bigger waistline and lower energy levels aren't the only negative side effects of an uncontrollable sweet tooth. Your sugar habit could be contributing to your acne as well.
Although the link between acne and sugar remains hotly contested in the dermatology world, there is evidence to suggest that sugar can make acne worse. Specifically, foods with a higher glycemic load (foods that digest faster and cause rapid fluctuations in blood sugar) have been shown to negatively affect the skin.
Is sugar the cause of your acne? Here is what you need to know:
Eating sugar can result in elevated blood insulin levels, which can trigger excess sebum production and cause acne breakouts.
Stress and sugar consumption can each be an underlying cause of your acne breakouts.
Eliminating sugar, along with a powerful men's acne treatment system, can help you control your breakouts.
Can Sugar Cause Acne? Let's Examine the Evidence
While it might seem obvious to you, the link between diet and acne is still strongly up for debate among scientists. However, we do have strong evidence to suggest that what we eat can influence acne—especially when it comes to sugar.
1.) Spikes in Insulin Can Stimulate Oil Glands
When you eat too much sugar, your pancreas goes into overdrive to produce more insulin, as well as a chain of hormones similar to insulin known as insulin-like growth factor (IGF). A 2007 study published in the Journal of Biological Chemistry found that an increase in IGF can activate androgens (sex hormones), which subsequently trigger your sebaceous glands to produce more oil (see claim: "Several growth factors, such as insulin-like growth factor 1 (IGF1), can induce AR activation…")
GOT ACNE?
2.) Low-Glycemic Diets Reduced Acne Symptoms in Young Men
Certain types of sugars are known to have a high-glycemic index, meaning they digest quickly in the body and may cause blood sugar levels to spike. In contrast, low-glycemic foods are digested slowly in the body and won't elicit the same response.
A 2007 study published in the Journal of Clinical Nutrition found that a low-glycemic diet significantly improved acne vulgaris symptoms in young men with severe acne (see claim: "The improvement in acne and insulin sensitivity after a low-glycemic-load diet suggests that nutrition-related lifestyle factors may play a role in the pathogenesis of acne.") This further suggests that sugar and other insulin-spiking foods can cause acne breakouts.
3.) Lack of Acne Vulgaris in Non-Westernized Populations
Finally, one of the most compelling studies on the topic was a 2002 study published in the Archives of Dermatology (see claim: "The astonishing difference in acne incidence rates between non-westernized and fully modernized societies cannot be solely attributed to genetic differences among populations but likely results from differing environmental factors.") Researchers at Colorado State University in Fort Collins studied 1,200 Kitavan Islanders from Papua New Guinea and found that not a single person had acne.
Researchers believe that the lack of processed foods in the Kitavan Islander diet is the reason why they don't suffer from acne. This is in direct contrast to the 50 million Americans who suffer from acne and who have a diet high in processed foods and sugars.
How Much Sugar Is Too Much?
Cutting back on your sugar intake is a smart choice not only because it will reduce your acne symptoms, but also because it will improve your overall health.
The American Heart Association recommends keeping your daily added sugars under 150 calories for men. Unfortunately, most of us are consuming far more than the daily recommended amount.
Our high sugar consumption can partly be attributed to added sugars which hide in many unsuspecting products. For instance, juices, fruit smoothies, yogurt, peanut butter, ketchup and other innocent food items often contain high amounts of added sugars.
Take the skin care quiz
How to Achieve a Clear Complexion
By eliminating added sugars from your diet, you'll no doubt see an improvement in your acne symptoms. However, don't assume that cutting sugar will clear up your complexion entirely.
In addition to eating skin-healthy foods, some men will need a powerful men's acne treatment system to eliminate stubborn blemishes. This is especially true if you have an oily skin type and struggle to control your acne breakouts.
At Tiege Hanley, we've helped tons of guys like you achieve a clear complexion after struggling for years with their acne. Check out our two acne systems and choose a level according to the severity of your acne.
Have questions or comments? We're listening! Give it a try and let us know what you think in the comments section below!
---
// © Copyright 2023 Tiege Hanley