Subscription
Shipping Address
Order Date

This subscription's skin care system will get replaced.

${ address.name }




${ address.products }

${ displaySubscriptionName(address) }




${ displayProducts(address) }

${ displayAddress(address) }
${ formatDate(address.scheduleDate) }

${ address.name ? address.name : displaySubscriptionName(address)}
${ address.products }
${ displayProducts(address) }
Shipping Address
${ displayAddress(address) }
Delivery Date
${ formatDate(address.scheduleDate) }
This subscription's skin care system will get replaced.
Dating at Work—Guide for Professionals in 2020
Dating at work can be a perilous minefield. What should professionals know about office romance in 2020?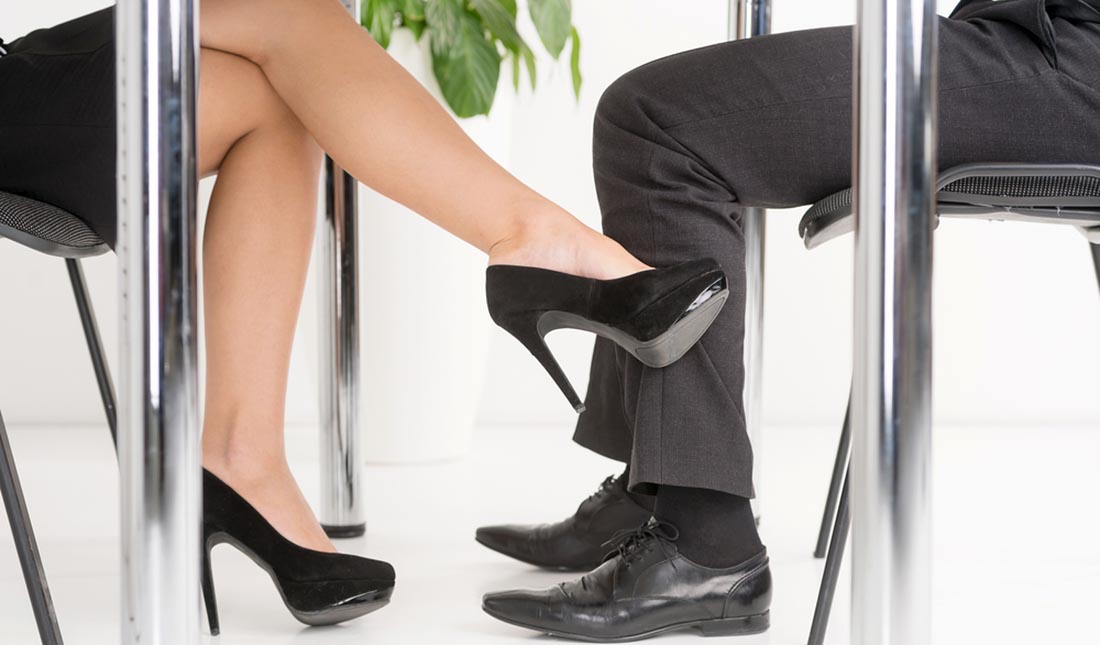 Dating at work has never been more confusing than it is today. Just a few decades ago, dating your coworker was completely frowned upon. Attitudes began changing in the 2000s, and office romances became sort-of okay for a while.
Then, #MeToo happened, and companies once again tightened their HR policies regarding dating in the workplace. So, where do we stand now?
Generally speaking, office romances are still somewhat taboo. However, if you want to date your coworker, there are right ways and wrong ways of going about it.
Before we dive in, here are three things you need to know about dating at work.
Dating at work could put you and your partner's careers at risk
Office romances—even those involving long-term relationships—can lead to unnecessary drama
If you decide to date at work, dating your boss or a subordinate is strictly off limits
The Lowdown on Office Romances
Dating at work is undoubtedly risky business for both parties. So, why do we do it all?
TRY MEN'S SKIN CARE
Well, consider how much time the average person spends at work. According to a 2018 survey from the Bureau of Labor Statistics, 89 percent of full-time employees clocked in an average of 8.5 hours each day.
Given how common it is for relationships to begin due to sheer proximity to one another, it's hardly surprising that romance often blooms in the office.
Attitudes toward office romances are changing as well. According to a 2020 study published in Organizational Behavior and Human Decision Processes, well-received flirtation in the office can lead to stress reduction and improved confidence in the recipient (see claim: "Enjoyed flirtation predicts less stress, via psychosocial resources.") However, another interesting finding from the study was that employees tended to dislike flirtation when it came from someone who had authority over them (i.e., their boss).
This study in no way guarantees that your flirtation is going to be well-received by your coworker. The line between harmless flirtation and sexual harassment is razor thin. Even long-term, monogamous relationships in the workplace can potentially incite drama and distraction in the workplace, which presents no small risk to either partner's career.
What Are the Risks of Dating at Work?
Dating your coworker is a lot like waxing your chest (bear with us for a second)—It might be worth it, but it could just as easily end in disaster.
If you want to date the cutie two cubicles down from yours, you need to know the risks. Before you ask your coworker out for coffee, consider the following.
You could get fired if your flirtation isn't well-received
If the relationship goes against company policy, you could get fired
Your coworkers will find out about the relationship and make no mistake—they will gossip about it
Your quality of work and productivity may be negatively affected by the relationship
If you two break up, things will probably become awkward
Finally, keep in mind that asking out your coworker not only puts your career on the line, but also their own. Are you willing to risk both?
The New Rules of Dating at Work
Dating at work will always be risky. There's simply no getting around that fact.
But if you've caught feelings for your coworker and believe that the risk is worth taking, here are a few rules you need to follow.
TAKE THE SKIN CARE QUIZ
Rule #1: The Boss Is Off Limits
One rule you should never, ever break? Dating your boss or someone directly below you. Even the most relaxed workplaces will typically have a policy that forbids dating a direct boss or subordinate, and for good reason. Not only can it give the perception of favoritism at work, it can also result in a strange power imbalance in the relationship.
Rule #2: Know When to Back Off
Asking out a coworker isn't uncommon and not strictly taboo. However, asking your coworker out repeatedly is considered harassment and will only serve to create a hostile work environment.
If they aren't enthusiastic about you asking them out, then it's a hard no. Learn to back off and let them come to you if they change their mind.
Rule #3: No PDA at Work
If you and your coworker decide to date, there should be no public displays of affection at work. Not even the briefest, lingering touch of hands on the mouse as you show her how to do that cool Excel formula that makes everyone think you're some sort of computer genius. Your relationship should be so low-key at work that new employees will say, "Wait, they're dating? I had no idea!"
Rule #4: Set Boundaries
One of the downsides of dating your coworker is that you may end up seeing them all the time. If they move in with you, it's going to be 24/7 togetherness. You'll wake up together, do your skin care routine together—heck, maybe even carpool to work together.
If you're having a difficult time being your own person, you need to learn how to set boundaries. More importantly, you need to do it in such a way that won't hurt the other person's feelings.
Rule #5: Have a What-If Plan
Obviously, no one wants to think about the possibility of breaking up when things are going perfectly rosy. But when you're dating a coworker, having an exit plan is essential.
Have an honest conversation about what both of you will do if you break up. What will you do if the drama is too much and you need to quit your job? Thinking about these hypotheticals now will prevent you from being blindsided down the road.
The Bottom Line
Dating at work is complicated, to say the least. If you're determined to date your coworker, then we're not going to stop you. The heart wants what the heart wants.
As long as you're aware of the risks involved, then go for it. Just be smart about it by following the rules above and you should be fine. Oh, and feel free to invite us to the wedding.
Resources
AMERICAN TIME USE SURVEY-2018 RESULTS. Bureau of Labor Statistics. U.S. Department of Labor.
Leah D. Sheppard, Jane O'Reilly, Marius van Dijke, Simon Lloyd D. Restubog, Karl Aquino. "The stress-relieving benefits of positively experienced social sexual behavior in the workplace." Organizational Behavior and Human Decision Processes, Volume 156, 2020, Pages 38-52.
---
// © Copyright 2023 Tiege Hanley