Subscription
Shipping Address
Order Date

This subscription's skin care system will get replaced.

${ address.name }




${ address.products }

${ displaySubscriptionName(address) }




${ displayProducts(address) }

${ displayAddress(address) }
${ formatDate(address.scheduleDate) }

${ address.name ? address.name : displaySubscriptionName(address)}
${ address.products }
${ displayProducts(address) }
Shipping Address
${ displayAddress(address) }
Delivery Date
${ formatDate(address.scheduleDate) }
This subscription's skin care system will get replaced.
Does Rogaine Work?
Rogaine is an incredibly popular hair loss treatment for men and women. But does Rogaine work? Get the answers as we analyze the latest research.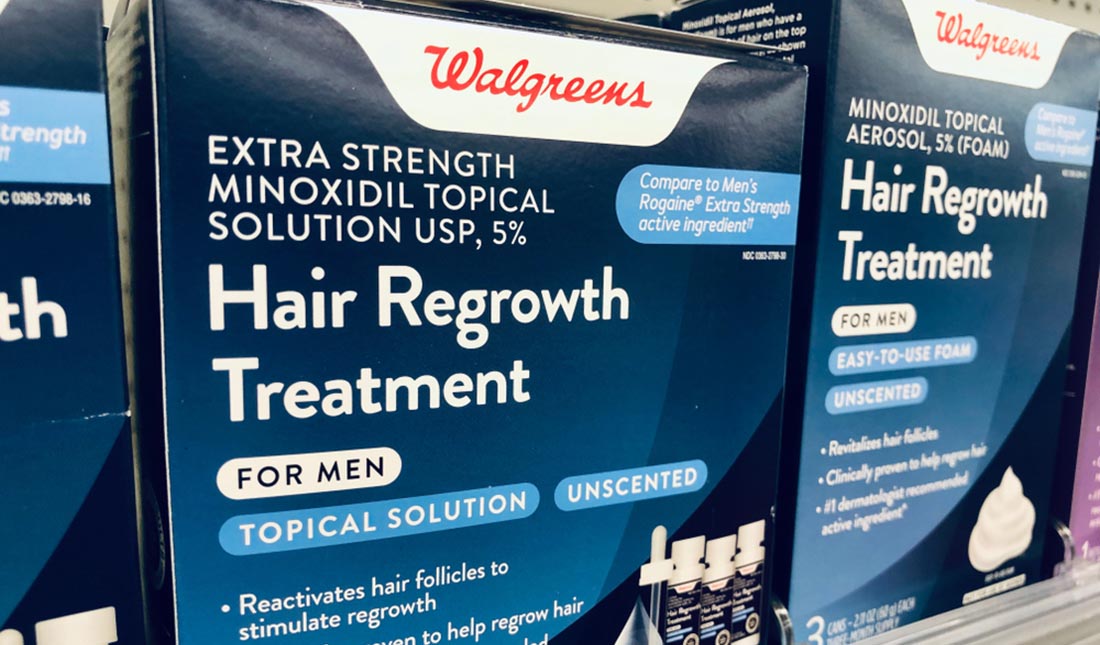 If you've ever worried about losing your hair, there's a good chance you've heard about minoxidil, a.k.a. Rogaine. Originally developed to treat high blood pressure, minoxidil was later developed into topical form and shown to regrow hair successfully in clinical trials.
Rogaine is now one of the most popular hair loss treatments for people under the age of 40. But while Rogaine continues to dominate the hair loss market, it's left many people wondering: Does Rogaine work, or is it just a waste of money?
While there is some evidence that Rogaine is effective, it doesn't work for everyone. Before we dive into the research, here are three things you need to know about Rogaine:
Clinical and peer-reviewed studies have shown that Rogaine can reverse signs of hereditary hair loss
Rogaine doesn't work for everyone
Once you stop using Rogaine, you'll lose your hair growth results within a few months
So, is Rogaine worth it? Let's take a closer look.
GOT WRINKLES?
What Is Rogaine and How Does it Work?
Just like good teeth or clear, blemish-free skin, having a head full of thick hair is an undeniably attractive trait. It comes as no surprise that Rogaine has flown off the shelves since it was introduced in the late 1980s.
But let's back up for a second. What is Rogaine, exactly?
Rogaine is a hair regrowth treatment and the only FDA-approved brand to treat hair loss in both men and women. One of the key ingredients in the Rogaine formula is minoxidil, a medication belonging to a class of drugs known as vasodilators.
Vasodilators work by expanding the blood vessels to improve blood flow—hence, its early beginnings as a drug for hypertension. Although it's commonly believed that topical minoxidil works similarly by improving blood flow to the scalp (thus, delivering more nutrients to the scalp), the exact mechanisms of minoxidil are still not clear.
Based on animal models, scientists suspect that topical minoxidil shortens telogen phase (the resting phase of hair growth) and prolongs anagen phase (the active phase of hair growth).
Is Rogaine Effective?
Rogaine has undergone a slew of clinical trials and peer-reviewed studies. Many of these studies have indeed shown that it can spur hair regrowth in patients with hereditary hair loss.
If you suffer from androgenetic alopecia (a hereditary hair condition that affects both men and women), Rogaine can potentially help you regrow your hair. In a 2019 study published in the Journal of Cosmetic Dermatology, patients with androgenetic alopecia experienced successful hair regrowth after applying a 5 percent solution of minoxidil to their scalp twice daily for 16 weeks (see claim: " The mean change in nonvellus TAHC between baseline and week 16 was +22.0 hairs/cm2 (95% CI: 18.1; 25.9) in the DC0120 group and +20.5 hairs/cm2 (95% CI: 16.6; 24.4) in the comparator group.")
Furthermore, a 5 percent minoxidil solution has been shown to be both safe and effective. In a 2004 study published in the Journal of the American Academy of Dermatology, the application of a 5 percent minoxidil topical resulted in superior hair regrowth compared to the 2 percent application, with both being well-tolerated by patients (see claim: "At week 48, the 5% topical minoxidil group demonstrated statistical superiority over the 2% topical minoxidil group in the patient assessment of treatment benefit.")
Take the skin care quiz
Does Rogaine Work on Everyone?
Although Rogaine can reverse signs of balding in patients with hereditary hair loss, it doesn't appear to work on everyone. According to a 2014 study published in Dermatologic Therapy, approximately 40 percent of patients with androgenetic alopecia will successfully regrow their hair (see claim: "Approximately 40% of patients will regrow hair.")
Additionally, Rogaine isn't a one-and-done miracle product for hair loss. You need to continue using it; otherwise, your luscious locks will eventually go back to their formerly bald state.
There are also potential side effects to consider. One of the most common side effects of Rogaine is severe irritation of the scalp, causing dandruff-like flakes as a result.
Other side effects may include the following:
Unwanted hair growth
Changes in hair texture and color
Rapid weight gain
Fainting or dizziness
Swelling of the hands and feet
Chest pain
If you're thinking about using Rogaine, it's important that you talk with your doctor first. He/she can look at your medical history and tell you whether or not you may be a good candidate for Rogaine.
The Bottom Line
Yes, Rogaine is an effective hair loss treatment, but does Rogaine work for everyone? Not even close.
If you're one of those people who can't seem to regrow their hair with Rogaine, don't lose hope just yet. There are other hair loss treatments available. In the meantime, you can always work on achieving clear skin instead.
References
Blume-Peytavi, Ulrike, et al. "Efficacy and Safety of a New 5% Minoxidil Formulation in Male Androgenetic Alopecia: A Randomized, Placebo-Controlled, Double-Blind, Noninferiority Study." Journal of Cosmetic Dermatology, vol. 18, no. 1, Feb. 2019, pp. 215–20. PubMed, doi:10.1111/jocd.12541.
Lucky, Anne W., et al. "A Randomized, Placebo-Controlled Trial of 5% and 2% Topical Minoxidil Solutions in the Treatment of Female Pattern Hair Loss." Journal of the American Academy of Dermatology, vol. 50, no. 4, Apr. 2004, pp. 541–53. PubMed, doi:10.1016/j.jaad.2003.06.014.
Goren, Andy, et al. "Clinical Utility and Validity of Minoxidil Response Testing in Androgenetic Alopecia." Dermatologic Therapy, vol. 28, no. 1, Feb. 2015, pp. 13–16. PubMed, doi:10.1111/dth.12164.
---
// © Copyright 2023 Tiege Hanley