Subscription
Shipping Address
Order Date

This subscription's skin care system will get replaced.

${ address.name }




${ address.products }

${ displaySubscriptionName(address) }




${ displayProducts(address) }

${ displayAddress(address) }
${ formatDate(address.scheduleDate) }

${ address.name ? address.name : displaySubscriptionName(address)}
${ address.products }
${ displayProducts(address) }
Shipping Address
${ displayAddress(address) }
Delivery Date
${ formatDate(address.scheduleDate) }
This subscription's skin care system will get replaced.
Dry Skin on Penis—5 Causes, Treatments and How to Prevent
Dry skin on the penis can be uncomfortable. Learn what causes dry skin on the penis, treatment options and how to prevent.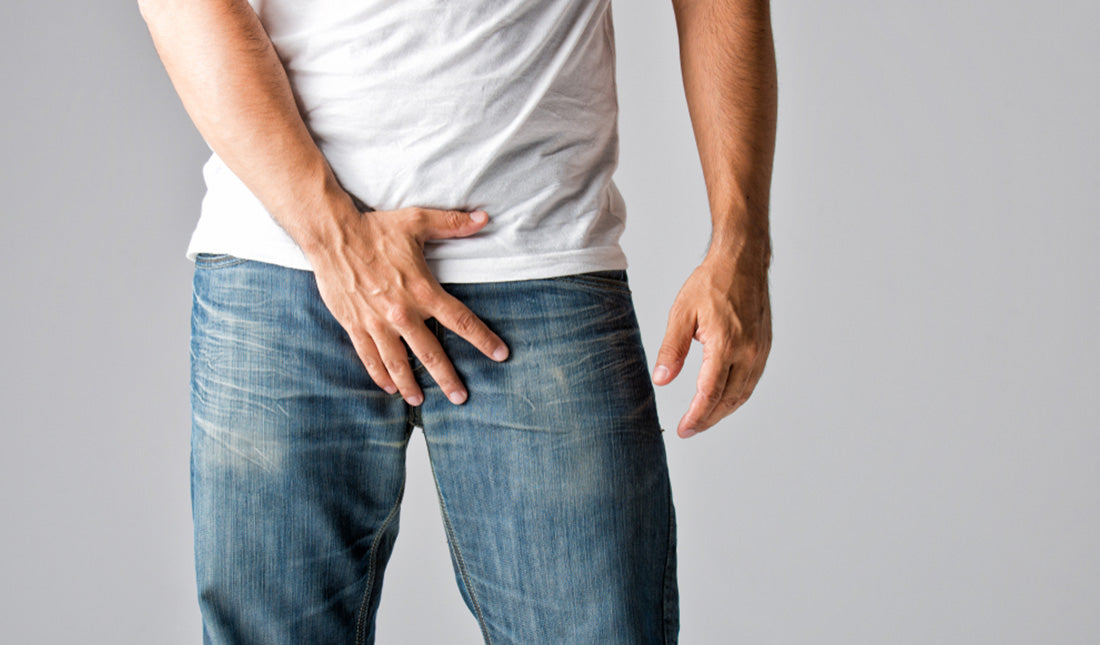 When you have dry skin on your penis, it's easy to jump to the worst possible conclusion. But before you start stressing about STDs, take a deep breath. It's probably nothing to get overly anxious about.
Dry skin on your penis can have a variety of benign causes. Below, we'll delve deeper into the causes of dry skin on the penis, how to treat it and ways to prevent it from happening again.
First, here are a few things you need to know about dry skin on the penis:
Dry skin on the penis is often caused by drying soaps and harsh products
Chronic skin conditions such as eczema and psoriasis can extend to the penis
The best way to treat dry skin on the penis is to use a penile cream to restore moisture to the skin
5 Causes of Dry Skin on Penis
There are many potential things that can cause the skin on your penis to become dry. Here are a few of the most common culprits:
1. Harsh Soaps/Body Washes
Although cleaning your man parts is undoubtedly important, the products you're using may be too harsh for your skin. Harsh soaps and body washes can have a significant drying effect on the skin.
If your dry skin isn't limited to just your penis, this is a telltale sign that your skin care products are to blame. Consider switching to a body wash for men that is fragrance-free and formulated for sensitive skin.
2. Chronic Skin Conditions
In some cases, dry skin on the penis is caused by chronic skin conditions such as eczema or psoriasis. If your flare-ups on your body occur at the same time as dry skin on your penis, your eczema or psoriasis could be the culprit.
Penile psoriasis is particularly common in people with psoriasis. According to a 2018 study published in Dermatology and Therapy, nearly two-thirds of patients with psoriasis will experience genital psoriasis at some point in their lifetime (see claim: "Genital psoriasis affects approximately 63% of psoriasis patients at least once in their lifetime.")
If you suspect that your chronic skin condition is the cause of the dry skin on your penis, make an appointment with your doctor. It's important to rule out underlying conditions before they prescribe you emollients or topical steroids.
TRY MEN'S SKIN CARE
3. Yeast Infection
Believe it or not, guys can get yeast infections, too. When a yeast infection affects the penis, it's called candida balanitis.
Candida balanitis can result in dryness, inflammation, burning with urination and soreness on the foreskin of the penis. According to a 2010 review published in Clinical Microbiology Reviews, the Candida yeasts make up 30 to 35 percent of all cases of balanitis (see claim: "Candida spp. are considered to be responsible for 30 to 35% of all cases of infectious balanitis.")
4. Contact Dermatitis
If the dry skin on your penis is accompanied by a red rash, it may be contact dermatitis. This type of rash is a form of eczema that occurs when your skin comes into direct contact with an irritant.
Although contact dermatitis of the genitals is rare, it's possible that your dry skin down below is caused by an allergic reaction to latex in your condoms. Other common allergens that can affect the genitals include fragrances, spermicide, laundry detergent, preservatives and dyes.
5. Dry Masturbation
Although masturbation has many health benefits, it can lead to problems if you masturbate without lubricant. Referred to as dry masturbation, the act of rubbing your penis without any lubricant can eventually cause chafing and dry skin.
Treatments
Dry skin on the penis can usually be treated at home. The simplest way to fix the problem is by avoiding the most common causes of dry skin and by applying a moisturizing penile cream formulated specifically for the penis.
You may also want to consider taking a break from sex and masturbation. This will give your skin time to produce natural oils and resolve the issue on its own.
If your penis is still dry and flaky, see your primary care physician. They'll rule out underlying conditions that could be causing the problem and may prescribe you a topical treatment.  
How to Prevent
Once you've fixed the dry skin on your penis, you can switch to prevention mode. Here are a few steps you can take to prevent your penis from becoming dry again:
1. Avoid Taking Hot Baths and Showers
We all love a hot shower to relax us after a long day. Unfortunately, hot water can strip the skin's natural oils and dry out your skin.
Setting the water temperature to lukewarm is a much better option for your skin. If you can stand the occasional cold shower, then all the better.
2. Use a Gentle Cleanser
If you have dry skin all over, your cleansing products could be to blame. Switch to a body wash that is free of fragrances, dyes and perfumes to avoid skin irritation and dryness.
While you're at it, do your face a huge favor by upgrading your skin care system to one that's specifically formulated for your skin. Your skin will thank you for it.
3. Reach for the Lube
Using lube for both masturbation and sex will decrease the amount of friction your penis experiences and, thus, help keep it moisturized. Just be sure to choose a lube product that is free of fragrances and other potentially irritating ingredients.
Take the skin care quiz
4. Rethink Your Clothing
Tight clothing can cause chafing, which can irritate the penis and lead to dry skin. Consider wearing looser-fitting underwear and pants to reduce chafe.
5. Apply a Daily Moisturizer
If you feel it necessary, you can continue to use your penile moisturizing cream on a daily basis.  Though, you may want to run it by your dermatologist first to ensure that it's safe for long-term use.
Final Thoughts
Dry skin on the penis can cause initial panic for some. However, it's usually not a sign or symptom of a sexually transmitted disease or any other serious condition.
That being said, it's never a bad idea to see your doctor if you have concerns. They can either put your mind at ease or get to the root cause of the problem once and for all.
References
Beck, Kristen M., et al. "Treatment of Genital Psoriasis: A Systematic Review." Dermatology and Therapy, vol. 8, no. 4, Aug. 2018, pp. 509–25. PubMed Central, doi:10.1007/s13555-018-0257-y.
Achkar, Jacqueline M., and Bettina C. Fries. "Candida Infections of the Genitourinary Tract." Clinical Microbiology Reviews, vol. 23, no. 2, Apr. 2010, pp. 253–73. PubMed Central, doi:10.1128/CMR.00076-09.
---
// © Copyright 2023 Tiege Hanley