Subscription
Shipping Address
Order Date

This subscription's skin care system will get replaced.

${ address.name }




${ address.products }

${ displaySubscriptionName(address) }




${ displayProducts(address) }

${ displayAddress(address) }
${ formatDate(address.scheduleDate) }

${ address.name ? address.name : displaySubscriptionName(address)}
${ address.products }
${ displayProducts(address) }
Shipping Address
${ displayAddress(address) }
Delivery Date
${ formatDate(address.scheduleDate) }
This subscription's skin care system will get replaced.
Flaky Skin on the Face: Causes, Treatments and How to Avoid It
Flaky skin on the face is a common problem, even for guys with an oily skin type. Find out what causes flaky skin and how you can effectively treat and prevent it.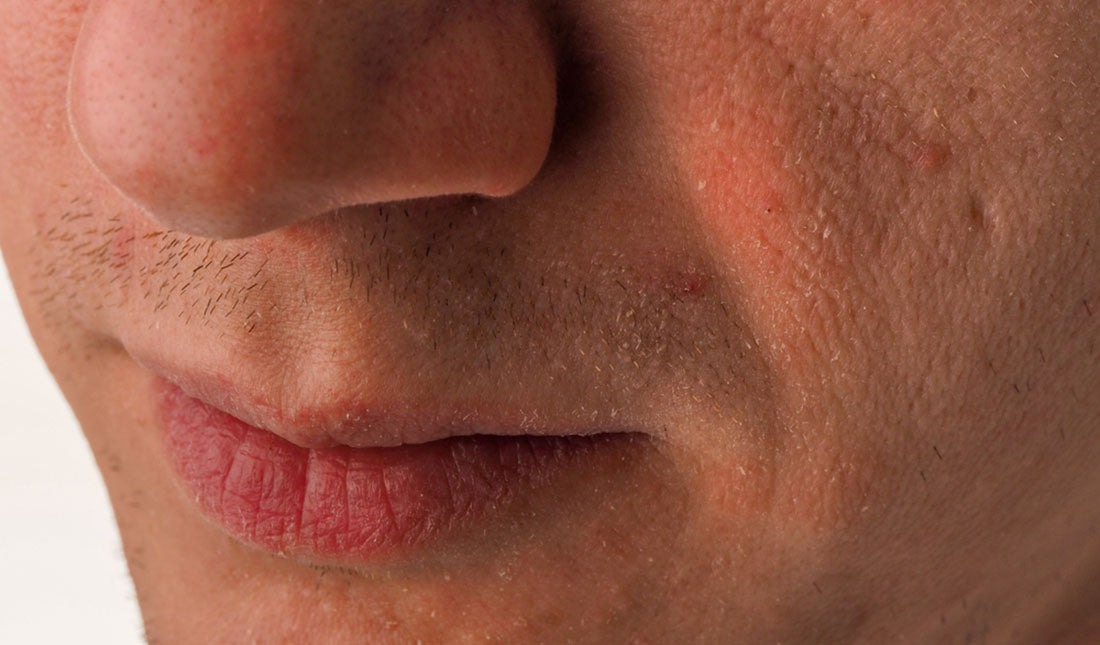 Even if you normally have an oily skin type, it's not uncommon to experience flaky skin on the face. Dry flakes on the skin can be caused for any number of reasons, from harsh skin care products to changes in the weather. No matter what's behind the flaky skin on your face, one thing is certain: You want it gone.
Here are three things you need to know about the flaky skin on your face:
Flaky skin on the face is commonly caused by dry air, harsh skin care products and UV damage.
Applying a high-quality moisturizer to your face every day is the most effective way to combat flaky skin.
Taking cold showers and getting on a balanced skin care regimen can prevent flaky skin on the face.
Causes of Flaky Skin on the Face
Weather: When temperatures begin to drop, the lack of moisture in the air can cause dry skin. Wind and rain can also zap moisture from your face and cause flaky skin.
Harsh Skin Care Products: Skin care products that contain artificial fragrances and dyes can be extremely drying to the face. If you suspect that your skin care products are causing your flaky skin, stop using them immediately and switch to a more gentle men's skin care kit.
Atopic Dermatitis: Commonly known as eczema, atopic dermatitis can cause rough, scaly patches on the skin. These patches often look like a rash that becomes dry and flaky when left untreated.
Seborrheic Dermatitis: If your flaky skin comes and goes, it may be Seborrheic Dermatitis. Although this skin condition most commonly affects the scalp, it can also affect the oily parts of your face, such as the nose or forehead.
UV Damage: If you were sunburned recently, the flaking could be a sign of sun-damaged skin. According to a 2012 study published in PNAS, UV radiation impairs skin barrier function, leading to dry skin that is prone to chapping and cracking (see claim: "the SC's mechanical properties can lead to severe macroscopic skin damage such as chapping and cracking and associated inflammation, infection, scarring, and abnormal desquamation.")
Try Men's Skin Care
Treatment Options for Flaky Skin
Treatment options may vary depending on the cause of your flaky skin. Generally, the first line of treatment for flaky skin on the face is a daily moisturizer with nourishing ingredients.
Specifically, seek out a daily moisturizer with SPF that will block UV rays and protect your skin from the elements. Even if the flaky skin on your face isn't caused by UV damage, a daily moisturizer with SPF is still a smart choice for guys who want healthy, youthful-looking skin.
According to a 2013 study published in Clinical, Cosmetic and Investigational Dermatology, 80 percent of wrinkles and other visible signs of aging can be attributed to UV exposure (see claim: "Indeed UV exposure seems to be responsible for 80% of visible facial aging signs.")
Another potential way to treat your flaky skin is to dial back your face scrub. While exfoliation is a key component to every guy's skin care regimen, excessive scrubbing (more than 2x a week) can dry out the skin.
If adjusting your skin care regimen didn't solve your dry, flaky skin, consider seeing a dermatologist. You may have a skin condition that is best treated by a professional.
Flaky Skin Prevention Methods
Take the skin care quiz
Sometimes, flaky skin on the face will come and go. If you want to reduce your flare-ups, here are few tips to combat dry skin and flakes:
Get on a Regular Skin Care Regimen: One of the best things you can do for your skin is to start taking care of it on a daily basis. All guys need the basics: A high-quality face wash, face scrub, AM moisturizer and PM moisturizer.
If you want to make it ridiculously easy for yourself, subscribe to a Tiege Hanley Skin Care System. Designed to restore balance to your skin, our skin care systems are formulated for every guy, regardless of skin type.
Take Cold Showers:  Hot showers can zap moisture from your face and exacerbate dry skin problems. To avoid making your dry flakes worse, turn the water temperature down to lukewarm or as cold as you can tolerate.
Use a Humidifier: Humidifiers are commonly used in the winter to combat the season's skin-drying effects. However, it can be used year-round to restore moisture to the air and alleviate dry skin.
Final Thoughts
As you can see, there are plenty of ways to treat and prevent flaky skin on your face. Applying a high-quality moisturizer day and night is generally the best way to combat flakes and restore your skin's smooth appearance.
If nothing you do seems to work, you may want to see your dermatologist. He or she can rule out an underlying health condition and get to the bottom of the stubborn, flaky skin on your face.
---
// © Copyright 2023 Tiege Hanley