Subscription
Shipping Address
Order Date

This subscription's skin care system will get replaced.

${ address.name }




${ address.products }

${ displaySubscriptionName(address) }




${ displayProducts(address) }

${ displayAddress(address) }
${ formatDate(address.scheduleDate) }

${ address.name ? address.name : displaySubscriptionName(address)}
${ address.products }
${ displayProducts(address) }
Shipping Address
${ displayAddress(address) }
Delivery Date
${ formatDate(address.scheduleDate) }
This subscription's skin care system will get replaced.
5 Things to Look for in a Hand Cream for Men
Dry hands and cracked knuckles from frequent hand-washing? Here's how to find a hand cream for men that contains nourishing ingredients to soothe parched skin.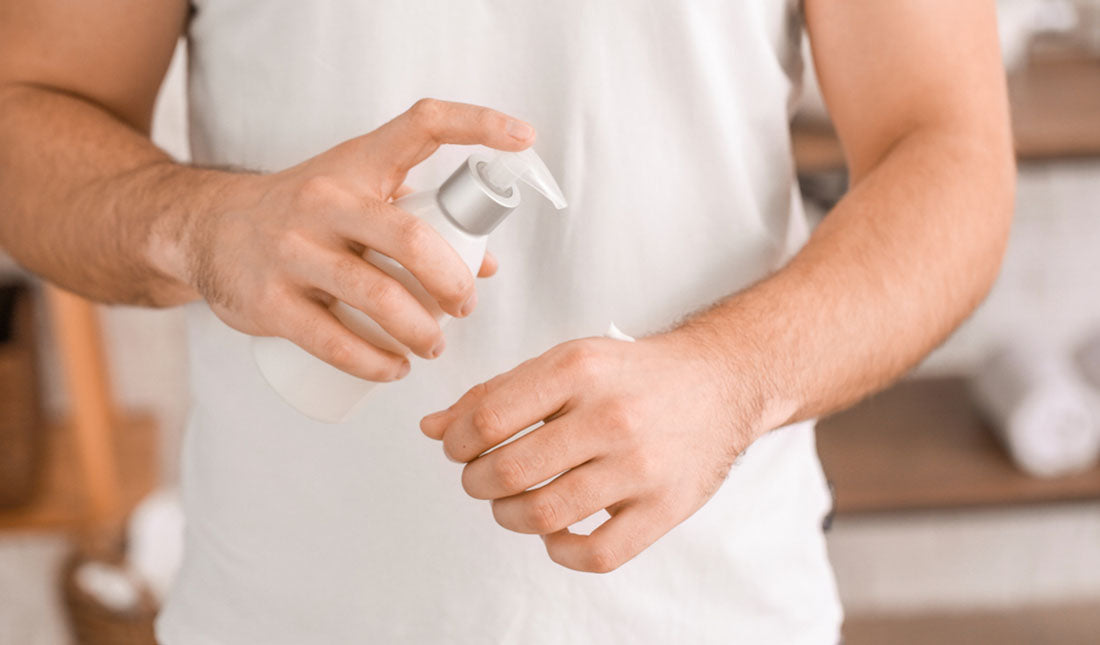 Dealing with dry skin and painful, cracked knuckles?
Whether your dry hands are the result of frequent hand-washing, harsh weather or something else, a hand cream for men is key to keeping hands moisturized.
A good hand cream can help restore moisture to your skin, slow signs of aging and offer some protection from the elements.
If you want to find the best hand lotion for your skin, it helps to know what to look for on the label.
Here are a few things you should know about hand cream for men:
Avoid hand creams containing artificial fragrances.
Glycerin and ceramides can help restore moisture and improve skin barrier function.
The best hand creams for men are ones that are specifically formulated for your skin.
Sick and tired of cracked knuckles and parched skin? Here are the best ingredients to look for in a hand cream for men.
1. Fragrance-Free
Most guys look for fragrance-free skin care products because they don't want to smell like a girl.
However, there is another important reason why you should take care to avoid artificial fragrances in your skin care products.
Artificial fragrances (which are commonly listed as "parfum" on the label) have been known to cause skin irritation in all skin types.
In a 2019 study published in the Indian Dermatology Online Journal, researchers studied the effects of fragrance allergens on 27 patients.
Their results found that more than 85 percent were positive to fragrance antigens, with the hands being the most commonly affected site (see claim: "Of the 27 patients, 23 (85.18%) patients showed at least one antigen positivity…")
Note that fragrance-free doesn't mean that the product is completely devoid of any scent.
It just means that no chemical fragrances have been added to the product.
2. Glycerin
Glycerin is a must-have ingredient in any quality moisturizer, and for good reason.
This hydrating superhero can soothe parched hands by forming a protective barrier on the skin, helping your skin retain moisture.
The research backs up the hydrating potential of Glycerin.
In a 2001 study published in the International Journal of Cosmetic Science, researchers sought out to study the effects of a moisturizing cream containing 20 percent Glycerin and found that it increased skin hydration after 10 days of treatment (see claim: "Ten days treatment of normal skin with 20% glycerin significantly increased skin corneometer values, indicating an increased hydration.")
Glycerin is a must-have ingredient in a hand cream because it pulls water to the skin and locks it in for maximum hydration.
TRY MEN'S SKIN CARE
3. Nourishing Oils
No guy wants a hand cream that makes their hands feel like a greasy mess.
 If you don't want to struggle to turn doorknobs after you apply lotion, look for a hand cream with non-greasy oils.
For long-lasting hydration without the grease, we recommend natural oils such as Jojoba Oil, Avocado Oil, Grape Seed Oil or Sunflower Seed Oil.
These oils can help restore moisture to your hands without making them shiny or overly-greasy.
As an additional benefit, many of these oils double as antioxidants that can reduce inflammation and reverse signs of aging.
4. SPF
For daytime use, we definitely recommend adding a SPF hand cream for men to your daily skin care routine.
Not only because it can slow signs of aging on your hands, but because a SPF hand cream can help lower your risk of skin cancer.
It doesn't matter if you don't have any deadly-looking moles on your hands.
Moles—cancerous or otherwise—can develop at any age.
You don't even need a mole to get skin cancer.
In fact, research published in JNCI: Journal of the National Cancer Institute states that the majority of melanomas develop without associated moles (see claim: "…the majority of melanomas arise de novo, i.e., in clinically normal skin with no associated nevus.")
The point is that you shouldn't assume that your hands are immune to the sun's damaging effects.
Get yourself a broad spectrum hand cream for men that will block both UVA and UVB rays.
TAKE THE SKIN CARE QUIZ
5. Ceramides
If you really want to make the skin on your hands happy and healthy, you need a hand cream with ceramides.
Ceramides are lipids (fat molecules) that keep your skin hydrated and moisturized.
Although ceramides occur naturally in the skin, production starts declining by the time we reach age 30.
Low production of ceramides can lead to skin irritation, redness and dryness.
Hand creams containing ceramides can help protect your skin from environmental stressors while restoring moisture to parched hands.
Get a Hand-le on Dry Hands
Using a regular hand cream for men can be a total game changer for your dry, sandpapery hands.
And lucky for you, men's hand creams aren't difficult to find these days.
The trickiest part is finding a hand cream for men that jives with your skin.
That's why we suggest testing your new hand cream on a small part of your skin first.
If it doesn't cause an unwanted reaction, lather up your paws and never suffer from dry hands again.

References
Periyasamy, Mohan Kumar et al. "Analysis of Hypersensitivity in Fragrance Series by Patch Testing." Indian dermatology online journal vol. 10,6 657-662. 1 Nov. 2019.
Lodén, M., and W. Wessman. "The Influence of a Cream Containing 20% Glycerin and Its Vehicle on Skin Barrier Properties." International Journal of Cosmetic Science, vol. 23, no. 2, 2001, pp. 115–19.
Cymerman, Rachel M et al. "De Novo vs Nevus-Associated Melanomas: Differences in Associations With Prognostic Indicators and Survival." Journal of the National Cancer Institute vol. 108,10 djw121. 27 May. 2016.
---
// © Copyright 2023 Tiege Hanley