Subscription
Shipping Address
Order Date

This subscription's skin care system will get replaced.

${ address.name }




${ address.products }

${ displaySubscriptionName(address) }




${ displayProducts(address) }

${ displayAddress(address) }
${ formatDate(address.scheduleDate) }

${ address.name ? address.name : displaySubscriptionName(address)}
${ address.products }
${ displayProducts(address) }
Shipping Address
${ displayAddress(address) }
Delivery Date
${ formatDate(address.scheduleDate) }
This subscription's skin care system will get replaced.
Handsome Hubby: 6 Gift Ideas for Your Husband
Need a great gift idea for your husband? Check out these six different top-notch gift ideas and let your husband indulge a little this year.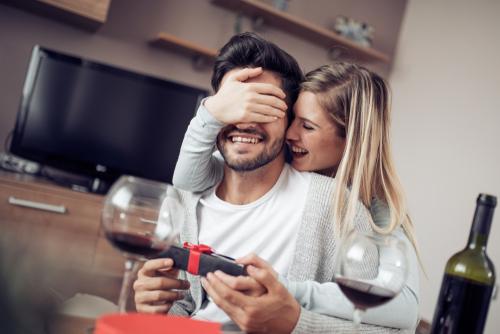 Racking your brain for holiday gift ideas for Dear Husband? Get him the gift that truly does keep on giving: the gift of self-care.
Whether it's a relaxing massage or a fancy grooming set, giving your man the chance to invest in himself is one of the best things you can do for him this year. Practicing self-care can provide significant mental and physical health benefits, but men often forget to take time for themselves.
By reminding your husband to invest in himself this year, you can give him a gift that benefits him well into the New Year. Here are six gift ideas that will help make him happy, healthy and handsome:
Men's Facial
Want to give him glowing skin for the holidays? Give him a gift certificate for a men's facial.
Men's facials can revitalize dull skin, reduce acne and provide anti-aging benefits. They're also extremely relaxing and can reduce stress—something we all could benefit from during the busy holiday season.
Sure, he may be skeptical at first. But we guarantee that one good facial treatment will get him hooked for life.
DNA Test for Personalized Fitness and Nutrition Insights
If your husband enjoys health and fitness, he will love learning how his DNA affects his body's response to nutrition and exercise. With a DNA test from DNAFit, he can unlock key insights into his genetics and come up with a personalized health and wellness plan based on the results.
DNAFit tests your genetics and curates a diet and fitness plan based on the results. It will also tell you things such as what injuries you might be susceptible to, or whether you should focus on endurance training or strength training.
All your husband needs to do is swab his cheek with DNAFit's at-home kit and send it off to their lab. After 10 days, he should receive a full report with all the details for how to improve himself.
TRY MEN'S SKIN CARE
Manly-Scented Candle
Fragrances have been used for thousands of years to improve mental, physical and spiritual well-being (see claim: "…The aroma components from natural products have been used for mental, spiritual and physical healing since the beginning of recorded history."). Why not help your man relax with a mildly scented candle?
Skip the frilly scented candles and get him a manly one instead, such as these candles from Ranger Station Co. Their rich, earthy scents mimic those found in nature, which studies show can be beneficial for our health (see claim: "Greenspace exposure is associated with numerous health benefits…").
From the smell of leather and pine to birch bark and oakmoss, both you and your husband will enjoy the warm, natural scents.
High-Quality Hair Styling Products
Could your man use an upgrade in his hair styling products? Help him elevate his look by gifting him award-winning hair care products from Pete & Pedro.
If your husband has short-to-medium hair, be sure to get him the Pete & Pedro Putty. It provides a high hold, low shine and a matte finish—perfect for guys who want their hair to look naturally stylish.
Does your hubby have long, luscious locks? Their texturizing paste cream provides a medium hold and medium shine without making hair look greasy or stiff.
Silk Pillowcase
Once your man puts his head on a luxurious pillowcase, there is no turning back. Not only does a silk pillowcase feel amazing, it also has a slew of beauty benefits as well.
Silk pillowcases are said to reduce wrinkles, prevent moisture loss from your skin and even keep acne at bay. Although there are currently no peer-reviewed studies to back up these claims, there are clinical studies in the works.
Take the skin care quiz
Skin Care Subscription
Who doesn't want clear skin for the holidays? With our skin care system for men, your husband can get the amazing skin he's always wanted.
Unlike other men's skin care systems, Tiege Hanley was developed for guys who like to keep things simple. From our daily face wash and moisturizer to our advanced, anti-aging super serum, every product in our men's skin care regimen is ridiculously easy to use.
Best of all, you don't need to remind him to buy more when he runs out. We deliver it straight to your door each month.
This Year, Give Him Something He Really Wants
Self-care is something that everyone should practice regularly. Unfortunately, men rarely consider the importance of taking time to invest in themselves.
With these self-care gifts, you can help him finally become the best version of himself he can be. He'll be much happier, healthier and handsome for it!
---