Subscription
Shipping Address
Order Date

This subscription's skin care system will get replaced.

${ address.name }




${ address.products }

${ displaySubscriptionName(address) }




${ displayProducts(address) }

${ displayAddress(address) }
${ formatDate(address.scheduleDate) }

${ address.name ? address.name : displaySubscriptionName(address)}
${ address.products }
${ displayProducts(address) }
Shipping Address
${ displayAddress(address) }
Delivery Date
${ formatDate(address.scheduleDate) }
This subscription's skin care system will get replaced.
How Long Does Sunscreen Last on Skin?
How long does sunscreen last on the skin? Discover why reapplying sunscreen is crucial and how long you can expect your sun protection last.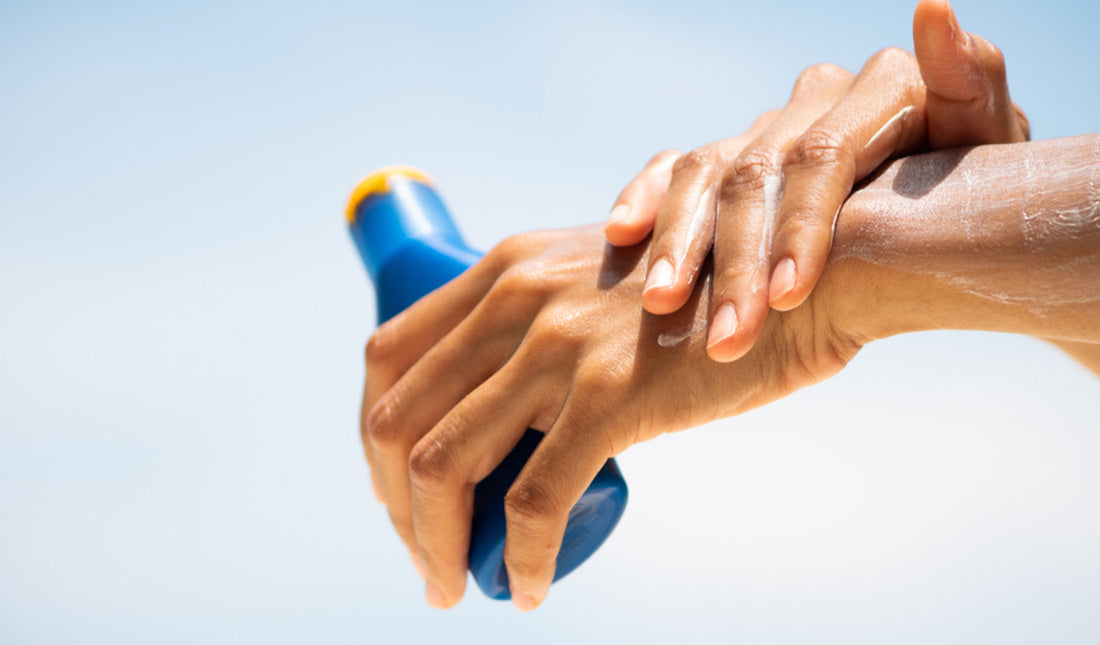 If there is one point that we will never stop stressing, it's the importance of daily sun protection.
Without it, your skin is susceptible to harmful, damage-causing UV rays that lead to cancerous moles, sunspots, premature wrinkles and so on.
Perhaps you already know this, and that's why you make sure to slather sunscreen on daily.
But are you reapplying it regularly?
Contrary to popular belief, sunscreen does not last on the skin all day.
If you're taking the set-it-and-forget-it approach to sun protection, you're not doing your skin any favors.
So, how long does sunscreen last on the skin and how often do you need to reapply it?
We're setting the record straight once and for all.
Here are three things you should know about sunscreen:
Chemical sunscreens break down in sunlight and must be reapplied regularly.
Most people don't apply enough sunscreen the first time around, making reapplication critical.
Sunscreens only last about two hours after you apply it, regardless of the SPF rating.
Why Does Sunscreen Need to Be Reapplied?
There are a couple of important reasons why reapplying your daily SPF is critical.
First off, chemical sunscreens (e.g., sunscreens that work by absorbing UV rays) will break down with extended sun exposure.
So if you don't reapply it regularly, you're likely going to end up with a nasty and painful sunburn.
Another reason you shouldn't skimp on the sunscreen?
There's a decent chance that you aren't applying it correctly the first time around.
Sunscreen users apply less than half of the sun protection they need, according to research published in the journal Acta Dermato-Venereology (see claim: Results showed that sunscreen with a sun protection factor (SPF) of 50, applied in a typical way, would at best provide 40% of the expected protection.)
In other words, reapplying sunscreen is like applying a second coat of paint to your walls.
While you could just assume that you didn't miss any spots the first go around, it's better to be safe than sorry.
GOT WRINKLES?
OK, So How Long Does Sunscreen Last?
Most public health officials agree that sunscreen should be reapplied approximately every two hours.
The reason for the two-hour rule comes down to how SPF is tested.
SPF ratings are based on how much sun protection a sunscreen product will give you against the sun for 120 minutes.
But again, keep in mind that this two-hour rule operates on the assumption that you are applying the correct thickness (between 1.3 and 2.0 mg/cm ) the first time.
Sunscreen should also be applied sooner if you're sweating or swimming.
Also, be aware that sunscreens labeled "water-resistant" aren't waterproof.
In fact, it's illegal for sunscreen products to claim they are waterproof or sweatproof.
You still need to reapply water-resistant sunscreen 40-80 minutes after swimming or heavy perspiration.
Sunscreen: How to Protect Your Skin from the Sun
Most people know that sunscreen is an important part of any sun protection strategy.
But applying sunscreen correctly can be surprisingly complicated.
To stay safe in the sun, here are a few tips to follow when using sunscreen.
Use SPF 15 or Higher
For maximum sun protection, experts from the Skin Cancer Foundation recommend using a daily SPF of 15 or higher.
If you have fair skin, you may want to go higher with a SPF 20, 30 or 50.
Just be careful not to let a higher SPF rating lure you into a false sense of security.
Even SPF 100 needs to be reapplied every two hours to provide the maximum benefit to your skin.
TAKE THE SKIN CARE QUIZ
Choose Broad-Spectrum SPF
When shopping for sunscreen, be sure to choose a broad-spectrum SPF.
Broad-spectrum sunscreens are formulated to protect your skin from both UVA and UVB rays.
UVA rays can cause premature wrinkles, while UVB rays can burn the skin.
Both types can increase your risk of skin cancer.
Looking for a sunscreen that won't cause acne breakouts?
Check out Tiege Hanley's facial moisturizer with SPF 20.
It protects against both UVA and UVB rays and has the Skin Cancer Foundation's Seal of Approval.
Wait for Your Sunscreen to Sink in
If you're using a chemical sunscreen, remember to apply it about 15-20 minutes before you go outside.
The reason is because chemical sunscreens need time to bind to the skin in order to work properly.
If you're using a physical sunscreen that works by sitting on top of the skin, you can go out in the sun immediately after applying it.
Focus on Sun-Exposed Areas
Not sure if you applied a thick enough layer of sunscreen?
Reapply it before you go outside.
Focus on areas that typically receive the most sun exposure such as the back of the neck, hands, arms, shoulders and the tops of your feet.
The tops of ears are another frequently missed spot that get a lot of sun exposure.
And, of course, don't forget your face–especially the nose.
Don't Cheat Your Skin—Reapply Your Sunscreen
If you miss crucial spots and don't reapply your sunscreen, your skin will pay for it with liver spots, sagging and, potentially, skin cancer.
The bottom line?
Reapply your sunscreen every two hours or sooner.
Your skin will thank you for it.

References
Young, Antony R et al. "Sub-optimal Application of a High SPF Sunscreen Prevents Epidermal DNA Damage in Vivo." Acta dermato-venereologica vol. 98,9 (2018): 880-887.
Skin Cancer Foundation
---
// © Copyright 2023 Tiege Hanley