Subscription
Shipping Address
Order Date

This subscription's skin care system will get replaced.

${ address.name }




${ address.products }

${ displaySubscriptionName(address) }




${ displayProducts(address) }

${ displayAddress(address) }
${ formatDate(address.scheduleDate) }

${ address.name ? address.name : displaySubscriptionName(address)}
${ address.products }
${ displayProducts(address) }
Shipping Address
${ displayAddress(address) }
Delivery Date
${ formatDate(address.scheduleDate) }
This subscription's skin care system will get replaced.
How Often Should You Wash Your Hair?
Do you wash your hair too much? Not enough? Find out how often is often enough.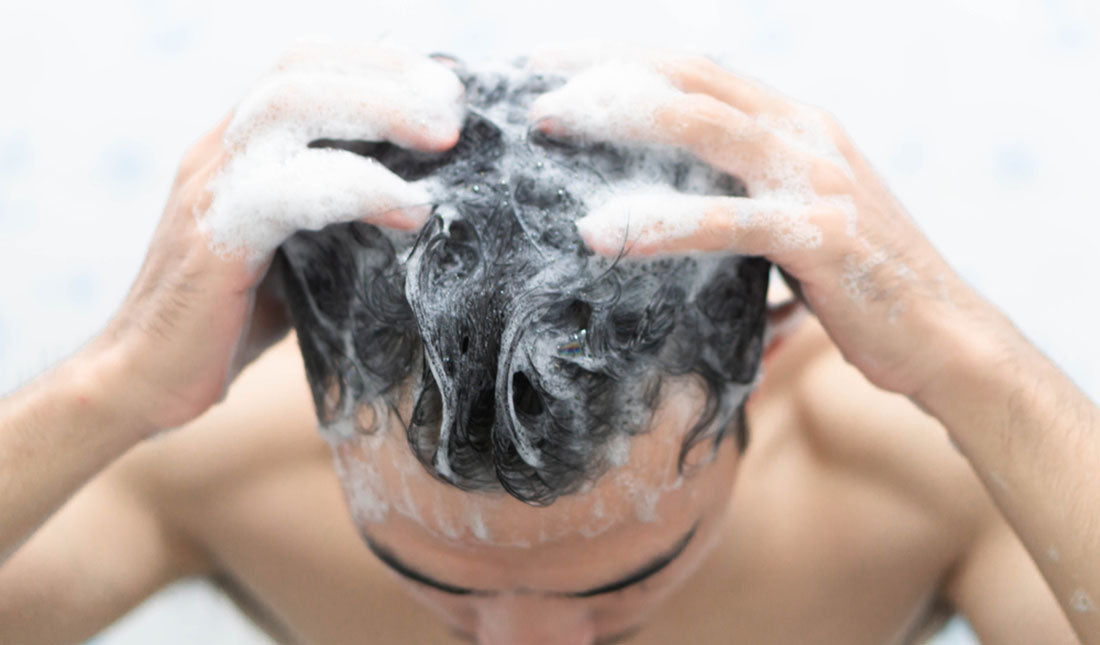 It's an age-old question: How often do we really need to wash our hair? It's been a point of contention since at least 1927, when liquid shampoo was first invented.
Skip forward almost a century later and most guys still don't know how long they should go between suds. To be perfectly fair, it's a tricky question for which everyone seems to have a different answer.
Truthfully, how often you wash your hair depends on several factors including hair texture, scalp health and personal preference. To help clear up the confusion once and for all, we'll take a closer look at how often your scalp needs a good scrubbing.
Here are three things that you need to know about washing your hair:
There is little scientific research on the topic of hair washing.
Shampoos formulated for specific hair types can help you achieve healthier hair.
While hair type plays a role in how often you should wash your hair, it all comes down to personal preference.
CONTROL EYE BAGS
Hair Washing Frequency—What Does the Science Say?
Unfortunately, not much. Though most hair care experts and doctors generally seem to agree that washing hair too often can throw off your scalp's oil production, there isn't much in the way of scientific evidence to support this theory—or any theory on shampoo compared to no shampoo, for that matter.
However, this doesn't mean that shampoos are a waste of time and money. There are plenty of scientific studies on certain ingredients in shampoos which have been shown to improve scalp conditions and hair problems.
For example, dandruff is a common scalp condition that often plagues head hair and beard hair alike. Shampoos containing zinc pyrithione have been shown to be highly effective at treating dandruff, according to a 2013 study published in the International Journal of Cosmetic Science (see claim: "Regular use of anti-fungal shampoos represents a proven therapeutic strategy to improve the most common symptoms of flakes and itch.")
Similarly, conditioning agents can be used to cleanse the scalp while providing much-needed moisture to those with dry and coarse hair types. The bottom line: Don't give up on your shampoo just yet.
It Mostly Depends on Your Hair Texture
How often you wash your hair has a lot to do with its texture. For instance, guys with curly or coarse hair types will naturally need to shampoo their hair less often compared to guys with fine and straight hair. This is because the oil produced by the scalp takes longer to distribute itself throughout the hair shaft in curly and coarse hair types.
Here is a quick breakdown of the different hair textures/appearances and how often you should wash each type:
Curly Hair—Our scalp produces oil called sebum, which makes its way down each individual hair strand. In curly hair types, sebum has a far more difficult time traveling down the strand compared to straight hair. This is why curly hair types can get away with washing their hair every four to five days.
Straight Hair—If you have straight hair, the oils from your scalp have no problem traveling along the hair strand. This means that your hair can look greasy if you go too long between washes. While you might be tempted to wash it every day, this can actually make the problem worse. Stick to washing your hair every other day and consider using a dry shampoo in between washes.
Wavy Hair—As you may have guessed, wavy hair falls somewhere in the middle of straight and curly. Washing your hair every two to three days is generally recommended for wavy hair types.
Take the skin care quiz
Fine, Medium and Coarse Hair
It should also be noted that hair can be fine, medium or coarse. To distinguish which type of hair you have, pluck a strand and feel the hair between your fingers.
If you can't feel it at all, your hair is fine.
If you can feel the hair, it's medium.
If it feels super rough and thick, it's coarse.
While this won't affect your hair washing frequency that much, it will help determine the type of shampoo you should use.
Shampoo for Fine Hair—For fine hair types, consider using a shampoo such as Dove Men + Care Thickening Shampoo. This type of shampoo will add volume to fine hair to keep it from looking too flat.
Shampoo for Medium Hair—Medium hair types can stick to normal shampoos with a specific focus on the appearance of their hair. For instance, guys who are worried about premature balding may want to consider opting for a shampoo with coconut oil. According to a 2003 study published in the Journal of Cosmetic Science, researchers found that coconut oil could reduce the loss of proteins from the hair (see claim: "Among three oils, coconut oil was the only oil found to reduce the protein loss.")
If you struggle with acne-prone skin, just be careful with how you apply it. Coconut oil has comedogenic (pore-clogging) properties that can result in acne breakouts on the back, neck and sides of the face.
Shampoo for Coarse Hair—Guys with coarse hair should opt for a shampoo that contains hydrating ingredients such as argan oil or coconut oil. In fact, some individuals with curly, coarse hair practice "co-washing," which involves washing the hair with conditioner instead of shampoo.
The Bottom Line
Although we've given you an estimate of how often you should wash your hair, these are not strict guidelines by any means. Similar to your regular skin care routine or which skin care system you choose to use, washing your hair comes down to personal preference. Play around with different washing frequencies and shampoos to find out which one works best for your hair and lifestyle.
External sources: Therapeutic efficacy of anti-dandruff shampoos; Effect of mineral oil, sunflower oil, and coconut oil on prevention of hair damage; 
---
// © Copyright 2023 Tiege Hanley