Subscription
Shipping Address
Order Date

This subscription's skin care system will get replaced.

${ address.name }




${ address.products }

${ displaySubscriptionName(address) }




${ displayProducts(address) }

${ displayAddress(address) }
${ formatDate(address.scheduleDate) }

${ address.name ? address.name : displaySubscriptionName(address)}
${ address.products }
${ displayProducts(address) }
Shipping Address
${ displayAddress(address) }
Delivery Date
${ formatDate(address.scheduleDate) }
This subscription's skin care system will get replaced.
How to Apply Sunscreen (Most of Us Do It Wrong)
Learning how to apply sunscreen the right way is essential to protecting your skin from UV damage. Find out the common mistakes that people make when applying sunscreen and how to apply it correctly for maximum UV protection.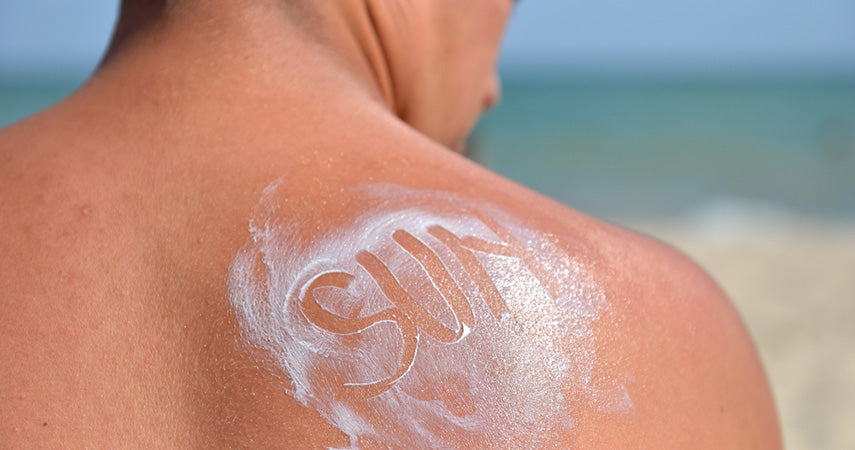 Did you know that sunscreen was invented in way back in 1938 and had already become mainstream by the 1950s? Despite being around for more than eight decades, most people still aren't pros at applying it—far from it, in fact.
Knowing how to apply sunscreen correctly is critical to protecting your skin from sun damage. Whether you're going about your daily activities or planning to spend hours outside at a time, protecting your skin from UV damage is key to preventing skin cancer, age spots and premature wrinkles.
Here are several things you should know about applying sunscreen:
Most people don't put on enough sunscreen to protect their skin from ultraviolet rays.
Being generous with your sunscreen application can reduce sun damage and keep skin healthy.
Reapplying sunscreen every two hours is essential when spending long periods of time outdoors.
GOT WRINKLES?
Common Sunscreen Mistakes
Unfortunately, many people aren't getting the protection their skin needs because they're applying sunscreen incorrectly. Here are some of the most common mistakes when applying sunscreen, according to science:
1. Not Applying Enough Sunscreen
You may apply sunscreen regularly, but are you applying enough? Multiple studies have shown that most people ignore the manufacturer's recommendations and apply their sunscreen far too thinly on their skin.
According to a 2016 study published in The Journal of the American Academy of Dermatology, people typically apply one-third the amount suggested by manufacturers (see claim: people typically apply much less sunscreen than the dose (2 mg/cm2) used in the SPF testing process…this varies between 0.5 and 1.5 mg/cm2.")
This wouldn't be a huge problem except for that fact that another, more recent study found that wearing too little sunscreen—even if it was a higher SPF—directly puts people at risk for developing skin cancer. The study, published in Acta Dermato Venereologica, confirmed that applying a high SPF at the recommended 2.0 mg/cm2 resulted in far less damage compared to applications of 0.75 and 1.3 mg/cm2 (see claim: "In comparison with unprotected control sites, sunscreen significantly (p ≤ 0.001–0.05) reduced DNA damage at 1.3 and 2.0 mg/cm2 in all cases.")
2. Not Wearing it Daily
Another common mistake you could be making is not applying sunscreen often enough. To fully protect skin from UV damage, it's critical that you wear sunscreen every day.
This includes cloudy days and snow days as well. UV rays can peek out from clouds and reflect off snow banks, damaging the DNA of your skin cells.
Wearing a daily moisturizer with SPF is one of the best things that guys can do for their skin. In addition to helping stave off wrinkles and fine lines, a daily moisturizer with SPF will also help lower their risk of skin cancer.
3. Mixing Sunscreen with Lotion
For reasons we stated above, sunscreen and lotion shouldn't mix. Mixing sunscreen into your lotion can dilute the sunscreen too much and make it less effective.
Don't attempt to create your own moisturizer with SPF. Let the chemists do their job creating the perfect formula that delivers maximum benefits for your skin.
The Proper Way to Apply Sunscreen
To reap the maximum protection of sunscreen, here is how you should be applying it every day:
1. Apply Sunscreen Liberally
While it may seem like a lot, you should be applying 2.0 mg of sunscreen per square centimeter of your skin. According to the American Academy of Dermatology, most adults need one ounce (the equivalent of a shot glass) of sunscreen to cover their body.
2. Don't Forget Your Lips
The skin around your lips is extra thin and needs sun protection as well. The lower lip is especially prone to sunburn because it sticks out more than your upper lip.
It's not just sunburn you need to worry about, either. Skin cancer can develop on the lips, so be sure to apply a lip balm with SPF each day.
3. Wait 30 Minutes After Applying
Once you slather on your sunscreen, avoid going out into the sun for at least 30 minutes. This will give the ingredients enough time to sink in and fully bind to your skin.
4. Reapply Throughout the Day
Sunscreen can wear off throughout the day and should be applied every two hours. It might sound nerdy, but you really should read the instructions on the back of your sunscreen for how often you should apply.
Keep in mind that even water-resistant sunscreens should be reapplied every two hours (or per the manufacturer's suggestion). Water-resistant doesn't mean the same as waterproof!
Take the skin care quiz
5. Using an Expired Product
Just like food, sunscreen products can go bad. Always check the expiration date and replace your sunscreen if it's expired.
If the expiration date is faded and unreadable, you can usually tell whether your sunscreen has gone bad in other ways. Expired sunscreen may have a watery consistency or have a yellow tinge to it.
Make it a Habit
Research has shown time and again that the best way to keep skin healthy, youthful and radiant is by protecting it from UV damage. If you aren't wearing enough sunscreen or applying it often enough, you could be putting yourself at risk of skin cancer and premature aging.
Learning how to apply sunscreen the right way and making it a daily habit will ensure that your skin remains fully protected from harmful UV rays. While it might seem like a hassle in the present, your future skin will thank you for it.
---