Subscription
Shipping Address
Order Date

This subscription's skin care system will get replaced.

${ address.name }




${ address.products }

${ displaySubscriptionName(address) }




${ displayProducts(address) }

${ displayAddress(address) }
${ formatDate(address.scheduleDate) }

${ address.name ? address.name : displaySubscriptionName(address)}
${ address.products }
${ displayProducts(address) }
Shipping Address
${ displayAddress(address) }
Delivery Date
${ formatDate(address.scheduleDate) }
This subscription's skin care system will get replaced.
How to Get Rid of Body Odor
For some guys, body odor is an unfortunate fact of life. Learn the best ways to fight against stink and get rid of body odor.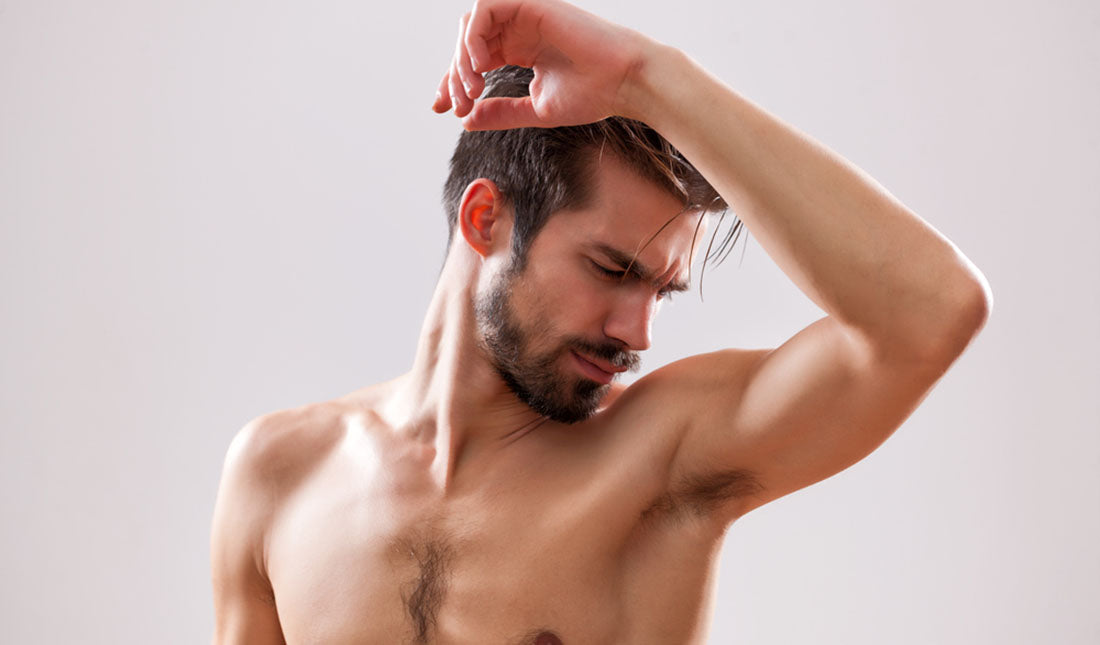 Everyone deals with body odor at some point. For some unfortunate individuals, smelling unpleasant isn't just a fleeting issue, but a persistent problem that gets in the way of their daily lives.
Body odor, B.O., bromhidrosis—whatever you want to call it, smelling bad on a daily basis can be extremely embarrassing. Some guys are more susceptible to stink due to medical conditions, obesity, diet and stress.
Luckily, there are ways to get a handle on your body odor. With a few changes to your daily routine and perhaps a medical treatment or two, you can quickly banish body odor.
Here are three things you need to know about body odor:
Washing smellier areas with an antibacterial body wash can help fight odor-causing bacteria to reduce body odor.
Wearing breathable fabrics and using a strong deodorant can reduce stink as well.
If all else fails, you may need to seek a medical professional to treat your body odor.
TRY MEN'S SKIN CARE
Use a Daily Antibacterial Body Wash
For many guys, banishing body odor is as easy as revamping their daily skin care routine. To effectively get rid of your B.O., it's time to invest in the right skin care products—starting with your body wash.
Specifically, seek out a body wash with antibacterial properties that will get to the heart of the problem: odor-causing bacteria in the sweat glands.
Scientists recently pinpointed the specific bacteria responsible for our foul-smelling stench. In a 2018 study published in eLife, researchers found that a species of Staphylococcus bacteria was responsible for breaking down a "bacterial transport" protein in the skin, which results in body odor (see claim: "…bacterial transport of S-Cys-Gly-3M3SH by Staphylococcus hominis, which is converted to the sulphurous thioalcohol component 3M3SH in the bacterial cytoplasm…")
Be sure to use your body wash daily in smellier areas such as the groin, armpits and around the nipples. These are the locations of most of your apocrine glands–aka your sweat glands.
Apply Deodorant/Antiperspirant Twice a Day
After cleansing your body with an antibacterial body wash, pat yourself dry and follow up with a strong deodorant or antiperspirant. Though the armpits are generally a smelly area for both genders, guys tend to have more body hair in this area, which often makes them smell worse.
Applying a deodorant to your armpits twice daily (once in the morning and once at night) can help inhibit body odor by either reducing sweat production or targeting the bacteria that reacts with the proteins in your sweat. If you already use a deodorant and have had no such luck, consider switching to a stronger deodorant and be sure to apply it at night before bed. This will give the ingredients time to absorb into the skin to fight against odor-causing bacteria.
Wear Breathable Fabrics
We've already established that sweat plays a major role in body odor. During the summertime, our sweat production is at an all-time high.
To help control sweat (and thus, your body odor), stick to wearing breathable fabrics such as cotton and chambray. Stay far away from polyester, which is known for contributing to foul-smelling odor in those who sweat.
Polyester's odor-causing reputation was confirmed in a 2014 study published in Applied and Environmental Microbiology, which found that subjects who exercised in polyester t-shirts smelled far worse than those who exercised in cotton t-shirts (see claim: "The polyester T-shirts smelled significantly less pleasant and more intense, compared to the cotton T-shirts.")
As an added bonus, wearing breathable fabrics can help improve your acne as well. While sweat does have some benefits for the skin, wearing moisture-wicking clothes can help you prevent acne mechanica and other types of acne caused by the combination of friction, heat and sweat.
Take the skin care quiz
Consider Professional Treatments
Once you've exhausted the list of inexpensive treatments, you may want to consider professional treatments for body odor. For instance, Botox can be used to treat excessive sweating underneath the armpits that lead to body odor.
Botox inhibits the nerves that signal your body to produce sweat, effectively reducing sweat and body odor. Besides, with more guys getting Botox, the procedure doesn't hold nearly the same stigma as it did before.
As a last resort, you can always consider surgical treatment. According to a 2017 study published in Annals of Plastic Surgery, the most effective form of treatment for stubborn body odor is surgery, followed by laser treatments (see claim: "Surgery treatment has been demonstrated as the most effective result for treating osmidrosis.")
Seeing a Doctor for Body Odor
If OTC products don't banish your body odor, it may be time to see your doctor. A medical professional can get to the root of the problem by looking for potential underlying causes of body odor. For example, excessive sweating (hyperhidrosis), certain medications, health conditions or chronic stress can make your body smell worse than normal. While it might take some work to get to the bottom of your excessive body odor, you'll likely be much happier for it.
---