Subscription
Shipping Address
Order Date

This subscription's skin care system will get replaced.

${ address.name }




${ address.products }

${ displaySubscriptionName(address) }




${ displayProducts(address) }

${ displayAddress(address) }
${ formatDate(address.scheduleDate) }

${ address.name ? address.name : displaySubscriptionName(address)}
${ address.products }
${ displayProducts(address) }
Shipping Address
${ displayAddress(address) }
Delivery Date
${ formatDate(address.scheduleDate) }
This subscription's skin care system will get replaced.
How to Get Rid of Chapped Lips in Five Easy Steps
Prone to chapped lips in the winter? We explain how to say goodbye to painful, cracked lips in four simple steps.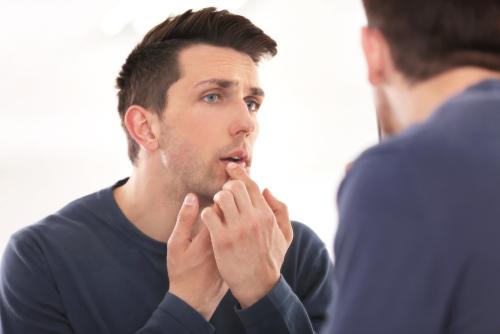 Walking around with chapped lips is both painful and unattractive. Once that first crack in your lip appears, the healing process can seem agonizingly slow. 
If you're like most men, you probably turn to lip balm at the first sign of chapped lips. But did you know that there are more efficient ways to make lips soft and supple?  
Here is what you need to know: 
Understanding the causes of chapped lips can help you avoid them in the first place.
Harsh winter weather can zap the moisture from the air and cause dry lips.
Ingredients with protective properties can help restore and protect lips from the elements.
TRY MEN'S SKIN CARE
Identify the Source of Your Dry Lips
There are many different causes of dry lips, some of which may surprise you. For example, dehydration, poor diet and breathing through the mouth can result in chapped lips. Another common source of dry lips is harsh winter weather. When the temperatures drop, the moisture is zapped from the air—and our skin along with it.
Our lips are especially sensitive to cold weather for two reasons. First, the skin on our lips is incredibly thin, compared to the rest of our body. Second, our lips don't have sweat glands or pores to help keep them hydrated.
Eating a healthy diet, drinking plenty of water and finding a good lip balm that traps in moisture can keep your lips hydrated and happy all winter long.
Find a Good Lip Balm
No, we don't mean the cheap lip balm that you got from a random convention. If you want to speed up the healing process, you need one that contains powerful antioxidants and vitamins to revitalize your skin.
One ingredient that you should look for in a lip balm is Vitamin E. An essential nutrient, Vitamin E is well-known for its skin-healing properties (see claim: "Many studies document that Vitamin E occupies a central position as a highly-efficient antioxidant…") and plays a key role in fighting off free radicals that damage the skin. Vitamin C is another powerful skin care ingredient which can help fight off free radicals and support healthy skin function.
Moisturize Overnight
You probably apply your lip balm all day—but what about at night? Moisturizing your lips overnight is essential to speeding up the healing process.
At night, our skin does serious repair work and naturally restores itself. If you follow a bedtime skin care routine, you know how important it is to take advantage of this overnight healing process.
The same can be done using your lip balm on dry, chapped lips. Apply it overnight and keep it by your nightstand in case you need to re-apply during the night. When you wake up, your lips will be noticeably softer.
Take the skin care quiz
Get a Humidifier
If you're prone to dry lips in the winter, consider getting a humidifier. Placing a humidifier in a room can help soothe dry lips by replenishing moisture in the air.
Be sure to keep it in the room you use the most and move it by your bed at night to increase the humidity level in the room. This should help prevent moisture loss from your lips overnight.
Humidifiers have other benefits, in addition to helping soothe dry lips. They can restore moisture to your entire body and even reduce your risk of getting the flu (See claim: "Maintaining indoor relative humidity >40% will significantly reduce the infectivity of aerosolized virus.")
Bottom Line
Nobody wants to kiss dry, chapped lips. With the right products and a few simple steps, you can protect your lips and keep them smooth all winter long.
---
// © Copyright 2023 Tiege Hanley