Subscription
Shipping Address
Order Date

This subscription's skin care system will get replaced.

${ address.name }




${ address.products }

${ displaySubscriptionName(address) }




${ displayProducts(address) }

${ displayAddress(address) }
${ formatDate(address.scheduleDate) }

${ address.name ? address.name : displaySubscriptionName(address)}
${ address.products }
${ displayProducts(address) }
Shipping Address
${ displayAddress(address) }
Delivery Date
${ formatDate(address.scheduleDate) }
This subscription's skin care system will get replaced.
How to Get Rid of Yellow Toenails
Yellow toenails are often caused by a nail fungal infection. Learn how to get rid of yellow toenails for good and achieve healthy-looking feet once more.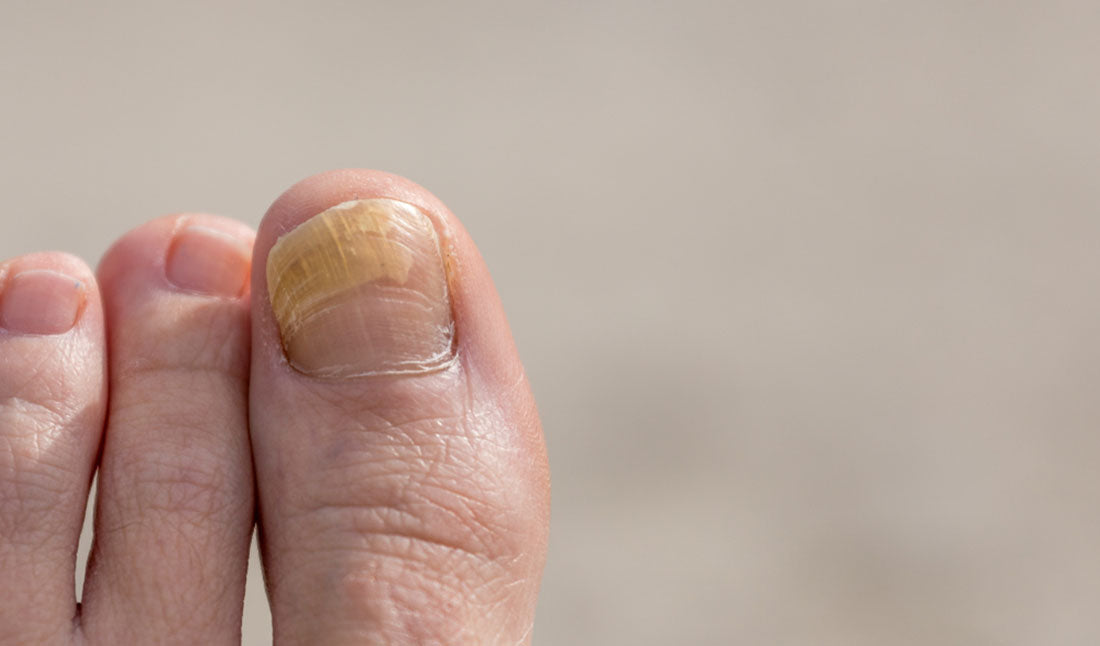 Once summer rolls around, ignoring your yellow toenails is no longer optional. With several beach trips and backyard pool parties in the works, the last thing you probably want is to scare everyone away with your yellow toenails.
Yellow discoloration of the toes is commonly caused by a fungal infection. Known medically as onychomycosis, nail fungus can be notoriously difficult to treat and may cause the nail to become thickened and deformed.
Sounds nasty, right? Although getting rid of yellow toenails is often easier said than done, it's possible to achieve clear, healthy-looking toes once more.
Here are three things you need to know about getting rid of yellow toenails:
Toenail fungal infections can be treated with over-the-counter nail creams and doctor-prescribed medications.
It can take up to a year to completely get rid of a fungal nail infection.
The best treatment for yellow toenails is prevention.
Treatments for Yellow Toenails
You'd be hard-pressed to find a woman who considers yellow toenails to be an attractive feature in a guy. Besides being a gnarly sight to see, crusty and discolored toenails can indicate that you aren't taking good care of your skin.
To put your best foot forward (pun intended), you need to get your fungal nail infection under control. While seeing a doctor is the logical first step, here is a quick look at the various treatment options that can help correct your yellow toenails:
Over-the-counter (OTC) Antifungal Nail Cream—If you're trying to get rid of a fungal nail infection by yourself, an OTC antifungal nail cream can potentially help you get rid of the fungus. Lamisil (aka, terbinafine) is a popular OTC nail cream that can effectively kill your nail fungus over the course of a year.
Medicated Nail Polish— If OTC treatments prove to be ineffective, antifungal nail lacquers such as Ciclopirox and Amorolfine can also be used to treat yellow toenails. These are typically applied regularly (either daily or weekly) to the nail over the course of 9-12 months.
Medicated Nail Cream—Medicated nail creams are prescribed by a doctor and work similarly to nail lacquers. They are applied to the nail after soaking the foot in warm water, which loosens the skin and nail bed for better application of the nail cream.
Oral Antifungal Drugs—Itraconazole (Sporanox) and terbinafine (Lamisil) are the two most commonly prescribed oral drugs for the treatment of fungal nail infections. A 2002 study published in JAMA Dermatology found that terbinafine was particularly effective at treating fungal nail infections, with terbinafine-treated patients experiencing significantly lower rates of nail fungi relapse compared to patients treated with Itraconazole (see claim: "…continuous terbinafine provided superior long-term mycological and clinical efficacy and lower rates of mycological and clinical relapse compared with intermittent itraconazole.")
Surgery—If your fungal nail infection is particularly severe and painful, your doctor may suggest removing the nail entirely. Removal of the nail will make it easier for you to apply the antifungal nail cream so the fungus can be killed.
TRY MEN'S SKIN CARE
How to Prevent Yellow Toenails
It is much easier to prevent yellow toenails from happening in the first place than it is to get rid of them. Once you've successfully eliminated your nail fungus, follow these tips to keep your nail fungus from returning.
Choose Unrestrictive Footwear—When possible, wear shoes that allow your feet to breathe. Fungi tend to thrive in moist, warm environments. According to a 2014 study published in PLoS Pathogens, people in tropical climates don't get fungal nail infections as often due to their habit of wearing unrestrictive footwear (see claim: "Toenail onychomycosis is not prevalent in tropical climates…")
Wear Sandals in Communal Showers—Communal showers located in gyms, campgrounds and pools are a breeding ground for fungi that thrive in moist environments. When using these shower rooms, protect your feet from highly contagious foot fungi by wearing sandals.
Use a Daily Antifungal Foot Powder—Medicated foot powders will help keep your feet dry to reduce the likelihood of fungi taking up residence in your feet. Foot powders can also help treat existing fungal infections such as athlete's foot.
Take the skin care quiz
Be Patient
Everyone deals with annoying skin problems at some point in their lives. If you're already following a regular skin care system to take care of the skin on your face, it's time to extend that same level of care to your toes.
Yellow toenails can be particularly frustrating because this problem can take months of consistent treatment to eliminate the fungus. While it may take some time, achieving healthy-looking feet is well worth the effort. Once your yellow toenails are no more, you can switch to a regular maintenance routine to keep your feet healthy for life.
---
// © Copyright 2023 Tiege Hanley