Subscription
Shipping Address
Order Date

This subscription's skin care system will get replaced.

${ address.name }




${ address.products }

${ displaySubscriptionName(address) }




${ displayProducts(address) }

${ displayAddress(address) }
${ formatDate(address.scheduleDate) }

${ address.name ? address.name : displaySubscriptionName(address)}
${ address.products }
${ displayProducts(address) }
Shipping Address
${ displayAddress(address) }
Delivery Date
${ formatDate(address.scheduleDate) }
This subscription's skin care system will get replaced.
How to Look Less Tired in 5 Easy Steps
Sick of looking in the mirror in the morning and seeing a tired appearance? Learn how to look energetic and youthful in five easy steps!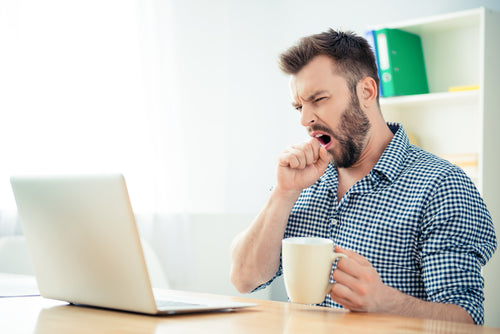 There is a lot of pressure for men to appear youthful and energetic at work. That's why the last thing you want to be told is that you "look tired."
Whether you had a poor night's sleep or you just have constant bags under your eyes, appearing perpetually worn out can be a serious blow to any man's ego. Isn't it time that you liked what you saw in the mirror each morning?
Believe it or not, there are ways to reduce your tired appearance and be the picture of vitality and youthfulness at work. Here are three things you need to know:
Skin care ingredients containing peptides and caffeine can reduce puffiness and dark circles under the eyes.
A men's facial serum can smooth out wrinkles, making you appear more youthful and energetic.
Makeup for men can be useful in hiding additional skin imperfections.
CONTROL EYE BAGS
Sneak in Exercise Before Work
As if you needed another reason to get daily exercise, here is one more: It can hide the fact that you pulled an all-nighter. Exercise gets your blood flowing, which helps deliver more nutrients to the skin for a quick pick-me-up.
Exercising regularly also has long-term, anti-aging benefits for the skin. According to researchers at the McMaster University in Ontario, exercising not only makes skin appear younger, it can also potentially reverse signs of aging (see claim: "In addition, histological examination of dorsal skin and subcutis showed that exercise suppressed the depletion of subcutaneous adipose tissue and thinning of the dermis in PolG mice.").
All it takes is 15 minutes in the morning to boost circulation and reap the benefits of healthy-looking skin. It may require you to wake up earlier, but you'll appear less tired at work.
Drink More Water
If you had a late night involving alcohol, be sure to drink plenty of water the next day. Alcohol is a diuretic, which means that it causes excessive urination and can be extremely dehydrating.
When you're dehydrated, skin can appear dull and discolored, making you look tired and older than you truly are. To combat these effects, drinking plenty of fluids each day is essential.
How much water should you drink? Because there is no hard-and-fast rule for every man, it's best to check with your doctor for how much fluid you need.
Fix Under-the-Eye Bags
A lot of men suffer from under-the-eye bags, especially as they begin to age. Even if you manage to get good sleep, these pesky dark circles can occur due to genetics.
Fortunately, men now have options for treating their dark circles. By using the Tiege Hanley eye cream for men, you can reduce puffiness and discoloration while smoothing out wrinkles.
The secret is in the formula, which uses caffeine to reduce water accumulation around the eyes, as well as peptides to tighten the skin. The result is a youthful, vibrant appearance that will help you compete with the younger boys in the office.
Take the skin care quiz
Reduce Your Fine Lines and Wrinkles
Speaking of wrinkles around the eyes, you don't need to resort to Botox for men to eliminate your crow's feet. A men's facial firming serum is a cost-friendly alternative to Botox and has been shown to produce similar effects.
There are three key anti-aging ingredients to know about: Palmitate (a stabilized form of vitamin A), Sodium Hyaluronate and Acetyl Hexapeptide-8.
All these ingredients play important roles in turning back time on your face, but it's the peptide that definitely earns the nickname "Botox in a Jar." Also known as Argireline, this potent ingredient is proven to reduce wrinkles by 30 percent (see claim: "…reduced wrinkle depth up to 30% upon 30 days treatment.")
Use Makeup to Hide Discoloration
Women use makeup to hide their skin imperfections all the time—why can't men do the same? Men are under extreme pressure to look their best at work and can significantly benefit from using products such as concealer or tinted acne treatments.
If you've never played around with makeup before, you may want to do it on a Saturday when you aren't rushed for time. Watch a few YouTube videos on how to achieve a natural look.
Makeup isn't always as straightforward as it looks. If you don't know what you're doing, you could end up embarrassing yourself at work.
Keep Skin Vibrant and Youthful with Tiege Hanley
Whether you're in your 20s, 30s, 40s or beyond, you can benefit from using Tiege Hanley's skin care for men. Our Level 3 Skin Care System is perfect for men who are tired of looking tired and want a solution to their aging skin.
Order now and tell us what you think. We'd love to hear your feedback in the comments section below!
---
// © Copyright 2023 Tiege Hanley