Subscription
Shipping Address
Order Date

This subscription's skin care system will get replaced.

${ address.name }




${ address.products }

${ displaySubscriptionName(address) }




${ displayProducts(address) }

${ displayAddress(address) }
${ formatDate(address.scheduleDate) }

${ address.name ? address.name : displaySubscriptionName(address)}
${ address.products }
${ displayProducts(address) }
Shipping Address
${ displayAddress(address) }
Delivery Date
${ formatDate(address.scheduleDate) }
This subscription's skin care system will get replaced.
How to Prevent Sunburn from Peeling
Want to stop post-sunburn flakiness? Learn how to prevent sunburn from peeling with these tried-and-true methods for healing a sunburn.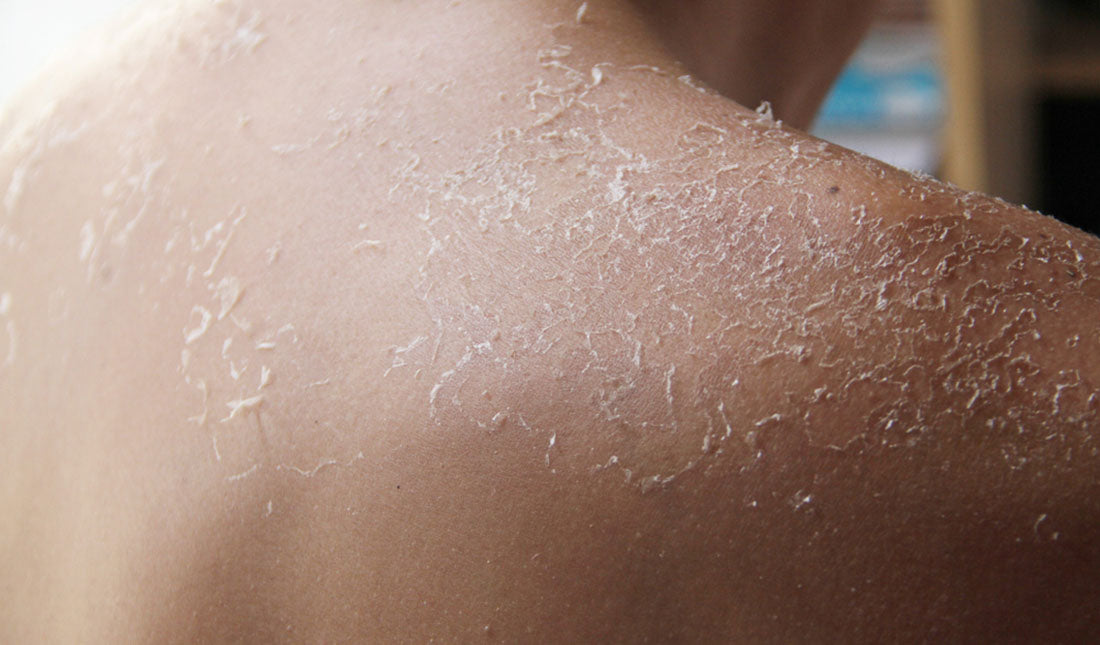 There is nothing attractive about peeling skin from a sunburn.
Besides resembling a molting reptile, peeling skin is a sign your skin was scorched by UVB radiation beyond repair.
While we could go on and on about how sunburn increases your risk of skin cancer and how a daily SPF could have prevented this in the first place, you're well past that point.
Right now, you need to know how to prevent sunburn from peeling so you can avoid looking like a flaky, hot mess.
Here are three things you should know about peeling skin:
Peeling skin from sunburn is your body's way of getting rid of damaged skin cells.
Drinking plenty of fluids and giving your skin some care can help prevent post-sunburn flakiness.
The best way to prevent peeling skin is by wearing a daily SPF and avoiding the sun during peak hours.
You can't completely prevent peeling once the damage has been done.
However, you might be able to reduce some of the flakiness with these tried-and-true tips.
1. Take a Cold Bath
We know that soaking in a cold bath probably doesn't sound like fun.
However, it can help you find some relief from your sunburn and prevent peeling.
A cold shower or bath can calm your inflamed skin and slow down the peeling process. Plus, it can help with the itchiness.
When you get out of the bath or shower, be sure to pat your skin dry, rather than rub, to avoid irritating the skin.
GOT WRINKLES?
2. Use Aloe Vera
Aloe vera is often touted as a natural remedy for sunburns.
The key is to apply it before your skin shows signs of peeling.
In a 2014 study published in Pharmacognosy Magazine, researchers found that the healing effects of aloe vera on the skin were significantly different between the second day of treatment and the seventh (see claim: "The anti-erythema effect of A. vera gel material was found to be dependent on time as there was a statistical significant difference between the second day of treatment and seventh day of treatment.")
Peeling skin usually happens within 48 hours of receiving a sunburn, so if you're on day two of getting sunburned, don't delay!
Pick up a bottle at your closest drug store and start applying it ASAP to heal your sunburn fast.
3. Apply Moisturizer
Along with using aloe vera, you can also apply a soothing moisturizer to your skin.
In a 2014 study published in the International Journal of Research in Pharmacy and Chemistry, authors recommend applying an unscented moisturizer (emphasis on unscented) to the skin to promote healing (see claim: "Liberally apply a creamy, unscented moisturizer to sunburned areas over the next few days or weeks to prevent peeling and irritation.")
It's important to point out that unscented doesn't mean scent-free.
It just means that artificial fragrances haven't been added to the product to mask the smell of other ingredients.
4. Stay Hydrated
A nasty sunburn can lead to dehydration, so make sure you're drinking plenty of fluids to stay hydrated.
Getting your recommended daily amount of water can promote a healthy skin barrier, which may result in less peeling and quicker recovery time.
Aim for eight, 8-ounce glasses of water a day and consider drinking at least one sports drink to replace lost electrolytes.
5. Give Skin Some TLC
Mercifully, sunburns don't last too long.
However, you may need to change up your skin care routine while you wait for your sunburn to heal.
In general, you want to avoid anything that could potentially mess with your skin's natural healing process.
If you exfoliate your skin regularly, put down the scrub for a week or so.
Use a skin care routine with both a mild facial cleanser and moisturizer that are formulated for sensitive skin.
You should also avoid taking hot showers, which could irritate your skin.
TAKE THE SKIN CARE QUIZ
6. Stay Out of the Sun
While this may sound like a no-brainer to you, it bears repeating: Stay out of the sun while your sunburn heals.
Even after your skin has healed, you should try to avoid the sun as much as you can.
Your newly rejuvenated skin will be extra sensitive to the sun, so be cautious.
If you must go out in the sun, wear UPF clothing and apply a liberal amount of sunscreen to sun-exposed areas.
The Takeaway
In all honesty, the best answer to "how to prevent sunburn from peeling" is to not get sunburned in the first place.
Although that may not help your current situation, it should serve as an important reminder to take sun protection seriously.
Remember to apply a daily SPF and reapply it every two hours.
Stay out of the sun during peak hours–10 a.m. to 2 p.m.
By doing so, you can skip the unpleasant side effects of sunburn and lower your risk of skin cancer.
Reference
Fox, Lizelle T., et al. "In Vivo Skin Hydration and Anti-Erythema Effects of Aloe Vera, Aloe Ferox and Aloe Marlothii Gel Materials after Single and Multiple Applications." Pharmacognosy Magazine, vol. 10, no. 38, May 2014, p. 392.
---
// © Copyright 2023 Tiege Hanley