Subscription
Shipping Address
Order Date

This subscription's skin care system will get replaced.

${ address.name }




${ address.products }

${ displaySubscriptionName(address) }




${ displayProducts(address) }

${ displayAddress(address) }
${ formatDate(address.scheduleDate) }

${ address.name ? address.name : displaySubscriptionName(address)}
${ address.products }
${ displayProducts(address) }
Shipping Address
${ displayAddress(address) }
Delivery Date
${ formatDate(address.scheduleDate) }
This subscription's skin care system will get replaced.
How to Prevent Sunburn Scars
Dealing with a nasty sunburn? Learn how to speed up the healing process and reduce your chances of developing a sunburn scar.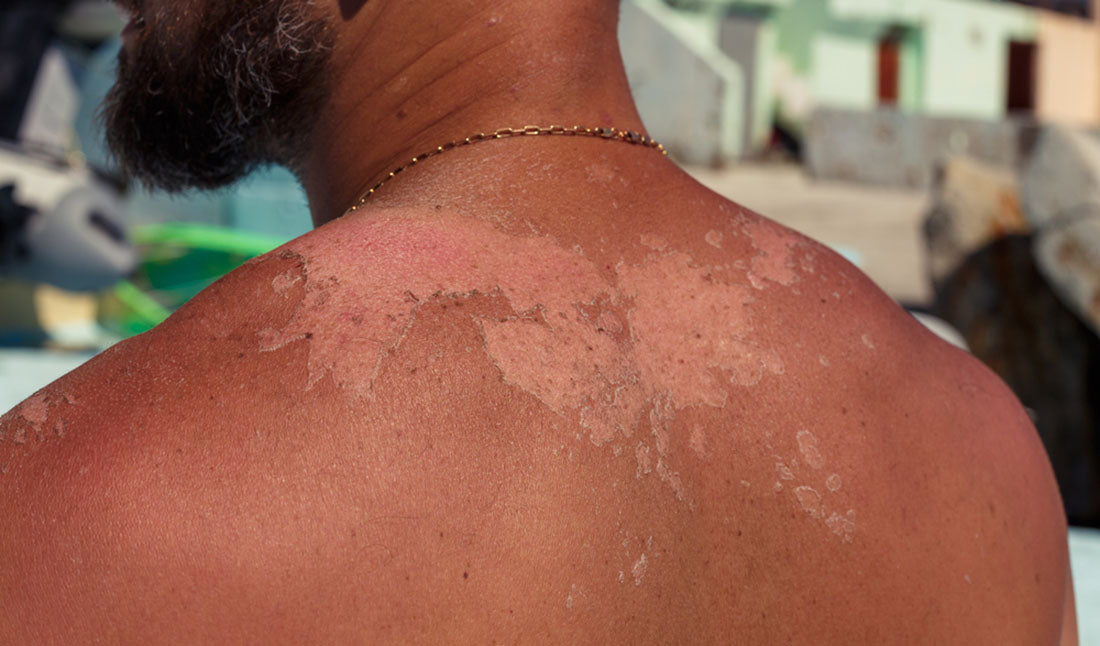 So, you recently messed up with your sunscreen and got yourself a blistering sunburn. We all make mistakes with our skin care from time to time.
Unfortunately, a nasty sunburn can be particularly bad news for your skin. On top of the increased risk of skin cancer, a severe sunburn can also result in scarring. The good news is that there are several steps you can take to reduce the likelihood of developing a long-lasting mark on your skin.
Here are three things you need to know about sunburn scars: 
Sunburn scars can occur in severe sunburns that blister and peel.
Protecting the skin from additional damage will help prevent sunburn scars.
The best way to prevent sunburn scars is to avoid getting sunburned.
Protect Sunburn from Further Sun Exposure
Once you feel the beginnings of a sunburn, the first thing you should do is get out of the sun. Exposing your sunburn to further UV rays will make it worse, increasing the likelihood of scarring.
If you must go back into the sun, wear protective clothing that effectively blocks UV rays. Make sure that the clothing is specifically designed to block UVA and UVB light.
Look for a UV-protection rating on the tag and try to find clothing with an Ultraviolet Protection Factor (UPF) rating of 50 or higher. You can also enhance your regular clothing with laundry additives such as Sun Guard's Rit laundry treatment.
GOT WRINKLES?
Resist the Urge to Pick at Your Peeling Skin
If you're the kind of guy who can't resist picking at his pimples, you may be tempted to pick at the long patches of peeling skin from your sunburn. Unless you want to end up with a sunburn scar, it's important that you leave your peeling skin alone.
When your skin begins to peel, this is a sign that your skin cells have been damaged. The body begins to slough off the dead cells via the peeling process. 
Picking at your peeling skin can disrupt the healing process and damage the new skin underneath. As tough as it may be to resist the urge to pick, it's best to allow your skin to heal on its own time.
Leave Sunburn Blisters Alone
On a similar note, popping your sunburn blisters can damage the sensitive skin and lead to scarring. More likely, it can open the skin to bacteria, leading to an infection that ultimately results in a scar or dark spot.
One of the best things you can do for your sunburn blisters is to apply a nourishing moisturizer to the spot and then leave the area alone. If a blister pops on its own, gently clean it with water and apply an antibiotic ointment to prevent infection.
If your sunburn blisters are severe, you may have sun poisoning. See a doctor immediately if your sunburn blisters are accompanied by vomiting, dizziness, fever or chills.
Moisturize at Night with Vitamins and Aloe
Your skin does some of is best work while you sleep. To maximize your body's nighttime healing process, apply a nourishing bedtime moisturizer with Aloe Vera and Vitamin B3.
Both Vitamin B3 and Aloe Vera can help control inflammation, which is key to reducing the likelihood of scarring. According to a 2004 study published in the Journal of the Medical Association of Thailand, Aloe Vera is a common treatment for thermal burns due to its anti-inflammatory, antimicrobial and wound-healing properties (see claim: "The mechanisms that may underlie its action include: anti-inflammation, antimicrobials, wound healing promotion…")
Vitamin B3, or Niacinamide, has a wide range of skin benefits that can help reduce potential scarring. According to a 2004 study published in the Journal of Cosmetic Dermatology, topical application of Vitamin B3 can improve skin barrier function, even skin tone and reduce inflammation (see claim: "Beneficial effects...for use in disorders of epidermal barrier function, for aging skin, for improving pigmentary disorders…")
Take the skin care quiz
Prevention Is Key to Reducing Sunburn Scarring
If you're currently dealing with a sunburn, how you treat it in the next few days and weeks is important. Treating it incorrectly by picking at your skin can increase your chances of developing a sunburn scar.
The best way to prevent sunburn scarring is to avoid getting sunburned in the first place. Practicing sun safety not only decreases your chances of getting a permanent scar, it will also reduce your risk of skin cancer and prevent premature aging of the skin.
---