Subscription
Shipping Address
Order Date

This subscription's skin care system will get replaced.

${ address.name }




${ address.products }

${ displaySubscriptionName(address) }




${ displayProducts(address) }

${ displayAddress(address) }
${ formatDate(address.scheduleDate) }

${ address.name ? address.name : displaySubscriptionName(address)}
${ address.products }
${ displayProducts(address) }
Shipping Address
${ displayAddress(address) }
Delivery Date
${ formatDate(address.scheduleDate) }
This subscription's skin care system will get replaced.
How to Stick to a Routine and Make New Habits
Ready to commit to a new routine and form a lifelong habit? Find out how to make your routine stick this time with science-backed advice.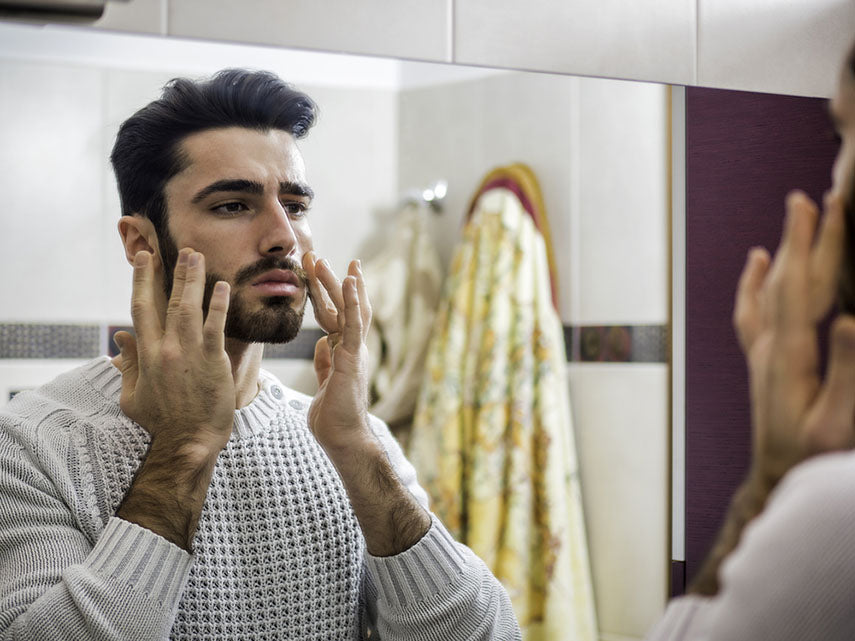 Even the most "Type B" individuals can benefit from a few daily routines. Without routine, you can't form good habits, which are essential to achieving your goals and being the best possible you.
If you're struggling to establish a new routine, don't feel too bad. Many guys have trouble staying motivated long enough for their daily actions to turn into life-long habits.
While it's true that willpower can play a big role in habit-forming behaviors, there are plenty of things you can do to increase your chances of sticking to your newfound routine.
Here are several things you should know about establishing a routine and forming good habits:
Making your new routine as simple and uncomplicated as possible is key to sticking with it long-term.
If your routine gets derailed once, it won't have any negative effect on your ability to form a habit.
There is no set number for anyone to form a habit because we're all different.
1. Don't Overcomplicate Things
When starting a new routine, set yourself up for success. While you might be bursting with motivation in the beginning, be careful to avoid overcomplicating your routine with your enthusiasm.
If your goal is to eat healthier meals at home, making an elaborate meal from scratch each night is probably not a feasible goal. Instead, make healthy, pre-planned meals that are easy to stick to.
Similarly, let's say your goal is to achieve healthy skin. Skip the complicated skin care products with 10+ steps and use a simple yet effective skin care system instead. The easier your routine is, the more likely you'll be to stick with it.
TRY MEN'S SKIN CARE
2. Set Small Goals
The saying "go big or go home" doesn't apply to making long-term habits. Rather, setting small and attainable goals is key to sticking to your routine day in and day out.
Small goals work because they keep you motivated by boosting dopamine, also known as the "feel good" neurotransmitter in the brain. According to a 2011 study published in Neuron, researchers found that dopamine neurons located in the brain's basal ganglia play an essential role in habit formation (see claim: "Our results suggest that integration of glutamatergic inputs to DA neurons by NMDA receptors…is a crucial part of the cellular mechanism underpinning habit learning.")
3. Be Patient
It's been a couple of months, so shouldn't your routine be an easy-to-follow habit by now? According to science, not necessarily.
In a 2009 study published in the European Journal of Social Psychology, researchers found that it can take anywhere from 18 days to 254 days to form a new habit (see claim: "The time it took participants to reach 95% of their asymptote of automaticity ranged from 18 to 254 days.") To put that in perspective, that's an average of 66 days for a new habit to form.
If you've been keeping with your routine for three weeks and it's still a challenge for you, don't get too discouraged. Just know that there is a light at the end of the tunnel.
4. Don't Aim for Perfect
If you accidentally fall off your routine one day, don't beat yourself up over it. Just pick right back up where you left off and keep going.
In the same 2009 study we mentioned above, researchers also found that "missing one opportunity to perform the behaviour did not materially affect the habit formation process."
In other words, that one cheat meal you had on Saturday won't suddenly derail your new diet. To set yourself up for success, get unattainable ideals of perfection out of your brain and instead aim for long-term consistency with your routine.
Take the skin care quiz
5. Do Things You Actually Enjoy
Dopamine is your brain's reward. It makes you feel good about what you've just accomplished, which in turn makes you more likely to do the routine again to create a new habit.
What happens if the specific action isn't reward enough for your brain? Should you find another reward, such as a healthy smoothie after a workout?
On the contrary, there is some evidence to suggest that rewards could backfire and make you less motivated. According to a 1996 study published in Behavioral Analysis, researchers found that tangible awards such as money and prizes led to a decrease in intrinsic motivation (see claim: "Substantial research indicates that tangible rewards, such as money, prizes, and tokens, decrease response rates by undermining intrinsic motivation.")
While the topic of reward and motivation is still highly debated in the social sciences, it's worth taking a closer look at how happy your routine is making you. Is completing your boring elliptical workout no longer a reward? Rather than treating yourself with a smoothie afterwards, consider finding a workout that you truly enjoy.
Don't Forget to Be Kind to Yourself
Whether you're committing to the gym or spending more time on your daily skin care regimen, establishing a regular routine can be difficult. Remember to go easy on yourself. Even Olympic athletes and successful businessowners struggled to make habits stick at some point in each of their careers.
If you fall off the wagon, pick up right where you left off and keep going. Soon enough, the routine you once struggled with can become an automatic process that requires little to no effort on your part.
---
// © Copyright 2023 Tiege Hanley