Subscription
Shipping Address
Order Date

This subscription's skin care system will get replaced.

${ address.name }




${ address.products }

${ displaySubscriptionName(address) }




${ displayProducts(address) }

${ displayAddress(address) }
${ formatDate(address.scheduleDate) }

${ address.name ? address.name : displaySubscriptionName(address)}
${ address.products }
${ displayProducts(address) }
Shipping Address
${ displayAddress(address) }
Delivery Date
${ formatDate(address.scheduleDate) }
This subscription's skin care system will get replaced.
How to Stop Excessive Sweating—5 Treatment Options
Sweating profusely, even in the cold? Learn the best treatment options for hyperhidrosis, or excessive sweating, so you can finally say goodbye to this embarrassing problem.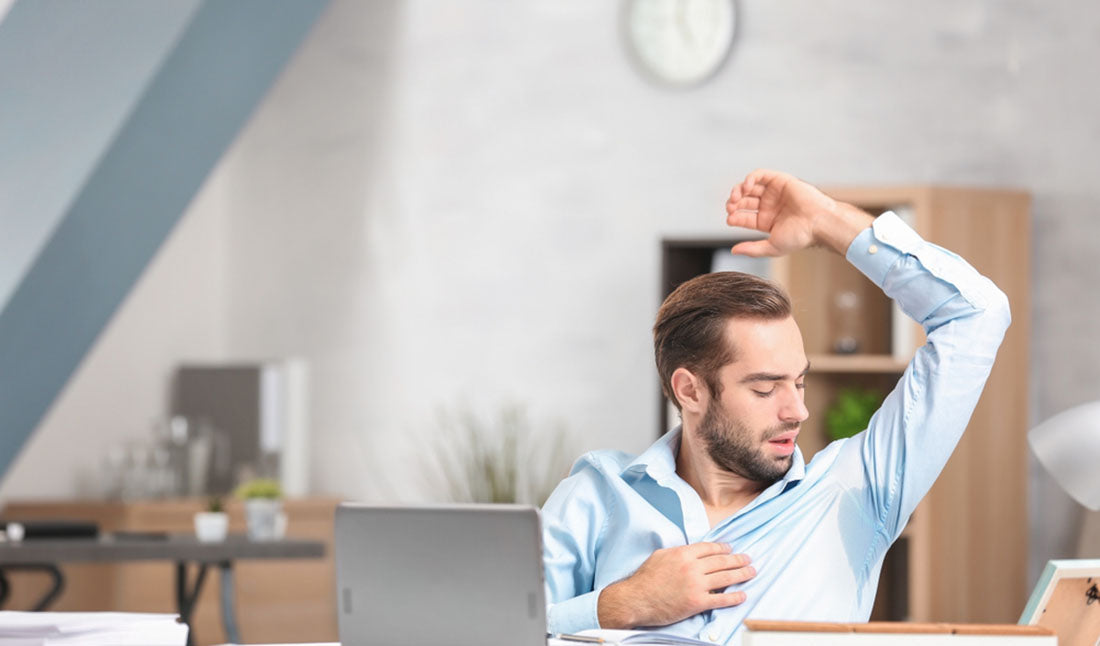 Sweat is not always the enemy. From regulating our body temperature to improving the appearance of our skin, sweating is a normal, bodily function that provides us with several health benefits.
The real problem is when sweat is uncontrollable and excessive. Known medically as hyperhidrosis, abnormal sweating is far from a minor embarrassment. It can have serious consequences for the sufferer, ranging from dehydration and clammy hands to negatively impacting quality of life. If you struggle with excessive sweating, there are treatments options that can help.
Here are several things all guys need to know about excessive sweating:
Deodorant and/or antiperspirant is your first line of defense against excessive sweating.
If topical treatments are ineffective, Botox and prescription medications can help control hyperhidrosis.
See your primary care doctor to rule out any external factors that may be the cause of excessive sweating.
1. Deodorants/Antiperspirants
Antiperspirants and deodorants are the first line of treatment to consider before anything else. The reason for this is simple: They are one of the few, noninvasive treatment options for excessive sweating.
When choosing the right deodorant or antiperspirant, keep in mind that the two are not the same. On a basic level, here is how each product works:
Antiperspirant: Blocks sweat glands without blocking odor.
Deodorant: Blocks odor without blocking sweat glands.
Neither product is necessarily better than the other. It all comes down to personal preference. To best control sweaty armpits, you may want to consider using both deodorant and antiperspirant to combat odor and control sweat.
TRY MEN'S SKIN CARE
2. Botox
Although many people use Botox (Botulinum toxin) to combat fine lines and wrinkles, it's also a FDA-approved treatment for hyperhidrosis of the underarms. Botox for the treatment of hyperhidrosis works by blocking nerves that activate the sweat glands, reducing how much sweat is produced.
There is no question that Botox for excessive sweating is an effective form of treatment. In a 2001 study published in the European Journal of Neurology, patients who received Botox injections for hyperhidrosis reported a significant improvement in their quality of life (see claim: … the disability experienced by the patients can be largely reversed by botulinum toxin injections.")
Even so, a lot of guys are understandably nervous at the idea of getting Botox injections. In addition to being painful, Botox is an expensive and temporary form of treatment that will need to be repeated in the future.
3. Oral Medication
Prescription oral medications known as anticholinergics are often prescribed to those suffering from hyperhidrosis. Anticholinergics block acetylcholine, one of the neurotransmitters responsible for stimulating the sweat glands.
Although they are effective at reducing sweat, anticholinergics aren't approved by the FDA for hyperhidrosis and are therefore considered an "off-label" drug. In a 2011 study published in the American Journal of Clinical Dermatology, researchers noted that oral anticholinergics are considered third-line treatment for hyperhidrosis of the armpits, preceded by Botox injections (see claim: "For axillary hyperhidrosis…oral medications as third-line treatment…")
As strange as it may seem that Botox is often recommended before oral medication, there is a good reason for this. Anticholinergics often come with unwanted side effects such as dry mouth, constipation, blurred vision and heart palpitations. Most concerning is a 2015 study published in JAMA Network, which suggested a potential link between dementia and the long-term use of anticholinergics (see claim: "Higher cumulative anticholinergic use is associated with an increased risk for dementia.")
4. Prescription Towelettes
If you suffer from sweaty underarms (axillary hyperhidrosis), you may want to consider QBREXZA. A relatively new treatment for hyperhidrosis, QBREXZA is a prescription cloth towelette which is used once a day with a quick swipe under each armpit.
The cloth towelette works by calming nerve activity in the armpit which stimulates sweat glands.  Although more studies are needed to assess its effectiveness, the FDA has approved QBREXZA for the treatment of hyperhidrosis in adults and children as young as age nine.
Take the skin care quiz
5. Rule Out Additional Causes of Sweat
Your excessive sweating may be the result of an underlying health condition, in which case, it's known as secondary hyperhidrosis. Potential health conditions that may increase sweating include anxiety, obesity, hyperthyroidism and certain medications.
If you have secondary hyperhidrosis, the best way to treat it is by treating your underlying condition. This may be easy or difficult, depending on your specific health condition.
Excessive Sweating Is More Common Than You Think
If you struggle with uncontrollable sweating, you aren't alone. According to a 2016 study published in the Archives of Dermatological Research, hyperhidrosis is more common than previously believed, with an estimated 15.3 million affected in the United States (see claim: "…estimate the prevalence of hyperhidrosis at 4.8%, which represents approximately 15.3 million people.")
These treatment options are worth bringing up to your primary care doctor. With any luck, you can finally say goodbye to embarrassing sweat.
---