Subscription
Shipping Address
Order Date

This subscription's skin care system will get replaced.

${ address.name }




${ address.products }

${ displaySubscriptionName(address) }




${ displayProducts(address) }

${ displayAddress(address) }
${ formatDate(address.scheduleDate) }
${ address.name ? address.name : displaySubscriptionName(address)}
${ address.products }
${ displayProducts(address) }
Shipping Address
${ displayAddress(address) }
Delivery Date
${ formatDate(address.scheduleDate) }
This subscription's skin care system will get replaced.
How to Stop Sunburn Itch – 6 Solutions
Find out how to stop sunburn itch fast. From oatmeal baths to soothing moisturizers, discover our top solutions to your painful itching.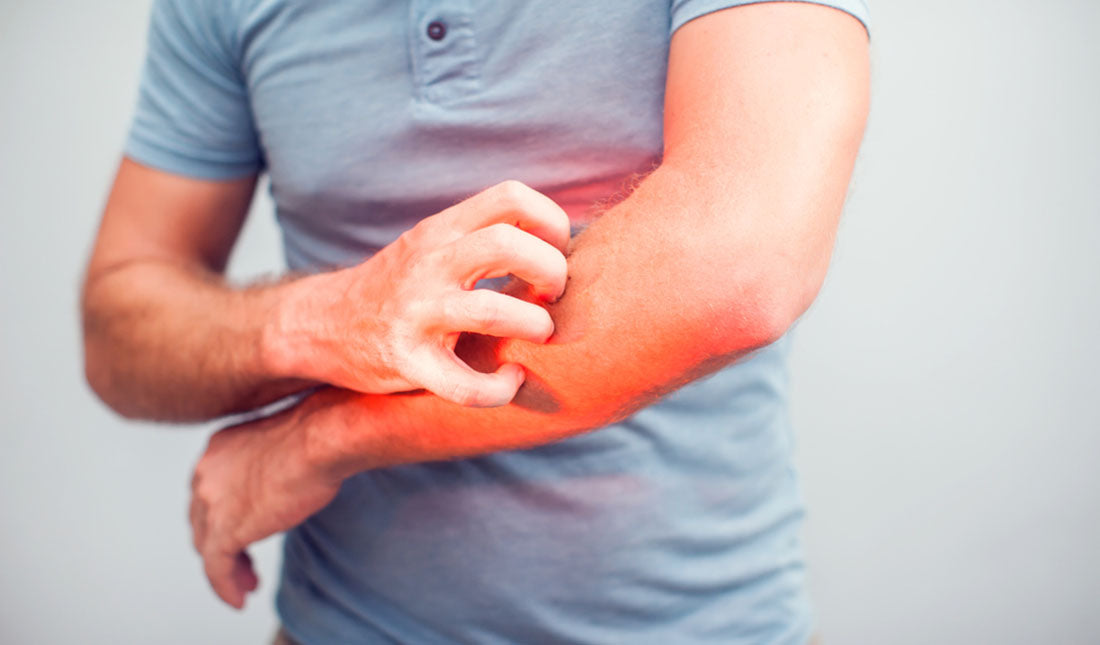 Have you ever gotten sunburned so badly that it caused not only pain, but also intense itching?
Did it feel like fire ants biting nonstop at your skin?
That's no ordinary sunburn symptom.
It's called "hell's itch," and it's every bit as miserable as it sounds.
Fortunately, it seems that only a small portion of the population seems to get hell's itch.
Of course, that's hardly comforting if you're one of the unlucky few who is going through this nightmare.
You want to know how to stop sunburn itch ASAP, and lucky for you, we know of a few ways to relieve the painful itching.
Here are three things you should know about sunburn itch:
Mercifully, "hell's itch" usually lasts no more than 48 hours.
It's not clear what causes intense sunburn itching or why only certain people experience it.
People with fair complexions have a higher risk of getting sunburn itch.
Keep in mind that there is scant research on "hell's itch."
We can't guarantee these sunburn itch solutions will work for everyone.
With that in mind, here's how to stop sunburn itch with a few simple remedies.
1. Pop an NSAID
If you're not allergic to nonsteroidal anti-inflammatory drugs (NSAIDs), take one at the first sign of sunburn.
NSAIDs, such as ibuprofen and naproxen, can help relieve some of the intense pain and swelling.
Remember to take them with food and water to ease potential upset stomach.
2. Apply a Cool Compress
In addition to NSAIDs, you can also use a cold compress to help soothe your sunburn and reduce inflammation.
If you don't have a cold compress available, make one yourself by placing ice in a plastic bag and wrapping it in a paper towel.
Apply it to your sunburn multiple times a day for 15 minutes at a time.
3. Soak in an Oatmeal Bath
Another tried-and-true way to alleviate sunburn itch is by taking an oatmeal bath.
In a 2015 study published in the Journal of Drugs in Dermatology, researchers found that colloidal oatmeal can lower pro-inflammatory cytokines and reduce overall itch intensity for those with sunburns, itching, skin rashes and eczema (see claim: Extracts of colloidal oatmeal diminished pro-inflammatory cytokines in vitro and the colloidal oat skin protectant lotion showed significant clinical improvements in skin dryness, scaling, roughness, and itch intensity.")
To prepare an oatmeal bath, fill a tub with lukewarm water.
Toss in a powder called colloidal oatmeal and soak for about 10 to 15 minutes.
If you don't have a bathtub, pick up a body lotion containing colloidal oatmeal.
GOT WRINKLES?
4. Take an Oral Antihistamine
Taking an antihistamine, such as Benadryl, can be a huge relief for sunburn itch.
Antihistamines work by blocking histamines, which are the chemicals that your immune system releases to help your body get rid of allergens.
However, there has been some research to suggest that histamines play a role in the sunburn reaction (see claim: "Histamine and prostaglandin E2 levels rose 4-fold after the exposure of UV radiation, providing evidence that histamine plays a role in a sunburn reaction of the skin.")
Taking Benadryl (diphenhydramine) can also provide some relief from sunburn itch, which might help you get to sleep more easily.
5. Drink More H20
Drink plenty of fluids to avoid dehydration.
A particularly bad sunburn can draw fluid to the skin and away from the body.
Although water is best, the occasional sports drink can help replenish lost electrolytes from fluid loss.
6. Use Gentle Skin Care Products
When you're going through the worst of sunburn itch, you'll be tempted to put just about anything on your skin to make it better.
However, be wary of topical skin creams that promise to relieve your itch.
Some aloe-based skin care products may contain ingredients such as lidocaine or alcohol, both of which can make your sunburn symptoms much worse.
For the next 48 hours, use mild cleansers and bland moisturizers formulated for sensitive skin. Tiege Hanley's skin care routine comes with both a morning and night facial moisturizer so you can keep your skin hydrated and healthy in order for it to recover.
TAKE THE SKIN CARE QUIZ
How to Stop Sunburn Itch: Things NOT to Do
Unfortunately, there is a lot of bad advice out there.
If you don't want to slow down your recovery time and make your sunburn itch worse, here are a few solutions you should avoid:
Taking a Hot Shower. Although taking a scalding hot shower can provide temporary relief, it can also dry out your skin and prolong your recovery time.
Applying a Corticosteroid Cream. According to a 2008 study published in the Archives of Dermatology, topical corticosteroid creams are not an effective form of sunburn relief (see claim: "Treatment with topical moderate-potency or high-potency corticosteroids does not provide a clinically useful decrease in the acute sunburn reaction when applied 6 or 23 hours after UV exposure.")
Using Essential Oils to Treat Your Sunburn. Essential oils can cause skin irritation and make the burning and itching significantly worse.
Prevention Is Key
The best way to stop sunburn itch is by preventing it in the first place.
Stay out of the sun during the hottest hours of the day and use a daily moisturizer with SPF to protect your face from UV rays.
By practicing sun safety, you can prevent this unbearable problem from ever happening again.
References
Reynertson, Kurt A., et al. "Anti-Inflammatory Activities of Colloidal Oatmeal (Avena Sativa) Contribute to the Effectiveness of Oats in Treatment of Itch Associated with Dry, Irritated Skin." Journal of Drugs in Dermatology: JDD, vol. 14, no. 1, Jan. 2015, pp. 43–48.
Guerra, Karla C., and Jonathan S. Crane. "Sunburn." StatPearls, StatPearls Publishing, 2020. PubMed.
Faurschou, Annesofie, and Hans C. Wulf. "Topical Corticosteroids in the Treatment of Acute Sunburn: A Randomized, Double-Blind Clinical Trial." Archives of Dermatology, vol. 144, no. 5, May 2008, pp. 620–24. PubMed.
---