Subscription
Shipping Address
Order Date

This subscription's skin care system will get replaced.

${ address.name }




${ address.products }

${ displaySubscriptionName(address) }




${ displayProducts(address) }

${ displayAddress(address) }
${ formatDate(address.scheduleDate) }

${ address.name ? address.name : displaySubscriptionName(address)}
${ address.products }
${ displayProducts(address) }
Shipping Address
${ displayAddress(address) }
Delivery Date
${ formatDate(address.scheduleDate) }
This subscription's skin care system will get replaced.
How to Stop Touching Your Face
Although breaking a face-touching habit isn't easy, it can be done! Find out how to stop touching your face with these foolproof tips.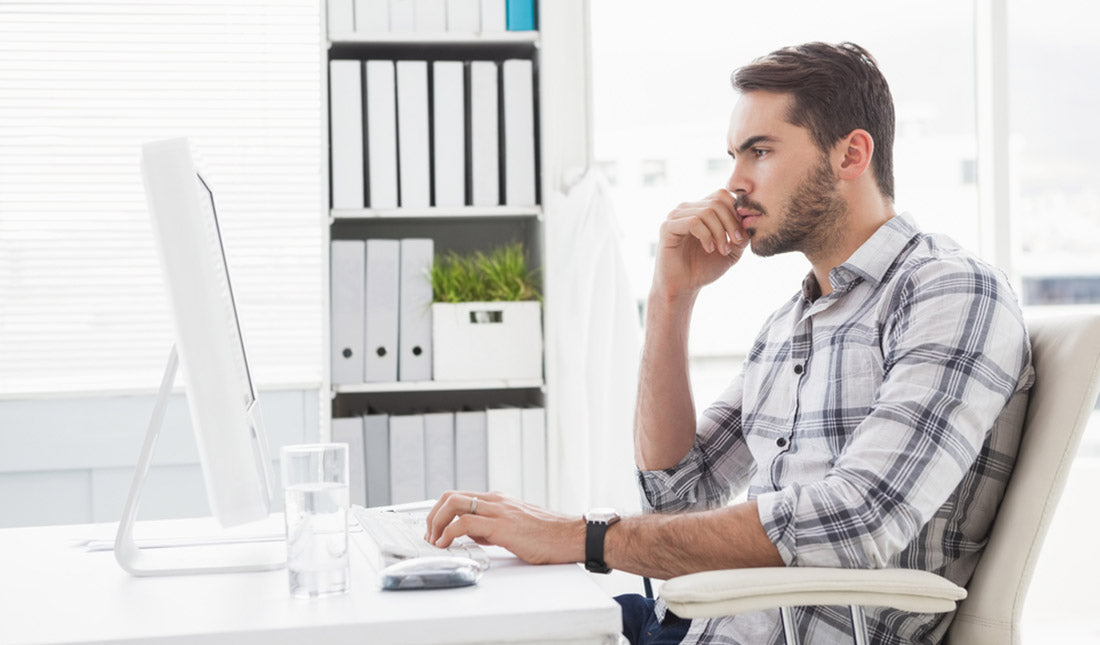 Resting your chin in your hands.
Touching one side of your face.
Picking idly at a blemish on your cheek.
Are you guilty of doing any of these things throughout the day?
If so, you're in good company.
Many of us have a bad habit of touching our face.
The worst part is that we often do it without even realizing it.
Though it may not seem like a big deal, this unconscious habit can lead to more than a few problems.
But why is touching your face bad in the first place?
More importantly, how do you stop doing it?
Before we dive in, here are three things you need to know about touching your face:
Touching your face can make the spread of viruses more likely
Becoming more aware of your face-touching patterns is key to breaking the habit
Washing your hands with soap and water can reduce the spread of dirt and bacteria through hand-to-face contact
TRY MEN'S SKIN CARE
Why Is Touching Your Face Bad?
There are several reasons why touching your face is problematic.
First and foremost, it's practically an open invitation for bacteria and viruses to enter your system and make you sick.
Viruses and bacteria enter the body through openings in the body—most commonly, via mucus membranes located in the ears, nose and mouth.
Since our hands are the primary way in which we explore the world, the simple act of touching our face is one of the easiest ways to acquire a viral or bacterial infection.
If you have oily skin and aren't good about using your skin care products, touching your face can also trigger acne breakouts.
Acne is the result of three factors: excess oil, dead skin cells and acne-causing bacteria.
When you pick at blemishes on your face, you can spread bacteria around and trigger more pimples.
This is one of the reasons why the American Academy of Dermatology strongly recommends leaving the pimple popping to the professionals.
How to Stop Touching Your Face
If you're a chronic face-toucher, you're far from the only one.
In a 2015 study published in the American Journal of Infection Control, researchers monitored 26 students from the University of New South Wales to see how many times they touched their face.
The results were to be expected. Students touched their faces an average of 23 times per hour.
Of those touches, 44 percent involved contact with a mucous membrane (see claim: "Of all face touches, 44% (1,024/2,346) involved contact with a mucous membrane…")
Refraining from touching your face can be a tricky habit to break, but it's far from impossible.
Here are a few ways to be more conscious of your face-touching and break the habit for good:
TAKE THE SKIN CARE QUIZ
1. Make Your Touch Less Automatic
One of the best ways to break an unconscious habit is by finding sneaky ways to pay attention to it.
In the case of touching your face, try putting something on your fingers or hands—like gloves or Band-Aids.
When you go to touch your face, your brain will register the foreign feeling and force you to pay attention to what you're doing.
2. Keep a Face-Touching Log
Keeping a diary log is an effective way to monitor your face touching throughout the day and practice catching yourself in the act.
Whenever you catch yourself touching your face, jot down the date and the time.
You should also write down what you were doing and how you were feeling.
This information will be useful for the next tip.
3. Know Your Triggers
After you have a few days' worth of entries in your diary log, look through the data and try to note any patterns.
Do you rest your chin in your hands when you're bored?
Do you touch your face when you browse electronics?
Many of us touch our face when we're feeling stressed out or bored.
Sometimes, just being aware of when you're most likely to touch your face is all it takes to curb the habit.
4. Keep Your Hands Busy
Giving your hands something to do is a tried and true way to prevent face touching.
For example, do you pick at your face as you watch television?
Keep a stress ball nearby to keep your hands preoccupied.
If you're bored, do a hands-on activity such as drawing or playing video games to keep your hands off your face.
Don't Forget to Wash Your Hands
Touching the face is something that most people do unconsciously.
As a result, breaking this particular habit can be extremely difficult.
If you can't refrain from touching your face, at least try to practice good hand hygiene.
Be sure to wash your hands with soap and water regularly.
By keeping your hands clean, you can significantly reduce the spread of viruses and bacteria.

References
Kwok, Yen Lee Angela, et al. "Face Touching: A Frequent Habit That Has Implications for Hand Hygiene." American Journal of Infection Control, vol. 43, no. 2, Feb. 2015, pp. 112–14.
---
// © Copyright 2023 Tiege Hanley