Subscription
Shipping Address
Order Date

This subscription's skin care system will get replaced.

${ address.name }




${ address.products }

${ displaySubscriptionName(address) }




${ displayProducts(address) }

${ displayAddress(address) }
${ formatDate(address.scheduleDate) }
${ address.name ? address.name : displaySubscriptionName(address)}
${ address.products }
${ displayProducts(address) }
Shipping Address
${ displayAddress(address) }
Delivery Date
${ formatDate(address.scheduleDate) }
This subscription's skin care system will get replaced.
Makeup for Men—All You Need to Know About Corrective Cosmetics
Makeup isn't just for women. Discover how everyday guys are beginning to use concealer, brow gels and other cosmetics to hide their skin imperfections.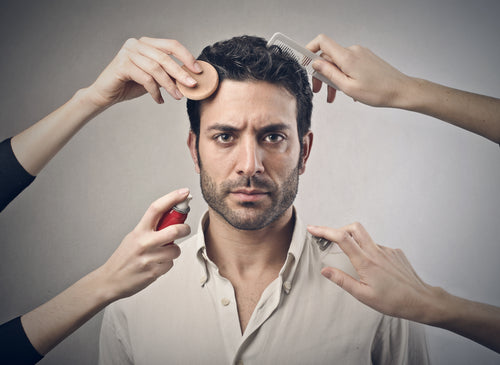 Men throughout the world have long been using makeup to hide their skin imperfections. While it may still have a slight stigma in the United States, makeup for men is no longer the taboo topic it once was.
It's easy to see the appeal of men's makeup, or men's corrective cosmetics, as we like to refer to it. Corrective cosmetics immediately improve skin tone, hide red spots and cover under-eye bags.
Should you consider using men's corrective cosmetics? Here are three things you should know:
Understanding how to apply corrective cosmetics is essential to enhancing your appearance.
Leaving makeup products on your skin for too long can lead to breakouts.
Corrective cosmetics should never take the place of a regular skin care regimen.
Why Do Men Wear Corrective Cosmetics?
In South Korea and Japan, makeup for men has become mainstream. Men often buy lip tints to add a hint of color to their lips or improve their skin tone with foundation.
This is in total contrast to men in Europe and the United States. In the West, men are far more likely to use their girlfriend's/wife's makeup to hide their skin blemishes.
Additionally, men can immediately hide blemishes with corrective cosmetics. With mounting pressure on men to look a certain way, many skin care companies are now beginning to market their products to men.
TRY MEN'S SKIN CARE
Basic Corrective Cosmetics for Men
For the regular guy who wants to look good for his career, corrective cosmetics are a simple and affordable way to do just that. Here are the basic corrective cosmetics for men that can immediately enhance your look:
Concealer
You've probably seen your sister, girlfriend or wife use concealer to hide their red spots. This product is a convenient way for men to hide under-eye bags and discoloration.
To apply, first use a men's moisturizer to hydrate your face. Dab concealer under your eyes to hide dark circles or on your red spots to reduce the appearance of stubborn acne scars.

Foundation
Foundation is a cream that you can apply all over your face to even out skin tone. Be careful with this one—if you don't match your skin properly, it will be obvious to everyone around you.

Bronzer
Nothing looks better than glowing skin. Bronzer is applied after using concealer or foundation. Using a brush, lightly apply it to the your forehead, cheeks and chin by making a swirling motion with your brush.

Brow Gel
Eyebrows looking a little sparse? Beard getting some gray hairs? A brow gel can even out eyebrows and cover the occasional gray hair in your beard.

Anti-Shine Powder
If you have oily skin, it's easy to look like you're breaking out in a sweat. An anti-shine powder can help you appear cool, calm and collected under pressure.
Tips for Wearing Makeup for Men
If you're new to wearing corrective cosmetics, you'll probably make a few mistakes in the beginning. To sidestep some of the more embarrassing mistakes, here are a few tips:

Find the Right Color
If you aren't sure how to match your skin tone to the right foundation or concealer, don't be afraid to ask for help. It's better to ask now rather than suffer the embarrassment of showing up at a party with poorly-matched makeup.

Remove Makeup Before Bed
Before bed, wash your face with a men's facial cleanser to remove makeup. Follow up by applying a nighttime moisturizer to reduce the risk of breakouts.

Wash Your Hands Properly Before Applying Cosmetics
Applying makeup with your hands is fine, but only if they're clean. According to a study conducted by the USDA, most people don't clean their hands properly 97 percent of the time. Be sure to wash your hands properly to prevent the spread of acne-causing bacteria to your face.
Take the skin care quiz
The Key to Amazing-Looking Skin
It wasn't so long ago that moisturizing for men was also taboo. As men's corrective cosmetics gain wider acceptance, regular guys are finally becoming more comfortable with using makeup to hide their skin imperfections.
Our take on it is this: If it makes you feel happier and confident, then go for it. If it doesn't, then don't! It's that simple.
If you do decide to use corrective cosmetics, remember that it should never take the place of your regular skin care regimen. Makeup can hide pimples and even out your skin immediately, but nothing is more beneficial to these skin care problems than a men's skin care system.
---