Subscription
Shipping Address
Order Date

This subscription's skin care system will get replaced.

${ address.name }




${ address.products }

${ displaySubscriptionName(address) }




${ displayProducts(address) }

${ displayAddress(address) }
${ formatDate(address.scheduleDate) }

${ address.name ? address.name : displaySubscriptionName(address)}
${ address.products }
${ displayProducts(address) }
Shipping Address
${ displayAddress(address) }
Delivery Date
${ formatDate(address.scheduleDate) }
This subscription's skin care system will get replaced.
Modest price increase to take effect Aug. 11, 2022
These changes are being made to maintain the high quality of our products and service.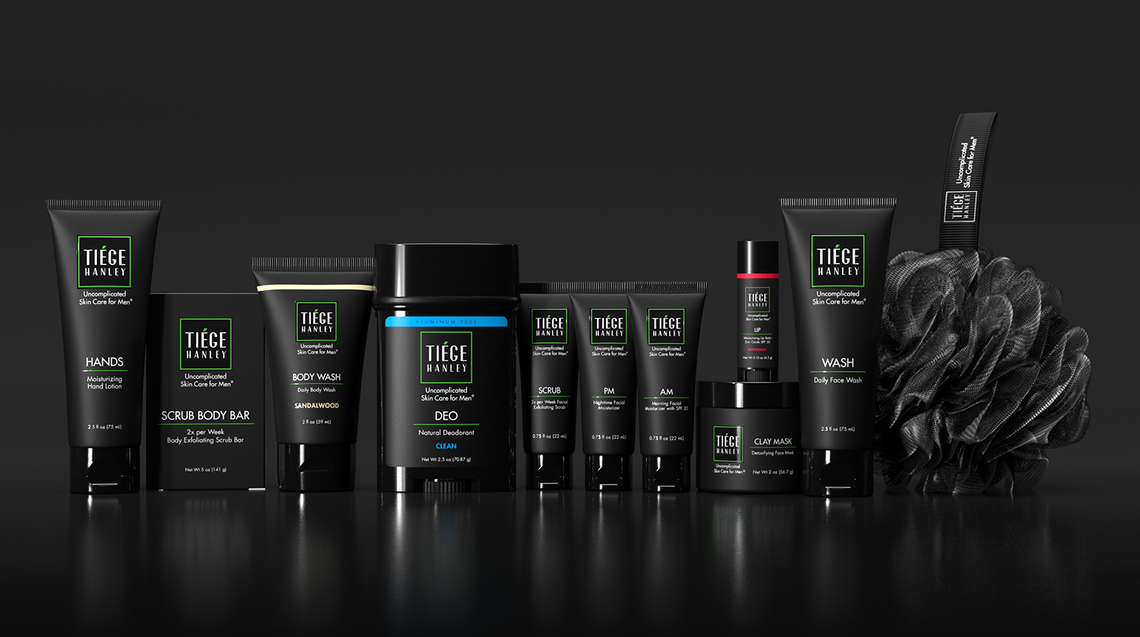 Our business has faced unique challenges this year. Supply chain logistics have been anything but logical—mostly just expensive. After careful consideration, we've concluded a modest price increase is necessary to maintain the superior quality of our products as well as the customer service support we provide our members.
These changes will take effect August 11, 2022.
If you are an active subscriber, your subscription price will change on August 25, 2022. If you'd like to make changes to your subscription prior to that, please contact our customer service team.
This new pricing structure will support the growth of the business, new product development and upcoming upgrades to Tiege.com.
Improving your experience with Tiege Hanley is always our focus and we're grateful for your understanding and support.
See below for details.
| | | | | |
| --- | --- | --- | --- | --- |
| SKIN CARE SYSTEMS | Old Price: One-time Purchase | New Price: One-time Purchase | Old Price: Subscription | New Price: Subscription |
|  LEVEL 1 Skin Care System  | $40.00 | $44.00 | $30.00 | $33.00 |
|  LEVEL 2 Skin Care System  | $50.00 | $55.00 | $40.00 | $44.00 |
|  LEVEL 3 Skin Care System  | $65.00 | $71.00 | $50.00 | $55.00 |
|  LEVEL 1 Acne System  | $50.00 | $55.00 | $40.00 | $44.00 |
|  LEVEL 2 Acne System  | $70.00 | $77.00 | $60.00 | $66.00 |
| | | | | |
| INDIVIDUAL PRODUCTS  | Old Price: One-time Purchase | New Price: One-time Purchase | Old Price: Subscription | New Price: Subscription |
|  WASH   | $9.99 | $10.99 | $8.00 | $8.99 |
|  WASH (Large)  | $23.99 | $26.99 | $19.20 | $20.99 |
|  AM  | $9.99 | $10.99 | $8.00 | $8.99 |
|  AM (Large)  | $26.99 | $29.99 | $21.60 | $24.99 |
|  PM  | $9.99 | $10.99 | $8.00 | $8.99 |
|  PM (Large)  | $23.99 | $26.99 | $19.20 | $20.99 |
|  SCRUB  | $5.99 | $6.99 | $4.80 | $5.49 |
|  SCRUB (Large)  | $13.99 | $15.99 | $11.20 | $12.99 |
|  EYES  | $24.99 | $27.99 | $11.50 | $12.99 |
|  SUPER SERUM  | $24.99 | $27.99 | $11.50 | $12.99 |
|  ACNE  | $26.99 | $29.99 | $20.00 | $20.99 |
|  LIP  | $6.50 | $6.99 | $5.20 | $5.49 |
|  WASH BODY BAR (2 oz)  | $5.25 | $5.99 | $4.20 | $4.79 |
|  WASH BODY BAR (5 oz)  | $10.50 | $11.99 | $8.40 | $8.99 |
|  SCRUB BODY BAR (2 oz)  | $5.75 | $6.50 | $4.60 | $4.99 |
|  SCRUB BODY BAR (5 oz)  | $11.50 | $12.99 | $9.20 | $9.99 |
|  MOISTURIZING BODY BAR (2 oz)  | $5.50 | $6.99 | $4.40 | $4.99 |
|  MOISTURIZING BODY BAR (5 oz)  | $11.00 | $11.99 | $8.80 | $9.99 |
|  HANDS (Large)  | $12.50 | $13.99 | $10.00 | $10.99 |
|  HANDS (Small)  | $5.00 | $5.50 | $4.00 | $4.49 |
|  DEO - Clean  | $13.99 | $13.99 | $10.99 | $10.99 |
|  BODY WASH (Large 10 oz)  | $11.99 | $11.99 | $9.99 | $9.99 |
|  BODY WASH (Small 2 oz)  | $4.50 | $4.99 | $3.60 | $3.99 |
|  SUN STICK  | $13.99 | $14.99 | $11.20 | $11.99 |
|  CLAY MASK (Large 2 oz)  | $19.99 | $23.99 | $15.99 | $18.99 |
|  CLAY MASK (Small 0.5 oz)  | $7.49 | $8.99 | $6.00 | $6.99 |
|  BODY LOTION  | $17.99 | $17.99 | $13.99 | $13.99 |
|  BALLS  | $11.99 | $13.99 | $9.59 | $10.99 |
---
// © Copyright 2023 Tiege Hanley