Subscription
Shipping Address
Order Date

This subscription's skin care system will get replaced.

${ address.name }




${ address.products }

${ displaySubscriptionName(address) }




${ displayProducts(address) }

${ displayAddress(address) }
${ formatDate(address.scheduleDate) }

${ address.name ? address.name : displaySubscriptionName(address)}
${ address.products }
${ displayProducts(address) }
Shipping Address
${ displayAddress(address) }
Delivery Date
${ formatDate(address.scheduleDate) }
This subscription's skin care system will get replaced.
Moisturize Your Hands with the Best Hand Cream for Men
All men deal with dry hands at some point, especially during the winter. Fortunately, there are some great solutions that are simple, easy, and bring effective relief.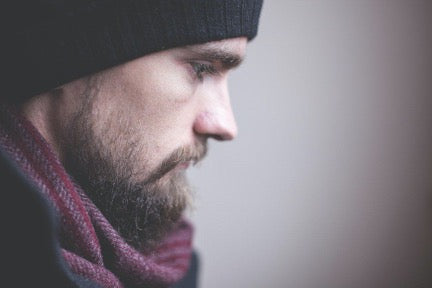 Winter is a great time for getting cozy with a loved one in front of a fire, enjoying the crispness of a morning jog in the cool morning, and bundling up in the snow. What it's not great for is keeping skin hydrated. 
Lots of men realize their skin gets dry in the colder months. Dry skin on hands is particularly unpleasant. Fortunately, there are some great solutions that are simple, easy, and bring effective relief.
Why Does Skin Dry Out in Winter?
Skin moisture is affected by ambient humidity. In the wintertime, there's less humidity around — either outdoors, where it's cold, or inside, where artificial heating also dries the skin out. While skin has several layers, it's the outer layer of the skin or the epidermis which we see and shows this dryness. 
According to Harvard Medical School, the epidermis should act like "roof shingles" to keep moisture in the skin. On top of the epidermis sit natural oils and wax that keep our skin protected, healthy, and elastic. When this layer of oil and wax is damaged, as it can be by the extreme temperatures that winter brings due to cold outdoors and artificial heat indoors, more moisture can escape. This leads to flaky, itchy, dry skin.
Combined with the constant hand sanitizing everyone has been doing for the best of reasons — typically using alcohol-based products that are drying — it's no wonder hands need extra attention. A good quality hand lotion like HANDS by Tiege Hanley gets the job done.
What Are Common Ingredients of Hand Creams?
Not all hand creams and lotions are created equal. Wondering about the difference between lotions and creams? Lotions are water-based and are lighter. That means they are faster-drying, whereas creams tend to be thicker and oilier.
Prevention Magazine lists a number of toxic chemicals commonly found in hand creams. These include: 
DMDM Hydantoin, a formaldehyde-releasing chemical — remember that formaldehyde exposure has been linked to cancer — that can irritate the skin 
"Fragrance," a catch-all term that can hide a myriad of toxic ingredients
Phthalates and parabens, which are endocrine disruptors and that can cause health issues
However, men have more options than simply using hand creams. There are quality formulations on the market like HANDS, made from natural, uncomplicated ingredients like:
Avocado oil, a naturally hydrating liquid that helps moisturize, restore, and soothe the skin
Sunflower seed oil, an ingredient that's rich in beta carotene which helps restore the skin's natural barrier
Vitamin E, which has antioxidant properties and protects the skin from environmental stresses like exposure to pollution and cigarette smoke
Natural ingredients provide skin care in a way that's better for the body and better for the environment. Why use skin care products that may potentially create health problems down the line? 
Why Are Hands and Skin Dry After Getting Out of the Shower?
Bathing and showering excessively can dry skin out, particularly if really hot water is used — which can be understandable because hot baths can help people warm up from the cold, and hot showers provide comfort after a workout or climbing session. Using harsh soaps and poorly-formulated skin care products may also do the same.
If someone's hands and skin are dry after showering, they should moisturize right after. The best hand cream alternative for men is HANDS by Tiege Hanley. It makes restoring hand and skin moisture simple. 
Try a Skin Care Routine
Does Drinking Extra Water Help Moisturize the Skin?
While drinking eight glasses of water every day and staying well-hydrated is important for overall health, dermatologists agree that drinking more water probably won't make skin look or feel less dry. The reason for this is that it's the epidermis that dries out — mostly as a result of environmental factors like cold temperatures or lack of humidity.
There are definitely lifestyle choices people can adopt to help their skin's health, such as not smoking and minimizing alcohol intake. But drinking extra water probably won't make your skin less dry in winter. 
Fortunately, hand moisturizer helps restore the skin's layer of oils and has been scientifically shown to help reduce dryness. 
How Long Until Skin Naturally Lubricates Without Hand Cream or Lotion?
Unfortunately, this is unlikely to happen during the winter. So long as hands and skin elsewhere are exposed to cold temperatures and the environmental stresses that are part of our everyday lives during the season, the epidermis will continue being stressed and getting drier. It's a better idea to use high-quality skin cream or hand lotion like HANDS, a quick-drying solution that will make you feel and look amazing.
Hand Cream or Hand Lotion: Are Moisturizers the Best Way to Take Care of Men's Skin?
It's worth reiterating that men's skin is likely to get dry during the winter — whether someone is an urban adventurer or a wilderness explorer. HANDS can make dry skin healthier, better-hydrated, and better-looking. The right hand lotion allows men to live their best lives.
---
// © Copyright 2023 Tiege Hanley