Subscription
Shipping Address
Order Date

This subscription's skin care system will get replaced.

${ address.name }




${ address.products }

${ displaySubscriptionName(address) }




${ displayProducts(address) }

${ displayAddress(address) }
${ formatDate(address.scheduleDate) }

${ address.name ? address.name : displaySubscriptionName(address)}
${ address.products }
${ displayProducts(address) }
Shipping Address
${ displayAddress(address) }
Delivery Date
${ formatDate(address.scheduleDate) }
This subscription's skin care system will get replaced.
17 New Year's Resolution Ideas for a More Amazing 2019
Gentlemen, get ready to make 2019 your best year yet! Check out our list of the best New Year's resolutions for men and how each resolution can put you on the path to becoming a better man.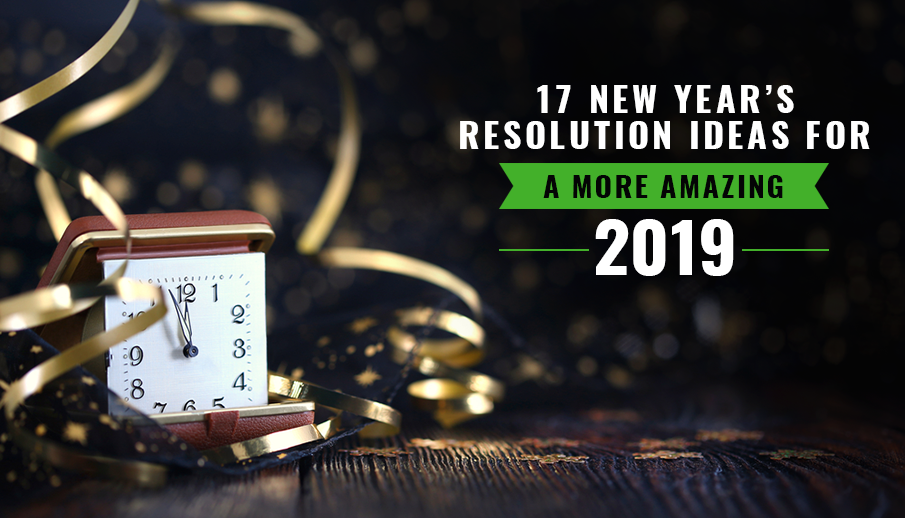 It doesn't matter whether most of us fail to keep our resolutions beyond February, making goals for the new year is a time-honored tradition. If you don't make them, you're considered a humbug for not properly getting into the holiday spirit.
Although you may find the tradition silly and pointless, you can benefit from partaking in setting New Year's resolutions for yourself. The key is to take them seriously and actually want to improve yourself in 2019.
Which resolutions should you adopt this year? Here is what you need to know:
Self-care resolutions are often neglected by men, despite the many benefits that practicing self-care can provide.

Dressing better for the new year isn't vain and can help boost your career.

Learning to control negative thought patterns can significantly improve your 2019.
UPDATE YOUR WARDROBE
For a lot of men, fashion resolutions are easy to dismiss. Sure, your current wardrobe won't win you any style points—but does it really matter?
The short answer is yes, it matters a great deal. Clothing not only affects how others perceive us, but it also affects how we think.
Research shows that wearing formal clothing can make us feel more powerful and it can change our mental processes (see claim: "…association between clothing formality and abstract processing was mediated by felt power.") Not only that, but our clothing plays a significant role in shaping a person's first impression of us.
You don't need to keep up with what's happening on the latest men's fashion runways to dress stylishly. Start slowly and make small changes to your wardrobe, such as upgrading your shoes and investing in genuine leather belts.
TRY MEN'S SKIN CARE
TAKE MORE BREAKS
Being a hard-working individual is an admirable trait. Unfortunately, a lot of men push themselves too hard and don't understand the value of taking regular breaks.
The truth is that any good employer knows how essential regular breaks are for their employees' productivity. Study after study has demonstrated that taking a moment to pause and walk around can help boost brain function and improve attention (see claim: "Exercise breaks promoted attention…")
Bottom line: Stop working through lunch and commit to taking a short walk. It will do your mind and body a lot of good.
INVEST IN YOUR SKIN
Gentlemen, your skin isn't getting any younger. If you don't take proper care of it now, you'll come to regret it in the future.
To keep your skin healthy and youthful in your 30s, 40s and beyond, now is the best time to invest in a high-quality skin care routine. It doesn't need to be complicated to be effective. A few simple products are enough to reap the anti-aging benefits.
For guys who are already beginning to see signs of wrinkles and fine lines, applying a men's facial serum is a must-do in 2019. With Tiege Hanley's Level 3 Skin Care System, you can get everything you need to achieve age-defying results.
STOP BUYING CHEAP STUFF
There is nothing wrong with being frugal. But you're a grown man now, which means that it's time to stop filling your wardrobe with cheap clothes.
The cheap stuff you buy not only reflects poorly on you, it's also a guarantee that you'll need to replace everything within the year. Sometimes, the most frugal option is investing in things that are designed to last.
Getting quality pieces for your home and for your wardrobe will serve you far better in the long-term. It's not always easy to know when to spend more and when to go the cheap route, but you'll get the hang of it eventually.
RECOGNIZE NEGATIVE THOUGHTS
You would never let anyone get away with calling your best friend ugly and worthless. So, why would you let your inner thoughts tell you the same?
Everyone has negative thoughts float through their mind. It's when they persist that it becomes a real problem.
When we start believing our negative thoughts, they can quickly take over and affect every aspect of our lives. If you can't seem to shake your negative thought patterns, it's worth seeing a therapist or downloading any one of the numerous mindfulness apps.
CUT DOWN ON ALCOHOL
A lot of men participate in "Dry January" to offset some of their heavy drinking during the holiday season. The downside of Dry January is that it's a strict rule (not one drop of alcohol) and only lasts for one month.
For some men, a better option is to limit their alcohol consumption and hold themselves to it for the entire year. After just a couple of months of reducing your alcohol intake, you'll probably be amazed at some of the results.
In addition to losing a few pounds, you may also notice a difference in your skin. Alcohol is known to worsen acne and other skin conditions. By limiting yourself to one or two beers during the week, you will potentially see a significant improvement in your appearance.
FACE YOUR FEARS
No one wants to be uncomfortable. In fact, most of us go out of our way to ensure that we don't find ourselves in uncomfortable situations.
Facing your fears is challenging because it goes against everything your brain is trying to tell you. Although it's scary in the moment, overcoming your fears can make you feel empowered and confident.
You don't need to tackle your biggest phobia immediately. Start small and by doing things that make you only marginally uncomfortable and work your way up from there.
FINISH A SELF-IMPROVEMENT BOOK
You know that self-help book sitting on your bedside? The one you picked up last year and told yourself you would read? It's gathering dust on your nightstand.
No more excuses this year. It's time to finally pick up that book and finish it.
If you're struggling to find time to do this, consider getting the audiobook version instead. Play it on your commute to work or when you're working out in the morning.
FIND YOUR SIGNATURE DISH
Gentlemen, it's no secret that women love a man who can cook. To impress her with your cooking skills, all you need to know is how to cook one dish extremely well.
This will be the dish that you're known for in your social circles. It needs to be a recipe that gets people excited when you show up with it in tow.
Whether it's a recipe that's been in your family for generations or a brand-new recipe you found online, it's important that you master it. Who knows? It could be what lands you a second date.
RUN (OR WALK) OUTSIDE
This wouldn't be a proper New Year's resolutions list if it didn't mention some type of exercise. If you don't want to invest in new gym gear or a gym membership, keep in mind that running is always free.
All you need is to lace up your shoes and hit the ground running. You can also do a walk/run session if running is too difficult at first.
Consider bringing Fido along with you. Bringing the dog may help hold you accountable and gives them heart-healthy benefits as well.
LEARN TO OPEN UP
Most men have been taught that showing their true feelings is a sign of weakness. Modern men now know that this conditioning is extremely harmful to their mental health.
According to the National Institute of Mental Health, the rate of suicide among men was almost four times higher than among women in 2016. Although the exact reason for this is still up for debate, some researchers believe it's because men are less likely to voice their feelings and seek help.
Whether or not you struggle with anxiety and depression, it's much healthier to express your feelings as opposed to keeping them bottled up. If the idea of doing this makes you uncomfortable, you can start by writing your feelings down in a journal.
UNPLUG FOR A WHILE
In a world ruled by technology, you'd be hard-pressed to find a man who isn't glued to his smartphone. As wonderful as technology is, it doesn't hurt to take a break from constantly checking your social media or email.
You may be wondering, what's the benefit of powering down your device and unplugging for a while? Consider the research which points to the link between social media sites and depressive symptoms (see claim:" …results indicated that individuals with lower self-esteem are more active online in terms of having more self-promotional content on their SNS profiles.")
We've known since the late '90s that social technology results in a decline in personal relationships and community involvement (see claim: " greater use of the Internet was associated with declines in participants' communication with family members in the household…increases in their depression and loneliness.") By going "off the grid" for a short time, you can better reflect on what truly matters and become more appreciative of everything you have in this life.
PRACTICE SELF CARE
When was the last time you did something for yourself? If you can't remember, it's time to practice some self-care.
Whether it's booking a professional shave or getting on a regular skin care routine for men, indulging in yourself regularly can make you feel like a million bucks. The confidence boost you get from practicing self-care is worth every penny.
Although some men struggle with the concept of self-care, it's undoubtedly one of the best things you can do for yourself. Make 2019 the year you finally treat yourself to a men's facial or buy that fancy grooming set.
GO TO NEW PLACES
An easy way to unplug is by taking regular vacations and venturing to new cities and countries. Exposing yourself to new places and experiencing different cultures can grow your communication skills and knowledge.
If you have a partner, traveling is also a great way to enrich your lives together and helps keep things exciting. If you don't have a ton of money to spend or have little time off, consider taking a short weekend trip just a couple of hours away to unwind and rejuvenate. 
Take the skin care quiz
SMARTEN UP FINANCIALLY
Some men are good with finances, while others are a complete disaster. No matter which group you fall in, every guy has some room for improvement.
If you're a beginner to money managing, proper budgeting and goals are key to making smarter financial decisions. There are plenty of online templates and budgeting apps to help you stay on top of things.
For guys who already have an established budget, consider making goals to check your credit score more often or to invest a certain amount into your emergency and retirement savings.
PRACTICE FORGIVENESS
While holding a grudge may be an easy thing for us to do, it's not healthy for our body or mind. Research shows that practicing forgiveness can lighten a burden, both metaphorically and physically.
Feeling angry and experiencing negative emotions every time we think of the offending person is exhausting. By learning to forgive and let go of resentment, you can achieve peace of mind.
You don't need to wait for an apology. Start practicing forgiveness now and you'll feel so much lighter for it in the coming year.
ASK FOR A RAISE
Getting a raise without asking for it is always a great feeling, but don't expect it to happen on its own. Although many companies give bonuses, they are more reluctant to freely give raises to their employees.
To get the raise you want, just accept that you'll probably need to ask for it. Before you do, you'll need to know exactly what contribution you bring to your company and why you deserve a raise in the first place.
Keep in mind that timing plays a huge role in the success of your request. Be smart about when you ask for a raise. If your boss is in a hurry or appears to be in a bad mood, wait until they're ready to hear what you have to say.
Finally, be prepared to respond in different scenarios. What if they say no? What if they offer a lower raise than what you expected? Know how to handle each scenario before walking into the situation.
FINAL THOUGHTS
Who doesn't want to be a better man in 2019? Even if you aren't the type of guy who typically makes New Year's resolutions, it never hurts to reevaluate your current goals and work on improving yourself.
Did these New Year's resolutions for 2019 inspire you? Which goals are you setting this year? Let us know about them in the comments!
---
// © Copyright 2023 Tiege Hanley