Subscription
Shipping Address
Order Date

This subscription's skin care system will get replaced.

${ address.name }




${ address.products }

${ displaySubscriptionName(address) }




${ displayProducts(address) }

${ displayAddress(address) }
${ formatDate(address.scheduleDate) }

${ address.name ? address.name : displaySubscriptionName(address)}
${ address.products }
${ displayProducts(address) }
Shipping Address
${ displayAddress(address) }
Delivery Date
${ formatDate(address.scheduleDate) }
This subscription's skin care system will get replaced.
OTC Acne Treatments: What Really Works?
Over-the-counter acne treatments can be just as effective as prescription acne medication—without the steep cost. Here is what you need to look for in an OTC acne treatment system and which treatments really work.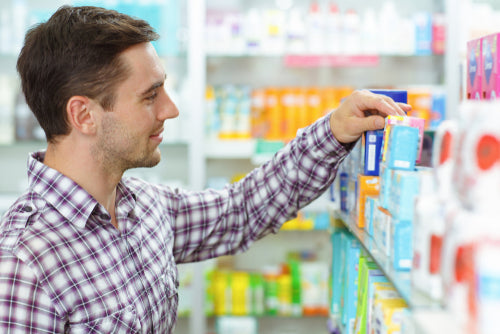 Not everyone has the time or money to see a dermatologist for acne problems. It's not only a hassle to take time off for appointments, but the price of some prescription acne medications can be outrageous.
Fortunately, there are plenty of effective over-the-counter (OTC) acne treatments that can banish zits and restore your face to maximum handsome once more. Best of all, they won't cost you an arm and a leg.
Here are three things all men should know about OTC acne treatment products:
OTC acne treatment products can often provide the same results as prescription acne treatments at a fraction of the cost.
When searching for an OTC acne treatment system, look for ingredients such as Salicylic Acid or Benzoyl Peroxide.
Eliminate acne for good with a regular skin care system formulated specifically for your skin.
GOT ACNE?
What to Look for in an OTC Acne Treatment
Not all OTC acne treatment systems are created equal. If you want an effective acne product, look for these five ingredients.
Salicylic Acid—This powerful, beta-hydroxy acid (BHA) is an acne-fighting superstar and is widely used by skin care professionals. Both safe and effective, Salicylic Acid is a natural exfoliant which can help keep pores free of dead skin cells and bacteria.
Benzoyl Peroxide—Benzoyl Peroxide is another common acne-fighting ingredient which kills bacteria and sloughs off dead skin cells. Although it's effective, Benzoyl Peroxide may cause skin irritation (see claim: "…higher concentrations are associated with more adverse effects.")
Sulfur—Sulfur is a natural chemical which is effective at absorbing excess oil from the skin. Although it's proven to be effective at reducing acne lesions in people with mild to moderate acne, it can dry out the skin and cause irritation (see claim: "Sulfur…has demonstrated efficacy in the treatment of many dermatological conditions.")
Alpha-Hydroxy Acids (AHAs)—Alpha-hydroxy acids are commonly used to even skin tone and reduce signs of aging; however, they can also be used to fight acne. AHAs work by exfoliating the skin and removing pore-clogging debris.
Tea Tree Oil—Tea tree oil contains antifungal, antibacterial properties which can help in the treatment of people with mild to moderate acne. Some peeling and dryness can occur, but this usually disappears quickly.

The Best OTC Acne Treatment Systems for Men
You don't want to throw money at something that doesn't work. So, what OTC acne treatments do work? Here are some of the best OTC acne treatments which contain proven acne-fighting ingredients:
Neutrogena Naturals—A complete system which uses naturally derived ingredients including wintergreen, a naturally-derived Salicylic Acid.
Tiege Hanley—Another system which uses natural ingredients to fight breakouts. The Tiege Hanley acne treatment system stands out because it's formulated specifically for a guy's skin and uses cutting-edge ingredients such as Salicylic Acid and Sodium Hyaluronate.
Proactiv—Many men (teens especially) have had luck with Proactiv. However, it does contain Benzoyl Peroxide, which may not be good for sensitive skin types. It's also one of the more expensive OTC acne treatment systems.
Murad—Murad's acne treatment system relies on sulfur, Salicylic Acid, retinol and tea tree oil to banish blemishes. Although it may not be suitable for sensitive skin types, it can reduce shine and effectively treat breakouts.
Take the skin care quiz
Which OTC Acne Treatment System Is Right for You?
When it comes to choosing a men's OTC acne treatment, we can't make the final decision for you. However, we can tell you what things you should consider before making a purchase:
Price—It's a myth that acne treatments must be expensive to be effective. Just because Big Pharma can charge ridiculous prices doesn't mean that OTC products need to follow suit.
Ease of Purchase—The best OTC acne treatment system is one that you can stick with long-term. Be sure to look at the availability of the product and how easy it is to replenish.
Dermatologist Recommended—A recommendation by a licensed dermatologist isn't necessary, but it does add some reassurance to your decision.
Reviews—What do other people say about the product? Is it mostly negative or positive? Check out reviews and testimonials before buying an OTC acne system.
Patience—Regardless of which acne system you choose, keep in mind that it takes time for new, healthy skin to regenerate and that sometimes your skin may get worse before it gets better. Acne treatments can stop the formation of new comedones, but they can't always stop existing acne from rising to the surface.
Final Words
When you're dealing with acne, the last thing you want is to waste your time and money on acne treatments that do nothing for your skin. Hopefully, we've given you a good starting point in your quest for perfect skin.
If you still aren't sure which over-the-counter acne solution is right for you, give Tiege Hanley a try and let us know what you think in the comments section below! With regular use, we're confident that you'll see smooth, blemish-free skin in no time.
---
// © Copyright 2023 Tiege Hanley