Subscription
Shipping Address
Order Date

This subscription's skin care system will get replaced.

${ address.name }




${ address.products }

${ displaySubscriptionName(address) }




${ displayProducts(address) }

${ displayAddress(address) }
${ formatDate(address.scheduleDate) }

${ address.name ? address.name : displaySubscriptionName(address)}
${ address.products }
${ displayProducts(address) }
Shipping Address
${ displayAddress(address) }
Delivery Date
${ formatDate(address.scheduleDate) }
This subscription's skin care system will get replaced.
Probiotics for Acne: We Review the Latest Research
Are probiotics the cure-all for your acne? We break down the latest research on probiotics and acne.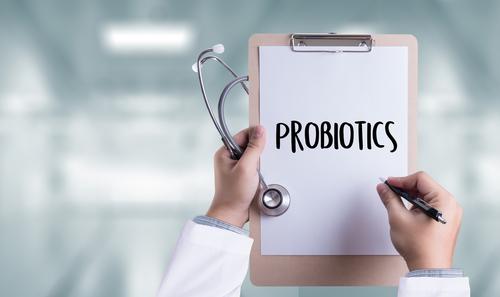 Probiotics have been buzzing in the news lately for their many potential health benefits. These microorganisms have been said to treat a wide range of health issues and conditions, including acne vulgaris. 
Can probiotics help your acne? What do researchers have to say on the topic?
Here are three of the things you need to know:
Probiotics are live microorganisms which are ingested orally in the hopes of achieving a specific health benefit.
Commonly referred to as "good bacteria," probiotics support a healthy balance of gut bacteria, which can potentially benefit acne sufferers.
Research is still inconclusive. However, studies on probiotics for acne do show promise in helping alleviate acne symptoms.
The Gut-Skin Connection
To understand the potential benefits of probiotics for acne, you first need to understand the connection between skin and gut health.
Here is a simple breakdown of the science:
Our intestines contain hundreds of different types of bacteria—both the good and bad kinds. There are other microorganisms in there as well, including viruses, fungi and archaea. This ecosystem inside our gut is called the microbiome.
Propionibacterium (P.acnes) is the bacteria which causes acne. Some P.acnes in the microbiome is fine, but too much can trigger your body's inflammatory immune response. This is what causes you to break out in pimples.
GOT ACNE?
How Can Probiotics Help?
Probiotics are live microorganisms which are applied orally or internally to the body. These live microorganisms are said to help balance the "good" and "bad" bacteria in your body.
Although we still don't know the underlying mechanisms of this action, we do know that probiotics can support healthy immune function. Because much of our immune system is located inside our GI tract, it stands to reason that probiotics can improve our body's immune response to acne-causing bacteria.
What Does the Science Say?
This sounds good in theory, but does the science hold up? Here is what we've found by reviewing the latest research:
Oral Probiotics May Reduce Inflammation
Inflammation is the underlying cause of many chronic skin conditions such as acne. A 2018 study found that oral probiotics can reduce the production of cytokines, a small group of proteins which signal the body's inflammatory response (see claim: "Treatment with the two Lactobacillus strains induced a decrease in the serum levels of pro-inflammatory cytokines…")
This shows promise for acne sufferers. However, it should be noted that this study only tested three strains of probiotics and the study was performed on mice.
Probiotics—Effective or Not?
Another 2018 study found that not only were probiotics ineffective, they could potentially do more harm than good. Researchers performed a series of experiments which showed that many of the participants' digestive tracts didn't allow probiotics to colonize and take effect (see claim: "Humans feature a person-specific gut mucosal colonization resistance to probiotics.")
The second study found that probiotics may hinder the original microbiome from returning to a normal state (see claim: "Post antibiotics, probiotics delay gut microbiome and transcriptome reconstitution…") In other words, the potential of probiotics is likely to be determined by each individual microbiome.
This was reinforced by another recent study, which found that the effectiveness of probiotics depended largely on the lining of the intestines (see claim: "Our discovery suggests that an intact epithelial barrier is necessary to maintain the 'homeostatic tolerance' in response to physiological host–gut microbiome cross-talks.") When this lining is compromised (aka "leaky gut syndrome"), probiotics can escape through the intestines and harm the body.
Take the skin care quiz
Specific Strains of Probiotics Beneficial for Acne
Other research has found that probiotics can have a positive effect—if it's the right strain. In another 2018 study, five specific strains of probiotics were found to be most effective for acne patients (see claim: "Despite the high variety of tested bacteria, Staphylococcus, Streptococcus, Lactococcus, Lactobacillus, and Enterococcus are the ones which showed the highest potential to control acne…")
Decreases Insulin Sensitivity in Animals
In animal studies, probiotics have been shown to decrease insulin sensitivity (see claim: "Oral administration of Lactobacillus reuteri GMNL-263 improves insulin resistance and ameliorates hepatic steatosis in high fructose-fed rats.") Insulin is believed to play a significant role in the development of acne, which leads researchers to believe that probiotics may help insulin-related acne sufferers (see claim: "…therefore, insulin and carbohydrate metabolism may have a role in the etiology and severity of the acne.")
However, the caveat is that this study was performed on animals and not humans. Before we can conclude that probiotics can help acne sufferers, we need more human studies.
Bottom Line
Probiotics show promise for acne sufferers, but this doesn't mean that you should give up your current acne treatment system. The current studies provide some reason for optimism, but there are still many unanswered questions which must be addressed before we can say with certainty that probiotics can help all acne sufferers.
Always talk to your doctor first before going on any probiotics. In the meantime, be sure to get on a regular skin care regimen to keep your skin healthy.
---
// © Copyright 2023 Tiege Hanley