Subscription
Shipping Address
Order Date

This subscription's skin care system will get replaced.

${ address.name }




${ address.products }

${ displaySubscriptionName(address) }




${ displayProducts(address) }

${ displayAddress(address) }
${ formatDate(address.scheduleDate) }

${ address.name ? address.name : displaySubscriptionName(address)}
${ address.products }
${ displayProducts(address) }
Shipping Address
${ displayAddress(address) }
Delivery Date
${ formatDate(address.scheduleDate) }
This subscription's skin care system will get replaced.
Skin Care for Men: Why Experts Say the Industry Is Growing
Why experts say growth in the men's skin care industry is just beginning. Tiege Hanley takes a closer look at the trends and product innovations that are driving men's skin care into the mainstream.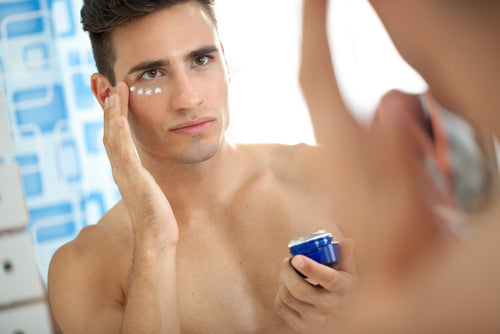 If you've noticed a lot more men's skin care products online or on the shelf at your local grocery store, you're not alone. A 2016 report by Allied Market Research predicts the global men's personal care market will rake in $166 billion by 2022, marking an almost 5.5 percent jump from 2016.
What is causing the men's skin care industry to skyrocket? Here are three of the things you need to know:
South Korea's skin care market for men is having a strong influence on the United States.
As societal norms change, it has become more accepted for men to take better care of their skin.
Men are finally seeing a greater number of options for skin care products made specifically for them.
Global Influence
South Korea's cosmetics industry has been booming for quite some time, and a new generation of image-conscious men are now helping to drive that growth as they seek to improve their appearance. Spearheaded by skin care products, $7 billion worth of South Korean cosmetic products are now being bought annually by men.  
Men's products accounting for a larger share of the market can partly be attributed to competition in the women's market, which is pushing South Korean beauty companies to gear more of their marketing elsewhere. Additionally, the competition to perfect one's imperfections seems in line with some of the nation's societal norms, as many seek some sort of competitive edge in multiple realms.
While skin care products for men are not quite as universal in the United States and elsewhere, there's reason to believe the South Korean trend could spread.
Social Media Influence
Since millennials represent the target market for many skin care products, it's no surprise that social media outlets like Twitter, Instagram, Facebook, Snapchat and more have helped drive the industry's evolution.
Whereas at one time grooming advice was often confined to a limited inner circle of family and friends, men are now exposed to thousands of posts from people down the block or around the world.
As a result, many social media influencers have emerged to try to drive guys toward specific products. In some ways, the idea of seeing a "normal guy" using a certain item is more relatable than a celebrity doing the same. The popularity of social media has also led some companies to collaborate with influencers in an effort to further tap into an emerging market.
TRY MEN'S SKIN CARE
Idea of Self Care is No Longer Taboo
While Mad Men's Don Draper came across as a pretty stylish guy, it's hard to imagine the famed fictional TV ad man working on a pitch for under eye wrinkle cream for men. Times have changed.
Changing societal norms seem to be making more men open to, or even passionate about, skin care products. Whereas men's grooming used to be limited mainly to shaving and fragrance, the industry has grown considerably behind a proliferation of skin care offerings.
Diversity of Products
Acne cream, eye cream, face washes, moisturizers and scrubs are just some of the many popular skin care products helping to fuel the industry's surge. The sheer number of products available to men demonstrates the industry's awareness that grooming habits constantly fluctuate.
Skin care companies are finally starting to realize that men want diversity and simplicity in their skin care products. To reflect this need, some key players in the men's skin care industry are finally offering multiple men's grooming products in one convenient package.
Finding the Right Pitch: Health
Skin care companies have come to realize that skin care for men isn't all about appearance. Many men have a strong desire to be healthy above all else.
To tap into this desire to be healthy, some skin care companies are taking a new approach with their marketing strategies. By highlighting the health benefits of skin care for men, the industry is successfully attracting more health-conscious men to purchase their products.
While some skin care companies make ridiculous claims about the benefits of their products, there is plenty of evidence to suggest that certain ingredients in skin care items can benefit our health.
For instance, Vitamin E is a common ingredient found in skin care products and is proven to reduce oxidative stress (see claim: "…inhibit the acute UV damage as well as chronic UV photoaging and skin cancer.") Considering the high rate of melanoma rates in men, these health claims are no doubt hitting their target.
The Bottom Line
The men's skin care industry is growing fast and shows no signs of slowing down. This is partly due to global influences and a fading stigma that used to inhibit the men's skin care industry.
As this stigma continues to disappear, we'll see more men finally embracing a simple men's skin care regimen.
---
// © Copyright 2023 Tiege Hanley