Subscription
Shipping Address
Order Date

This subscription's skin care system will get replaced.

${ address.name }




${ address.products }

${ displaySubscriptionName(address) }




${ displayProducts(address) }

${ displayAddress(address) }
${ formatDate(address.scheduleDate) }

${ address.name ? address.name : displaySubscriptionName(address)}
${ address.products }
${ displayProducts(address) }
Shipping Address
${ displayAddress(address) }
Delivery Date
${ formatDate(address.scheduleDate) }
This subscription's skin care system will get replaced.
Sunscreen for a Bald Head
Learn about the best sunscreen for bald heads. Whether you're running errands or working outside, you need to protect your dome with SPF.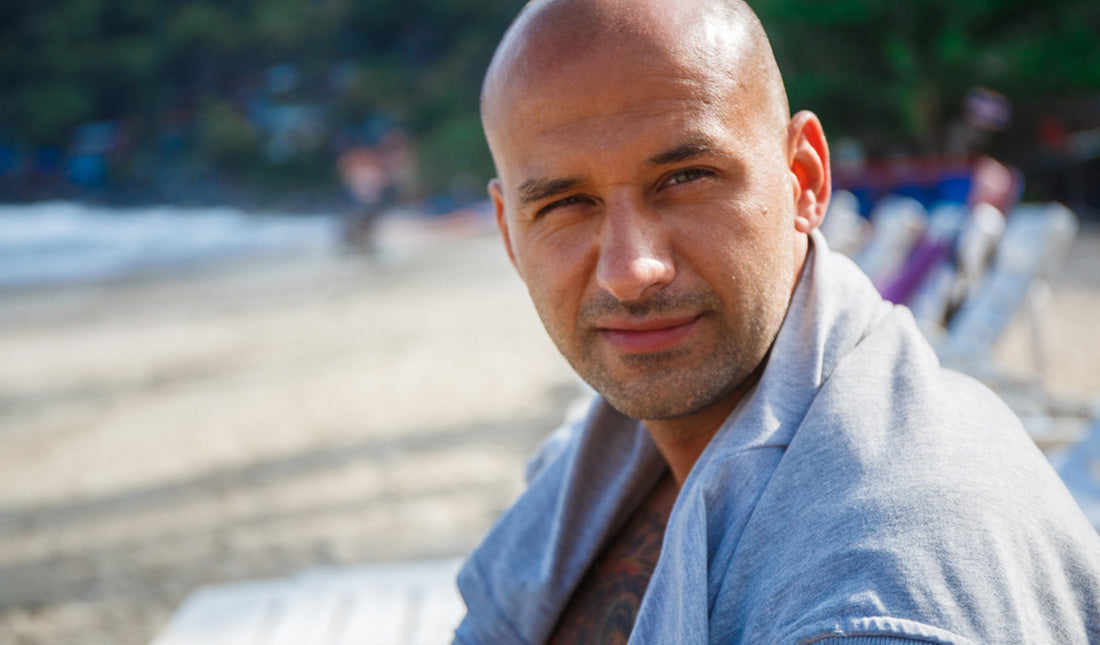 If you're rocking a bald dome these days, you're no doubt familiar with the many benefits of having a hairless head.
For instance, your hair maintenance is basically zero, you don't need to pay someone to cut your hair and bad hair days are officially a thing of the past.
But while your hair maintenance may be low, your bald head skin care maintenance is now a top priority.
When left unprotected, that beautiful, bald dome of yours will get lots of direct sunlight, making you more susceptible to developing skin cancer.
Fortunately, there is a solution: sunscreen, and lots of it.
We're dishing out our best tips for how to choose a sunscreen for your bald dome, plus a few recommendations to protect your scalp from the sun.
Here are three things you should know about sunscreen for a bald head:
Excessive sun exposure on the head can increase your risk of premature age spots and skin cancer.
Choose a sunscreen with SPF 20 or higher to protect your skin.
If you're acne-prone, look for a sunscreen with a matte or oil-free formula to reduce acne breakouts.
How to Choose the Best Sunscreen for a Bald Head
Bald heads need sunscreen—period.
According to a 2015 study published in Photochemistry and Photobiology, hair acts as a natural barrier to UVB and UVA rays, which can reduce the risk of sun-induced skin cancers (see claim: "Our results show that hair provides a barrier against both UVB and UVA radiation which is significantly increased with respect to the hair density, thickness and the presence of melanins.")
Since you don't have this extra layer of sun protection, it's critical that you take measures to protect your bare scalp with a daily SPF.
Applying a daily sunscreen will not only reduce your risk of skin cancer, it can also help prevent premature age spots on your head.
So, how do you choose a sunscreen for your bald dome?
Here are a few things to look for in a sunscreen for your bald head.
GOT WRINKLES?
SPF of 20 or Higher
To protect your bald head from UV rays, look for a sunscreen with SPF (sun protection factor) of 20 or higher.
But before you reach for SPF 100, keep in mind that high-number SPF isn't necessarily better.
Whether you're using SPF 20 or SPF 100, you still need to apply sunscreen regularly (approximately every two hours).
Matte or Oil-Free
Many sunscreens are super greasy and sticky, which can lead to scalp acne and unwanted shine.
If you have acne-prone skin, look for an oil-free sunscreen that won't clog your pores.
Want to avoid a shiny head?
Pick up a sunscreen product with a matte formula that won't make you look like a cue ball.
Formulated for Sensitive Skin
Choosing a sunscreen with soothing ingredients is particularly important for bald people who shave their head regularly.
This is because shaving can cause microscopic cuts in the skin.
A soothing sunscreen can relieve some of the irritation while providing maximum protection for your bald dome.
Plus, a gentle formula is much less likely to sting if you accidentally get it in your eyes.
Sunscreen for a Bald Head: Our Top Picks
Need some sunscreen recommendations for your bald head?
We have you covered.
Here's our top three picks for sunscreen for bald heads.
Tiege Hanley Daily Moisturizer with SPF 20
OK, so we're a little biased, but our morning facial moisturizer with SPF 20 is pretty amazing for bald individuals (and anyone, really).
Our SPF moisturizer has the Skin Cancer Foundation's Seal of Recommendation and is formulated for all skin types.
It also has soothing ingredients such as Calendula Extract and Plantain Extract to nourish and heal freshly shaved skin.
Give it a try and let us know what you think!
TAKE THE SKIN CARE QUIZ
COOLA Scalp & Hair Mist Organic Sunscreen SPF 30
If you're looking for a spray sunscreen, check out COOLA's Scalp & Hair Mist.
Although it's designed for people with hair, this spray sunscreen works just as great for bald folks.
COOLA's formula is packed with antioxidants that can help nourish the skin on the scalp while protecting your bald head from UV rays.
Neutrogena Ultra Sheer Spray Sunscreen SPF 100
Neutrogena's Ultra Sheer Spray Sunscreen comes in a special canister that makes it easy to apply in those hard-to-reach areas–like behind the ears.
The formula is also non-greasy and oil-free, which means you won't need to worry about a greasy scalp.
And with SPF 100, even the fairest complexions will be protected from 99 percent of UV rays.
Protecting Your Head from the Sun
Sunscreen is, hands down, one of the most important skin care products for people with bald heads.
For best results, remember to use it daily—even when it's cloudy.
With regular application, you can rock a youthful-looking dome for years to come.

Reference
de Gálvez, María Victoria et al. "Human Hair as a Natural Sun Protection Agent: A Quantitative Study." Photochemistry and photobiology vol. 91,4 (2015): 966-70.
---