Subscription
Shipping Address
Order Date

This subscription's skin care system will get replaced.

${ address.name }




${ address.products }

${ displaySubscriptionName(address) }




${ displayProducts(address) }

${ displayAddress(address) }
${ formatDate(address.scheduleDate) }

${ address.name ? address.name : displaySubscriptionName(address)}
${ address.products }
${ displayProducts(address) }
Shipping Address
${ displayAddress(address) }
Delivery Date
${ formatDate(address.scheduleDate) }
This subscription's skin care system will get replaced.
Toner for Men: Do You Need It and What to Look for
What is toner for men and should you be using it in your skin care routine? Find out what toner is, how it's used and which ingredients to look for in a toner.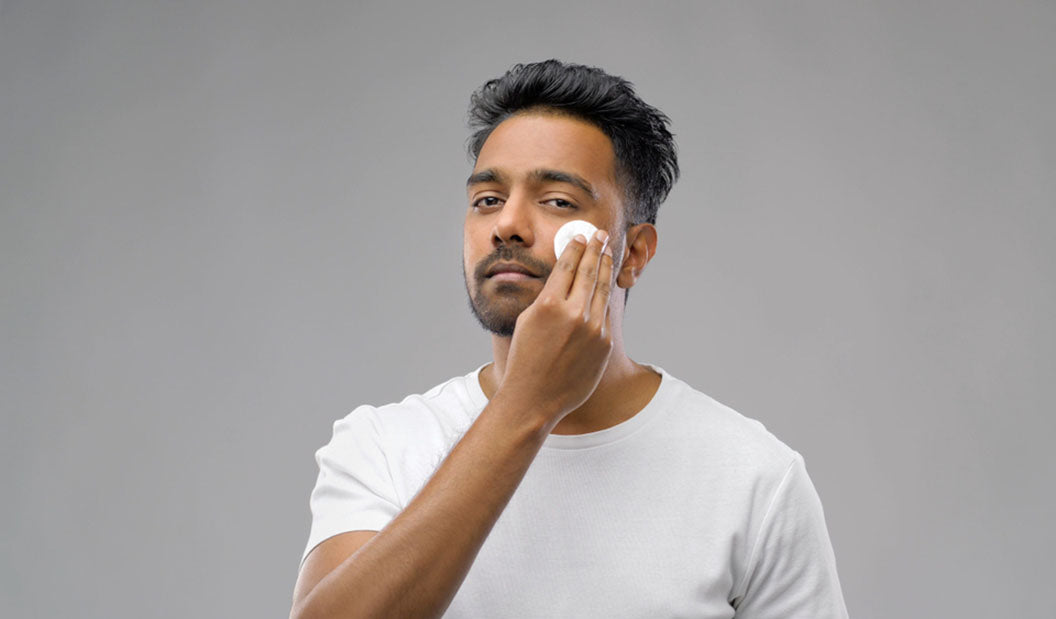 Since immersing yourself in the big world of skin care, you've learned the basics.
You know that washing your face with a facial cleanser is better than using bar soap and that a daily moisturizer is essential to keeping skin healthy and happy.
But one question—okay, two questions—remain: what is toner, and should you be using it in your skin care routine?
Before we answer, here are three things you should know about toner for men:
Facial toners may have different functions depending on the type of toner.
Toners are typically used after you cleanse your face and before you apply moisturizer.
Quality toners will contain ingredients such as antioxidants, ceramides and hyaluronic acid.
What Is Toner?
You may have seen face toners on store shelves before. Although they look and act like water, toners contain additional ingredients like acids, antioxidants and other beneficial skin care ingredients.
What do toners do, exactly? While it may depend on the type of toner you get, the best ones will hydrate, exfoliate and cleanse your skin.
You can think of it as a primer for your skin.
Toners generally work by clearing away the oil and dead skin cells to maximize the penetration of your heavy-hitting skin care products, such as moisturizer with SPF and firming serum.
TRY MEN'S SKIN CARE
Do I Need to Use Toner?
Do guys need to include toner in their skin care regimen? Not necessarily.
If you already have a simple skin care routine that works, there's probably no point in messing up a good thing.
Adding a toner—especially one with harsh ingredients—to your routine could cause more skin problems rather than fix them.
However, that's not to say that toners for men can't be beneficial.
In fact, a nourishing toner may be the thing that finally helps you achieve healthy, clear skin.
A good toner for men can offer the following benefits:
Reduce acne
Moisturize the skin
Minimize the appearance of pores
Restore your skin's pH balance
Prevent ingrown hairs
Want to add a toner to your skin care routine? Go for it!
Just make sure that you do your research and choose a toner for men based on your specific skin care needs.
What to Look for in a Toner for Men
Ready to level up your skin care game with a men's toner?
Before you snatch any ol' toner off the shelf, here are a few ingredients to look for:
1. Glycerin
Best for: Dry/Dehydrated Skin
Glycerin, or glycerol, is a colorless, odorless ingredient that is commonly found in skin care products, and for good reason.
It's a moisturizing powerhouse that attracts water to the skin.
In a 2002 study published in Acta Dermato-Venereologica, glycerin was found to be an effective treatment for dry skin caused by eczema (see claim: "…a glycerin containing cream appears to be a suitable alternative to urea/sodium chloride in the treatment of atopic dry skin.")
TAKE THE SKIN CARE QUIZ
2. Antioxidants
Best for: Aging Skin
Want to slow signs of aging? Look for a toner packed with powerful antioxidants such as vitamin C and Niacinamide (vitamin B3).
Antioxidants are well-known for their ability to improve skin texture and reduce fine lines and wrinkles.
In a 2020 study published in the Journal of Cosmetic Dermatology, vitamins C, E and raspberry leaf extract (all of which have antioxidant activity) were shown to improve skin tone and reduce wrinkles (see claim: "The vitamin C, vitamin E, and raspberry leaf cell culture extract serum has anti‐aging and brightening effects on skin.")
3. Ceramides
Best for: Sensitive Skin
Toners for men with sensitive skin may be difficult to find.
However, your best bet is to find one that's packed with ceramides.
Ceramides are lipids (fat molecules) that support skin barrier function and help your skin retain moisture.
If your skin lacks ceramides, it can result in problems such as dryness, itching and irritation.
This is one reason why ceramides are particularly beneficial for guys with eczema, psoriasis or skin sensitivity in general.
4. Hyaluronic Acid
Best for: All Skin Types
If smoother, dewier skin is your ultimate skin care goal, look for a toner with hyaluronic acid.
According to a 2011 study published in the Journal of Drugs in Dermatology, hyaluronic acid is a super effective anti-wrinkle treatment that can help restore skin hydration and overall elasticity (see claim: "Topical application of all 0.1% HA formulations used in this study led to significant improvement in skin hydration and elasticity.")
Like glycerin, hyaluronic acid works by binding water to the skin, restoring hydration and smoothing out fine lines.
5. Witch Hazel
Best for: Acne-Prone or Oily Skin
Witch hazel is a small shrub that is native to North America.
It was often used in Native American medicine and has been shown to treat a variety of skin care ailments ranging from inflammation and acne to dark bruises and under-eye bags.
Though witch hazel is commonly found in toners for men, be careful with this ingredient.
Some skin care products with witch hazel also contain alcohol and/or fragrance, both of which can irritate sensitive skin.
Make sure that you choose pure witch hazel with no added substances.
The Bottom Line
Should men use toner?
Ultimately, it's up to you.
While toners for men offer several skin care benefits, finding a toner formulated for your skin is essential.

References
Lodén, Marie et al. "A double-blind study comparing the effect of glycerin and urea on dry, eczematous skin in atopic patients." Acta dermato-venereologica vol. 82,1 (2002): 45-7.
Rattanawiwatpong, P, Wanitphakdeedecha, R, Bumrungpert, A, Maiprasert, M. Anti‐aging and brightening effects of a topical treatment containing vitamin C, vitamin E, and raspberry leaf cell culture extract: A split‐face, randomized controlled trial. J Cosmet Dermatol. 2020; 19: 671– 676.
Pavicic, Tatjana et al. "Efficacy of cream-based novel formulations of hyaluronic acid of different molecular weights in anti-wrinkle treatment." Journal of drugs in dermatology : JDD vol. 10,9 (2011): 990-1000.
---
// © Copyright 2023 Tiege Hanley