Subscription
Shipping Address
Order Date

This subscription's skin care system will get replaced.

${ address.name }




${ address.products }

${ displaySubscriptionName(address) }




${ displayProducts(address) }

${ displayAddress(address) }
${ formatDate(address.scheduleDate) }

${ address.name ? address.name : displaySubscriptionName(address)}
${ address.products }
${ displayProducts(address) }
Shipping Address
${ displayAddress(address) }
Delivery Date
${ formatDate(address.scheduleDate) }
This subscription's skin care system will get replaced.
What Causes Cystic Acne?
If you're struggling with cystic acne, you aren't alone. Tiege Hanley breaks down the science, explaining what causes deep acne cysts and how to keep them at bay.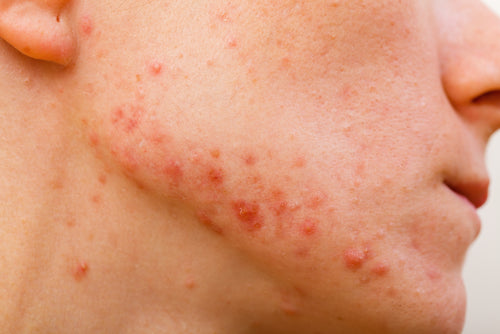 If you have ever suffered from cystic acne, you know that it's the worst form of acne there is. Unlike whiteheads, blackheads or pustules, cystic acne is extremely visible, incredibly painful and can take weeks to disappear.
Who is affected by cystic acne and why does it appear in some individuals and not others?
Here are three of the more important things to know:
Teenage boys and younger men are more likely to suffer from cystic acne.
Genetics, lifestyle factors and hormonal changes may influence cystic acne.
For the most stubborn forms of cystic acne, seeing a dermatologist is recommended.
Hereditary Factors
Acne has a strong tendency to run in the family. Although there is no specific gene that causes cystic acne, your genetic makeup can increase your chances of developing it.
For example, you can be predisposed to cystic acne by having an excess of androgens (a group of hormones). High androgen levels have been linked to several skin conditions, including persistent acne and male pattern baldness (see claim: "Androgen and androgen receptor (AR) may play important roles in several skin-related diseases, such as androgenetic alopecia and acne vulgaris.")
A low immune system is another hereditary factor which can predispose you to cystic acne. Suppressed immune systems can have a difficult time fighting P. Acnes, the bacteria responsible for causing deep acne lesions.
GOT ACNE?
Hormonal Changes
Our hormones play a significant role in the formation of acne. Because of their dramatic hormonal changes, teenagers are more likely to suffer from cystic acne.
Testosterone, a major androgen, has been linked to high activity of sebaceous glands (see claim: "High testosterone levels have been implicated with enhanced sebaceous gland activity in humans.") When the body's sebaceous glands produce too much oil, pores can become clogged and cause severe acne.
Because teenage boys experience dramatic spikes in their testosterone during puberty, they are more likely to struggle with severe acne than women. However, women can experience acne outbreaks when hormones change during their menstrual cycles.
Lifestyle Factors
Stress, dietary choices, your skin care regimen and other lifestyle choices can all influence cystic acne. By making a few simple changes to your daily routine, you may see a significant difference in the severity and frequency of your acne.
Here are a few potential lifestyle choices that could be contributing to your acne cysts:
Stress: Research has shown a strong correlation between the severity of acne and the individual's stress levels (see claim: "The study suggests a significant association between stress and severity of acne…") This is thought to be caused by hormones triggering our sebaceous glands to produce excess oil.
Diet: Certain foods have been thought to make acne worse. Some people have reported that eliminating dairy from their diet has improved their cystic acne. Although more research is needed on the topic, current studies have shown a link between dairy intake and acne (see claim: "In conclusion, any dairy, such as milk, yogurt, and cheese, was associated with an increased OR for acne in individuals aged 7-30 years.")
Skin Care Regimen: A poor skin care regimen can contribute to cystic acne. A basic skin care regimen can go a long way to reducing acne flare-ups. However, be sure to avoid over-scrubbing and cleaning your face. This can over-dry the skin and make acne worse.
Take the skin care quiz
Treatment Options for Cystic Acne
Now that you understand what causes cystic acne, you may be wondering what your treatment options are. Unfortunately, eliminating acne cysts can be extremely difficult.
Whatever you do, don't attempt to pop an acne cyst. Even if you do manage to pop these deep, painful cysts, the fluid inside can spread and cause additional swelling and inflammation.
The best way to treat stubborn cystic acne is to see a dermatologist. They can prescribe treatments that will reach deep within the skin to fight the infection.
In the meantime, ice the area to reduce the pain and swelling, followed by an acne cream containing Salicylic Acid. Stick to your regular skin care regimen, including light exfoliation and daily moisturization.
Bottom Line
Cystic acne is incredibly difficult to manage and can cause acne scarring if not dealt with properly. Not only that, it can also cause low self-esteem and depression.
If regular acne treatment systems aren't working, it's important to schedule an appointment with your dermatologist. They will go over treatment options with you and put you on the path to achieving healthy, blemish-free skin.
---
// © Copyright 2023 Tiege Hanley