Subscription
Shipping Address
Order Date

This subscription's skin care system will get replaced.

${ address.name }




${ address.products }

${ displaySubscriptionName(address) }




${ displayProducts(address) }

${ displayAddress(address) }
${ formatDate(address.scheduleDate) }

${ address.name ? address.name : displaySubscriptionName(address)}
${ address.products }
${ displayProducts(address) }
Shipping Address
${ displayAddress(address) }
Delivery Date
${ formatDate(address.scheduleDate) }
This subscription's skin care system will get replaced.
What Causes Wrinkles on Men?
Deep wrinkles can make any man seem far older than he is. We break down what causes the different kinds of wrinkles and the different ways you can treat them or even prevent them from forming.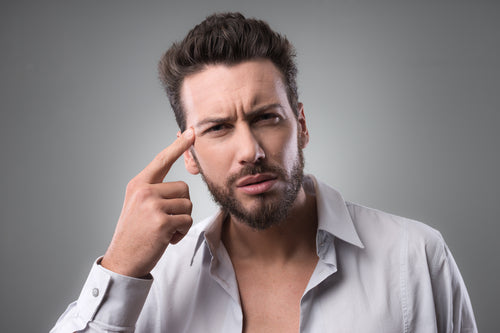 A small laugh line or slight crinkle near the eyes can make a man look distinguished and charming. It's only when these lines begin to deepen that it can become a big problem.
While men may not get wrinkles as early as women do, crow's feet and laugh lines can appear seemingly overnight. Worse, these lines become deeper with age and can quickly diminish a man's youthful good looks.
To stave off wrinkles and fine lines for as long as possible, it's important to know what causes them in the first place. Here are three of the things you ought to know:
Your lifestyle choices can dramatically speed up the progression of fine lines and wrinkles.
Genetics also play a significant role in how quickly a man develops wrinkles.
The best way for men to reduce signs of aging is with a regular skin care regimen.
TRY MEN'S SKIN CARE
Lifestyle Choices
Generally speaking, men don't make the best choices for their skin. Why? The answer is simple: Men weren't raised to care about their skin.
The men of this generation were raised by fathers who spent their childhood outdoors without sun protection. Their fathers also went their entire lives without any semblance of a skin care regimen.
These behaviors have now caught up to them in the form of deep wrinkles and lines. If you don't want to suffer the same consequences as your old man, avoid the following mistakes:
Spending long periods of time in the sun without sun protection
Not bothering to properly clean, exfoliate and moisturize your skin
Eating an unhealthy diet loaded with processed foods and sugar
Poor sleep habits
The two biggest contributors to fine lines and wrinkles are skipping the sunscreen and failing to hydrate their skin. The good news is that you can knock both out with one simple product—a men's daily moisturizer with SPF.
Biological Factors
Biological factors can also play a role in how quickly we develop wrinkles and fine lines. For instance, men and women age differently due to the differences in their skin.
Men have much higher levels of testosterone, which activates the sebaceous glands to produce increased amounts of oil. While this oil production may give some men trouble with acne, it also moisturizes the skin to keep it youthful-looking for longer.
It's also likely that men get fewer wrinkles around their mouths because of their beards. Men have a higher number of sebaceous glands around the mouth, which could be why men have fewer laugh lines compared to women (see claim: "Women exhibit more and deeper wrinkles in the perioral region and their skin contains a significantly smaller number of appendages than men..").
Take the skin care quiz
What This All Means
In truth, men have things pretty good in the wrinkle department. The only problem is that a lot of men make poor lifestyle choices that have a much bigger impact on their skin than their biology does.
Although your father can't make up for his past skin care mistakes, there is still plenty of time for you to turn things around. First things first—get on a regular skin care regimen.
Regular exfoliation and moisturization are essential if you want to retain your handsome good looks. Exfoliating will slough off dead skin cells and promote cell turnover, while a moisturizer will keep your skin hydrated and healthy.
Wrinkle Prevention for Men
Hopefully, we've made it clear that the best way to treat wrinkles is by being proactive with your skin care regimen. However, what if you already have wrinkles and fine lines?
That's when it's time to reveal your secret anti-aging weapon—a men's facial firming serum. Loaded with antioxidants, vitamins and a dose of retinol, this wrinkle-fighting ninja is formulated to turn back the clock on your face (see claim: "Topical retinol improves fine wrinkles associated with natural aging").
A facial firming serum isn't only for guys in their 40s and 50s. Men in their late 20s and 30s can also reap the amazing skin benefits of a men's firming serum.
A firming serum is worth adding to your morning routine. Not only can it help you fight ageism in the workplace, a firming serum can also shave years off your appearance and improve your self-esteem.
You Can Keep Your Skincare System Uncomplicated
Developing wrinkles is inevitable, but there are plenty of ways for men to restore their youthful appearance or slow down signs of aging. If you've been hesitant to get on a regular skin care regimen, rest assured that it doesn't need to be complicated.
We've designed a line of skin care for men that is effective, yet simple. Just choose the level that works best for you and we'll send it straight to your doorstep each month, easy peasy.
---
// © Copyright 2023 Tiege Hanley