Subscription
Shipping Address
Order Date

This subscription's skin care system will get replaced.

${ address.name }




${ address.products }

${ displaySubscriptionName(address) }




${ displayProducts(address) }

${ displayAddress(address) }
${ formatDate(address.scheduleDate) }

${ address.name ? address.name : displaySubscriptionName(address)}
${ address.products }
${ displayProducts(address) }
Shipping Address
${ displayAddress(address) }
Delivery Date
${ formatDate(address.scheduleDate) }
This subscription's skin care system will get replaced.
What Does a Charcoal Mask for Men Do?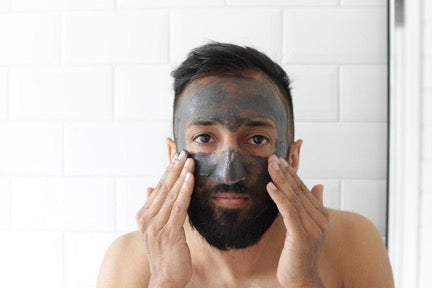 Lots of men are looking to change up their skin care routine. Maybe they've heard about the benefits of detoxifying charcoal or clay masks, but are wondering about the benefits of a clay facial mask. Here are some answers to common questions about charcoal facial masks.
Do Face Masks Actually Work?
This is the big question! Healthline quotes dermatologist Dr. Nikhil Dhingra as saying that "face masks can be an effective way to deliver an intensive burst of nourishing and therapeutic skin care ingredients in a highly concentrated form." Dr. Dhingra cautions that ingredients matter, of course. 
But the act of putting beneficial, soothing ingredients directly onto the affected area, as masks do, can help make skin healthier and reduce the appearance of aging. Another plus is that masks can use higher concentrations of key ingredients than lotions, say, so they can be more effective at solving specific problems.
How Many Different Kinds of Masks Are There?
Many! Masks are often formulated with different aims in mind. Four natural examples: 
Vitamin C is supposed to brighten skin and remove hyperpigmentation
Ingredients like shea butter and avocado can provide moisture for dry skin
Enzymes like bromelain (from pineapple) can be good for exfoliation
Clay and charcoal masks are particularly beneficial for absorbing oil and can also help soothe redness and breakouts
A great detoxifying face mask for men, like Tiege Hanley's CLAY MASK, combines some of these ingredients.
What is a Charcoal Face Mask?
Charcoal face masks are made with activated charcoal, namely charcoal that has been treated with additional heat in the presence of gas, creating tiny and extremely absorbent pores. It's this high degree of absorbency that makes it valuable for use in skin care, as activated charcoal is great at absorbing toxins.
Charcoal is also antibacterial. So acne, a common but unpleasant skin condition resulting from clogged skin follicles, bacteria, too much sebum in the skin, and inflammation, can be reduced by a charcoal mask. A good charcoal mask absorbs the skin's excess oil and has antibacterial properties that kill the bacteria before they become even redder and more swollen. Even with skin that isn't acne-prone, charcoal masks can lift off excess oil, dead skin, and trapped dirt and bacteria, leaving men's skin looking fresher and feeling cleaner.
Since charcoal is a fine powder, it's typically embedded in a clay mixture or an emollient that lets it stay on the skin and really work its magic on the epidermis. Tiege Hanley mixes their charcoal with a number of natural, symbiotic ingredients.
Do Men Really Use Face Masks or are Masks for Women?
Tiege Hanley believes men should absolutely use face masks — assuming they want to look better, feel more confident, and have fresher-looking skin.
Many men have benefited from charcoal face masks, which can handily draw out impurities and oil, and take years off their appearance. Men who are active can be prone to dry skin, especially if they go jogging in the winter.  A clay mask for men can be soothing and calm inflammation. 
Are There Any Negative Side Effects of Using a Mask?
There shouldn't be any negative side effects, so long as the directions are followed. Sometimes, leaving a charcoal mask on for too long could result in dryness or sensitivity. To be extra safe, men should test a mask on a patch of skin like their elbows before using one on their face. 
But if they buy a mud mask for men made with quality ingredients, the only side effect should be better-looking skin.
Try a Skin Care Routine
How Often Should Men Use a Facial Mask?
The best results for skin come from integrating a charcoal facial mask into an overall skin care routine. Men should wash every day with a gentle, natural cleanser, exfoliate twice a week or so, and use a charcoal face mask for men once a week. If men are prone to breakouts or have oily, problematic skin, they could consider applying a mask on a more regular schedule. 
A mask is also a great "as needed" tool, as well. In other words, if you've maybe stayed out too late the night before, had no choice but to take a red-eye flight, or overindulged in alcohol, a face mask would be a great way to quickly add some luster. 
But bear in mind the skin has a delicate balance of oils and a natural pH range in which it's optimally healthy, so as good as a charcoal facial mask is for drawing out impurities, men should make sure to keep their skin care routine balanced and regular.
Charcoal Facial Masks: A Great Skin Care Addition for Men
Charcoal facial masks for men are a great tool in men's skin care arsenal to make them look younger, fix oily or problem skin, and take care of the effects of acne. Make sure you get the one made with the best ingredients, like the one from Tiege Hanley.
---
// © Copyright 2023 Tiege Hanley