Subscription
Shipping Address
Order Date

This subscription's skin care system will get replaced.

${ address.name }




${ address.products }

${ displaySubscriptionName(address) }




${ displayProducts(address) }

${ displayAddress(address) }
${ formatDate(address.scheduleDate) }

${ address.name ? address.name : displaySubscriptionName(address)}
${ address.products }
${ displayProducts(address) }
Shipping Address
${ displayAddress(address) }
Delivery Date
${ formatDate(address.scheduleDate) }
This subscription's skin care system will get replaced.
What Makes the Best Smelling Body Washes for Men Different?
Tiege Hanley makes the best smelling body wash for men. They come in scents that are not only naturally-derived, but also well-suited to different occasions.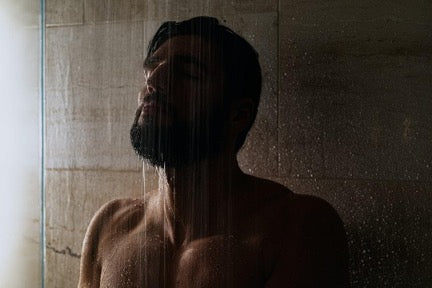 It's 2022 and ideas around masculinity have rapidly changed. 
Men are comfortable with the idea that their body wash should make them feel good and smell good. They are savvy about the environmental impact of toxic body care products, the chemicals that commonly hide in body washes, and the simple truth that it's better to smell like a eucalyptus grove than...whatever weird scents are in common pharmacy brands.
Tiege Hanley BODY WASH for men is different.
The Health Dangers of Poor Quality Body Wash
Men who are smart about reading ingredient labels know that common ingredients in body wash, soaps, and shampoos can have negative health consequences.  These chemicals include phthalates, BPA, and triclosan. These can disrupt the endocrine system, affect reproductive ability, and potentially lead to kidney and respiratory damage. Because body wash is applied directly to the skin, it's all too easy for the body to absorb these toxic chemicals. 
Those weird fragrances mentioned above (what are they even supposed to smell like?) can also have negative effects on both users and the environment. They are also frighteningly unregulated. The word "fragrance" on a label could consist of anything. According to Janet Nudelman, co-founder of the Campaign for Safe Cosmetics, "no state, federal, or global authority even knows which fragrance chemicals appear in which products." That's because these are considered "trade secrets."
That secrecy can be dangerous. According to a study by Breast Cancer Prevention Partners, "three-quarters of the toxic chemicals detected in a test of 140 products came from fragrance." These chemicals are linked to such dreaded diseases as cancer. 
So when the makers of Tiege Hanley created their body wash, they were determined to make it with nontoxic ingredients, including fragrances that are plant-based (and delightful). 
Their fragrances include Eucalyptus, Citrus, Cucumber, and Sandalwood. Tiege Hanley also makes a scent named "Clean" for those looking for a simple, nondescript yet pleasantly fresh scent. 
Try a Skin Care Routine
The Effects of Poor-Quality Body Wash on Skin 
Poor quality body wash can have immediate negative effects on the body, too. Poor quality body wash can:
Dry out skin
Cause rashes
Provoke allergic reactions
Irritate sensitive skin
This is because some body washes contain harsh chemical ingredients, including excessive amounts of surfactants. All body washes contain surfactants, which are chemicals that allow for the blending of oil and water, but good ones keep the oil and water properly balanced. Excessive amounts of surfactant, however, can strip the skin of its natural protective oils. Poor quality body washes can also negatively affect your skin's pH balance.
Tiege Hanley goes to great lengths to keep their body wash as effective, nourishing, and beneficial for the skin as possible. Tiege Hanley body wash uses ingredients like cannabis sativa seed oil, which has moisturizing qualities, and cocomidopropyl betaine, which is derived from coconut oil. 
Five Great Body Wash Scents and When To Use Them
Tiege Hanley makes the best smelling body wash for men. It comes in scents that are not only naturally-derived, but also well-suited to different occasions. 
Eucalyptus
Eucalyptus trees are native to Australia and emit a fresh, clearing scent. Eucalyptus oil also has an array of benefits. It's antimicrobial and stimulates the immune system, so this could be an excellent choice for a post-gym or workout shower.
Lavender
Lavender is a soothing and restful oil that is used to instill a sense of calm and relaxation. It can help promote sleep, so if you're looking to get a good night's rest, lavender body wash would be the choice for you.
Cucumber
Cucumber is a clean and refreshing scent that wakes you up. It's a great choice for an early morning wake-up shower, and it also has anti-inflammatory and skin-nourishing qualities. 
Cucumbers have been traditionally used to relieve puffiness, so this one might be a great choice for a shower the day after a big night. Intensely hydrating, it may even refresh you post-hangover!
Citrus
Citrus is another great, enlivening scent. According to Healthline, it can be motivating and increase feelings of energy. It can also reduce anxiety and depression, and improve skin. Grapefruit oil also has natural antimicrobial properties.
Clean
If your skin is extra-sensitive, you may want a body wash that has no scent at all. A clean, scentless body wash lets you simply enjoy the experience of the shower itself so you can emerge to start the day (or end the night) feeling clean and fresh.
---
// © Copyright 2023 Tiege Hanley